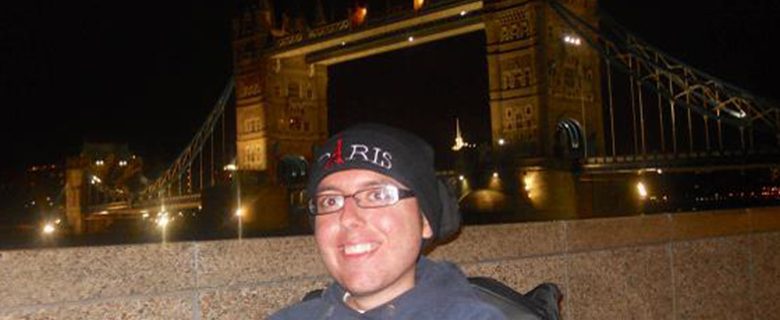 Cory Lee is a traveller and adventurer from the US who recently visited London after winning a competition to watch Katy Perry live at the Hammersmith Apollo. Cory kindly shares an account from his time in London and provides some great advice for other disabled people looking to travel to London.
My name is Cory Lee and I am a travel addict and college Senior. My college major is in Marketing, but I have had a passion for traveling as long as I can remember, so much so in fact that I recently started my own travel blog devoted to sharing the world from a wheelchair user's perspective at CurbFreeWithCoryLee.com. So far, I have been to eight countries and my next big adventure is to Australia in February. Traveling in a wheelchair can have it's obstacles sometimes, but the reward is always greater. One of the most memorable trips that I have taken in the past few years was to London.
A little over two years ago I ran across a Facebook post from pop superstar Katy Perry that, in a way, changed my life. She announced in this post that she was holding a contest in honor of her new single "Firework". Fans could submit a video (approximately three minutes in length) telling who the "firework", or biggest inspiration, in their life was. I immediately opened up iMovie on my laptop and started recording and editing. I described in the video how my mom was my biggest inspiration and has always told me "If you can't stand up, stand out"… a quote that I still try to live up to today. My video soon caught the attention of Perez Hilton and Katy Perry on Twitter, and a few weeks later Mario Lopez announced on the TV program Extra that I was the winner of the contest!
This meant that me plus three people of my choosing got to fly to London (all expenses paid) and meet Katy at her California Dreams Tour stop at London's Hammersmith Apollo theatre. Needless to say, we were BEYOND ecstatic and on March 16, 2011, my mom, her boyfriend, my caregiver/friend and I jetted off to London for a weeklong stay.
After the long, ten hour flight, we finally arrived. Once everyone else left the plane, the crew brought up my wheelchair and I immediately noticed that my joystick that I drive with was missing. The crew offered to look around and see if they could find the joystick somewhere, but it was nowhere to be seen. Therefore, we had to quickly improvise and ended up putting a cap of an ink pen over it and I used this as a joystick for the rest of the trip. This was rather annoying since it kept wanting to pop off at random moments, but it worked for the most part and I was just happy to finally be in London so it didn't phase me too much.
Once we got our luggage, we went outside to hail a taxi. We did not have any kind of transportation pre-scheduled at the airport because I read prior to going that many taxis in London were wheelchair accessible, and this proved to be extremely true. The black cabs (which are basically every taxi in London) all have a fold-out ramp so that the wheelchair can roll right into the cab. You do have to park sideways throughout the ride, but it's no big deal. London easily gets the City with the Most Accessible Transportation Award hands down.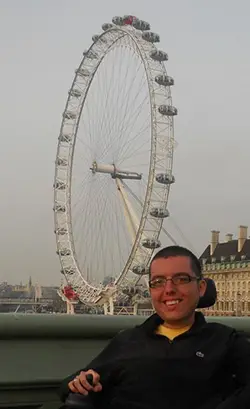 After a short ride to our hotel and a quick (well, three hours or so) nap, we decided to start exploring the city. We hailed a cab right outside our hotel and went to the London Eye. The Eye is a huge ferris wheel that consists of large capsules that you can ride in. Each capsule can hold about twenty people, but if you're lucky and it isn't too busy of a day there will be less people in yours. The London Eye is completely wheelchair accessible, allowing you to stay in the wheelchair and there's even enough room inside the capsules to roll around and take in views from every angle. And let me say, the views are truly breathtaking. You can see Big Ben, the River Thames, and much much more. The London Eye was one of my favorite things to do in London and should not be missed.
That night when we got back to our hotel, we needed to charge my wheelchair from all of our running around that day. We brought my 110 volt charger from home and a converter, but as soon as we plugged it into the wall it quite literally blew up. I should note that this was the second time this had happened to me. It happened to me a couple years prior in Germany. The only thing that we could think to do was get on Google and try to find a wheelchair repair shop in London that would sell us a charger. After googling for a while, we found a place and decided to go get the charger the next morning. The cost for the charger was £250, but was 240 volts and worked like a charm. Sure, it was no fun shelling out £250 for it, but at least my family did not have to manually push me around London the entire trip. I'm sure that would not have been any fun for them.
Later that day was when the big Katy Perry concert and meet and greet was scheduled. We all walked (or in my case, "rolled") to the Hammersmith Apollo and were greeted by a member of her team. After a short time, they escorted us to an area where we waited to meet Katy and soon, there she was! Live in the flesh. She talked to us for about twenty minutes or so and autographed some items that we brought. We talked about London and it's incredible food, and she told us that baked beans on toast were her favorite. Katy was probably the sweetest celebrity that I have ever met. She really took her time talking to us and then put on a magnificent show! Afterwards, I was even more of a fan than I was before meeting her if that's possible. I'm a HUGE Katycat!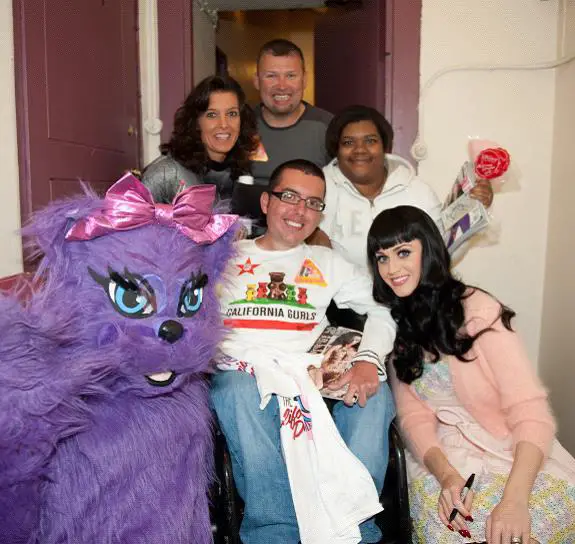 Our other London adventures throughout the week included seeing the Changing of the Guards in front of Buckingham Palace, eating fish and chips at The King's Head, viewing the splendid architecture inside Westminster Abbey, and even sitting in on a session of parliament. London offers so much to visitors and is one of the most accessible cities in the world, which is unexpected for a European city with so much old world charm. After such an incredible week, I'm counting down the days until I return to London again.
By Cory Lee
Check out…
• Q&A with disabled skier Talan Skeels-Piggins
• Able2fly: improving accessible travel
• Calling all budding disabled film makers!
Get in touch by messaging us on Facebook, tweeting us @DHorizons, emailing us at editor@disabilityhorizons.com or leaving your comments below.