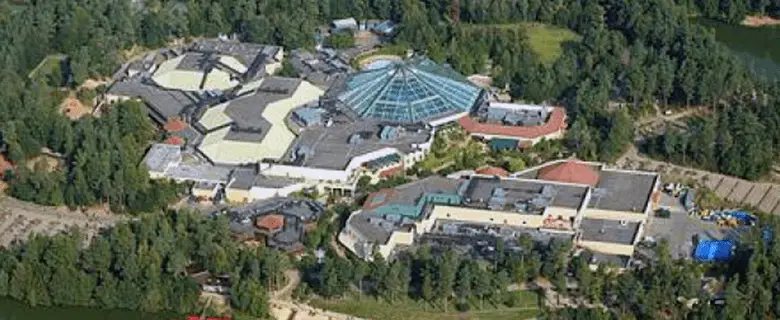 Co-editor Martyn Sibley recently visited Center Parcs to check out the accessibility offering. Beyond the tranquil relaxation, he shares his thoughts and experience of being in the forest for a weekend.
Around a fortnight ago I was lucky enough to be invited by Center Parcs to review their accessibility features. Having been there when I was 8 years old, I was interested to see how it had changed and how it would be for a disabled adult.
I was first struck by the organisation and awareness towards disability. When emailing about the arrangements I was directed straight to the access statement and talked through the adapted lodges. Those who practice and understand the 'social model' will appreciate the importance of inclusive policies from an organisation.
My fiancé Kasia and I arrived in a courtesy car due to my car breaking down. Fortunately the vehicle was bigger than my usual car, so bringing the hoist and shower chair was a breeze. The sudden immersion in trees and forestry was a real breath of fresh air – it had been quite a hectic week.
The stunning lodge had two bedrooms, lounge, kitchen and three adapted bathrooms. There was even an electric bed for me! As we were tired we ordered a take away and sank a bottle of wine indoors – a perfect start to the week.
On the second day we were booked in for a spa treatment and experience. The treatment, a facial and scalp massage, was fantastic. I stayed in my wheelchair, but reclined it backwards. It honestly sent me to another dimension – pure ecstasy.
After a bite to eat I headed to the spa pool (separate to the main pool), sauna and steam rooms. When I was younger I was able to be lifted everywhere, so I was nervous about how I would tackle it this time.
Planning ahead for ease, I had already put my swimming shorts on under my trousers. Going in the spa rooms in an electric wheelchair wasn't advisable. But luckily the staff were very helpful and lifted me onto a shower chair on wheels, which is used to lower people into the hydrotherapy pool and other spa rooms.
The heat was an amazing change from our winter's cold. My feet were warm for the first time in ages. The pool was slightly embarrassing as the public stared as I was lowered in. But the universe intervened and blasted a hardcore starer in the face with a jet of water. Jokes aside, it was nice to swim again.
Unfortunately there wasn't a disabled changing area. Thinking quickly we were offered a treatment room, but without my normal hoist I still couldn't dry or dress properly. So I just covered my necessary parts and we rode back quickly to the lodge.
That evening my mum and step dad joined us for a lovely meal at the Forresters Inn. Then on the third day my siblings and nieces joined for a day trip of swimming and catching up. The main pool was far more equipped for disability facilities, but I passed on the tropical paradise pool. On the fourth and final day I recorded a little video for you all before I headed home.
Overall Center Parcs was very geared up, prepared and open for disabled people. My experience and activities didn't even touch the full list of sports, shopping and swimming fun to be had. Therefore if you plan on visiting please research your wish list and do get in touch with them on any specific questions.
Of course, there are some things that we couldn't do and that could be improved. I have fed my thoughts back and so should you. Please also remember that many activities cost extra, therefore make sure you save up and budget for your deserved getaway.
You can find more information on Center Parcs website.
By Martyn Sibley
Check out…
• Access to shopping on the high street
• New Year's resolutions: to keep or not to keep
• Dive in and get lost in our favourite articles from 2013
Get in touch by messaging us on Facebook, tweeting us @DHorizons, emailing us at editor@disabilityhorizons.com or leaving your comments below.