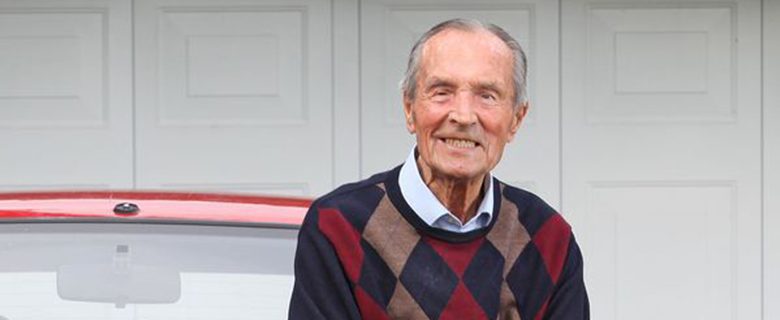 Is he Britain's oldest driver? RAF veteran is still going at 100 – without ever having an accident – Should there be an age limit on driving?
RAF veteran Dennis Garratt may well be the oldest driver in Britain. At the age of 100, he has been driving for 73 years and – amazingly – has never had a single driving ticket or accident.
Garratt, from Uppingham in Rutland, began to learn to drive aged 27 in an army van in Italy during World War Two. Despite having had a pacemaker fitted, along with two replacement knees, he still uses his red Renault Clio regularly for short journeys: to go shopping and go for coffee with friends. His 73 years of driving in a number of countries around the world have led to him clocking up over a million miles since he first started to drive.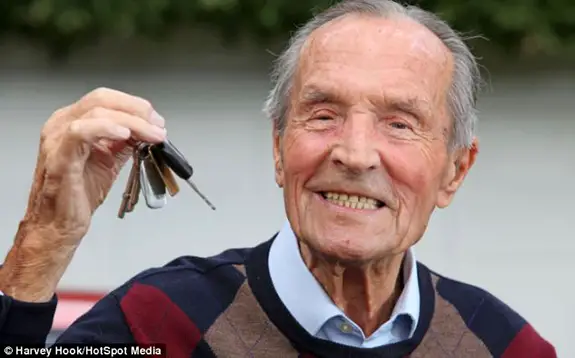 Garratt's driving experience has taken him to a number of countries around the world, including a European trip with his late wife Margaret in the 1960s, which involved travelling 12,000 miles across Europe with a caravan in tow, in a trip which spanned the Netherlands, Germany, Spain and France.
His red Renault Clio is fairly basic compared with many of the cars that are on the market today, and with no power steering, he claims that driving gives him a workout as well as getting him from A to B. With none of his friends owning cars, he states that his social life would be non-existent if he were no longer able to drive.
With no parking tickets and no accidents in his 73 years of driving, Mr Garratt states that those who are clamouring for a ban on driving for pensioners are 'talking rubbish'. He claims that the rudeness and lack of awareness of young drivers makes them more of a danger on the road than the elderly.
Currently, all UK drivers are asked by the DVLA to apply to renew their licences once they reach the age of 70, declaring any condition – either physical or mental – that could affect their driving. Drivers are not required to retake their practical driving test when they reach this age, but there are calls for this to change. Charities, however, fear that the pressure from society on older drivers to give up early may risk them losing their access to activities and services that they would otherwise not be able to use.
Ill health and poor eyesight are the two key issues that affect many drivers as they get older. Those with some health issues and who are registered disabled may well find that the government's Motability could keep them on the road for longer. The Motability scheme enables those receiving the the Higher Rate Mobility Component of Disability Living Allowance or the War Pensioners' Mobility Supplement to exchange their allowance for the lease of a new car, powered wheelchair or scooter, allowing them to stay mobile for longer. Honda is proud to be working in partnership with Motability in order to provide specially-adapted vehicles.
The content of this article was provided by Honda.
Check out…
• Transport and disability
• Q&A with Angus Brown
• ST Motorsport: accessible adrenaline

Get in touch by messaging us on Facebook, tweeting us @DHorizons, emailing us at editor@disabilityhorizons.com or leaving your comments below.