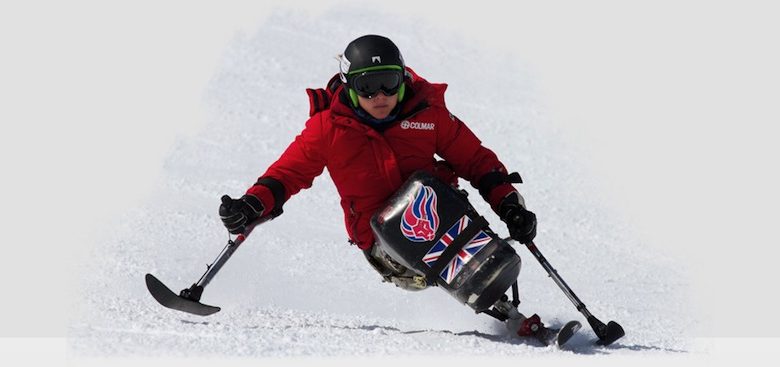 The Winter Paralympics is over for another year. So as the curtain closes on Sochi 2014, we speak to Paralympian Anna Turney, who took part in this year's Winter Paralympics.
34-year-old Anna Turney, who broke her back snowboarding in 2006, has always been determined to carry on competing in the sport she loved.
After three years of pushing herself to achieve, she was able to compete in the 2010 Vancouver Winter Paralympics, coming 6th.
Anna's motto: "Give everything. I compete in the same disciplines as Olympic ski racers, on the same runs, and the same courses. I do it without the use of my legs. Think positive and great things will happen."
This year she's been comepting in the Sit-skiing, Slalom, Giant Slalom, Super-G and Super Combined, (the Channel 4 Paralympics website has a great breakdown of all the alpine ski events) in the Sochi Winter Paralympics. Sadly she didn't come home with any medals, but having come close, we're sure she'll come back even stronger next time.
During the competition and whilst competing in Sochi, we caught up with her to find out how and why she became a Paralympian.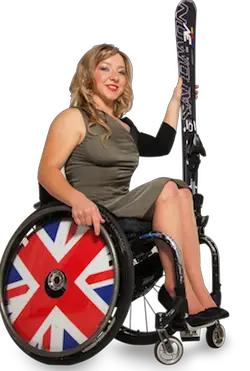 Please can you tell DH readers a bit about yourself and how you started out in your career?
When I broke my back snowboarding at 26 years old, I was devastated. I thought that I wouldn't be able to snowboard anymore and that my future would be bleak.
But I discovered that it was possible to do sit skiing through a friend, and so I learnt through the Back Up Trust, a charity that aims to rebuild the lives of those who have experienced spinal cord injury.
It is in fact through the charity that I also met my now husband, who has always supported and pushed me to compete again.
What qualifications or training do you need to become a professional Paralympic skier?
You don't need qualifications, but you do need to be hard working, dedicated, fit and strong. Alongside that, you need to be able to get up early, deal with any weather conditions and changes in the schedule – it takes extreme strength of mind!
Put it this way, I train four to eight hours, six days a week – it takes determination.
How long does it take to become a professional skier?
Years! It is a very technical sport and it takes many years of training. It's also an very extreme sport. In the speed events we're going upwards of 70 miles per hour wearing only lycra, so it's very high-risk
What has been the highlight of your career so far?
Definately winning a silver medal in the Super-G at the recent World Cup in France.
How does it make feel being part of the 2014 Winter Paralympic Games?
It is an absolute privilege to represent Great Britain in Sochi. It's been a really wonderful experience so far.
You started off snowboarding but now use a sit ski. Can you tell us what the difference is between the two sports?
In both sports you're sliding on snow and the feeling is similar. But obviously you use your body in an entirely different way. With monoskiing, which is where you have a seat on top of a ski, you face straight down the hill, parallel to the ski.
What advice would you give other disabled people who would like to take up skiing? 
There is all sorts of fabulous equipment that enables anyone to ski. Work with professionals to find the best way for you and be prepared for a challenge, as well as  lots of fun.
What training did you do to prepare yourself for the Winter Paralymic Games?
Off snow I did lots of exercises to work on my strength, particularly in my core around my tummy, my balance, flexibility and endurance. Then there was lots of training on snow, as well as working with a sports psychologist. I'm careful with my diet, and rest and recovery is also really important.
I have read that you enjoy motivational speaking and go into a lot of schools to do so. Can you tell us what reactions you have had from people that you have met?
Yesterday I had a Facebook message from a woman who said I'd spoken at her daughter's school and that she'd been so encouraged that she is now competing for GB! Apparently another teenager I met had changed from being a disruptive student to someone who was really buckling down to achieve her goals. Hearing these stories really motivates me – I want to encourage others to do what they love.
Do you take part in other sports, apart from skiing?
I started kayaking last year and love it, as well as playing wheelchair basketball for Warwickshire Bears, handcycling and swimming. I love sports.
What do you like to do in your spare time?
I love the outdoors, going for walks, travelling for fun when I have the opportunity, listening to music, and generally relaxing with my husband, and friends.
What are your goals and aspirations for the future?
I've spent a huge amount of money on skiing and a lot of time abroad training and racing, so although it has been a wonderful experience, one day I'd like to buy a house, develop a career and spend more time with my husband.
You can see Anna in action, training and competing in various events in her video about life as a Paralympian:
Find out more about Anna Turney by visiting her website, and watch some of her races in Sochi by visiting the Channel 4 Paralympics website. 
By Zubee
Check out…
What do you think about the Winter Paralympics in Sochi? Are you thinking of taking up a Paralympic sport after this year's events? Get in touch by emailing us at editor@disabilityhorizons.com, messaging us on Facebook, tweeting us @DHorizons or leaving your comments below.