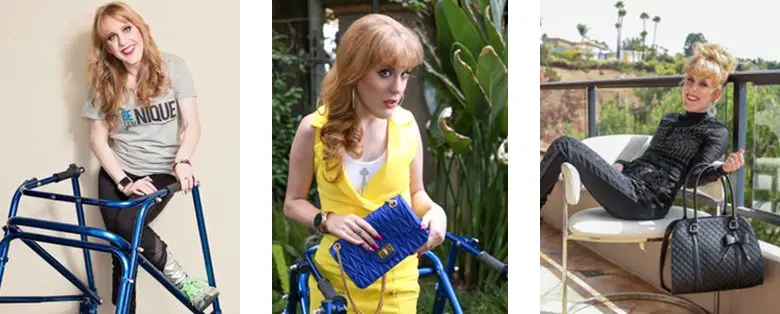 Autumn Kinkade was born with Cerebral Palsy, but she hasn't let that stop her from trying new things and pursuing her dreams. From pageants and modelling to public speaking, Autumn has been a force to be reckoned within the industry. Read more about her inspiring journey.
I was born weighing 1 pound, 12 oz and I am a surviving twin. I have Cerebral Palsy and use a walker, but I don't let that stop me from living my best life. I have lived a pretty good 19 years on this earth despite having 17 surgeries and a lot of hospitalisations.
My parents tried to make sure I was treated like any other kid. I tried adaptive soccer, baseball, track, dance and even played two years of wheelchair basketball.
I must admit, I quit wheelchair basketball because they wanted me to cut my nails! What? A girly-girl with short nails? No, thank you. The coach would often find me on the sidelines visiting with the parents instead of on the court practising. Sports just wasn't my cup of tea.
Becoming a disabled pageant queen
In 2014, I competed in my first pageant and won Miss Amazing, Oklahoma. After that, I became hooked on pageantry. Over the next couple of years, I went on to win a number of pageants and awards including:
National Miss You Can Do It

National Miss Abilities

National Miss Congeniality for Miss High School America (I was the only disabled contestant out of 150) 

National Miss Amazing Runner-up 

The Presidential Volunteer Service Award 
I also was named Extraordinary Person of the Year by an organisation called Come on In Inc for my leadership and volunteer service. This year I also became an ambassador for this organisation.
Making my way into modelling
In 2017 I was featured in Seventeen Magazine's 'Perfectly Me' segment. This was the year I began modelling.
In early 2017 I connected with Supermodels Unlimited, which promotes inclusion within the industry, and attended my first big runway show in Los Angeles. Other participants in the show included Snoop Dog, Nia Sanchez (former Miss USA) and singers from the Voice and American Idol.
I also had a photoshoot for a calendar with Nico Scholly from Bravo TV's show Below Deck. And, in the summer of 2017, I competed in the national Today's Women International pageant and won my category.
That is where I met Victoria Henley from America's Next Top Model and began doing runway shows with her, including:
LA Fashion Week

Teen New York Fashion Week

New Orleans fashion week 

Smaller shows in Georgia, Florida and Louisiana.
Throughout 2018 and 2019, I have continued working with Supermodels Unlimited. I was named their Most Accomplished Model of 2018. I have also been on three billboards in Time Square and one in Los Angeles.
Through working with Supermodels Unlimited I've met Sarah Summers (2018 Miss USA) and contestants from the Bachelor and from America's Next Top Model. Last year I also attended a breakfast with all the Miss USA contestants.
Almost all of the paid modelling jobs I have had are because I have a disability – it makes me unique.
Influencing through public speaking
Along with my modelling, I am a paid speaker. I recently travelled to New York to speak at the A Gift of Life gala and to North Dakota to speak to an organization called Youth Empowering Social Status. I love to speak at churches and disability events, too. 
I have also been working with a non-profit called TARC, in which we go into schools and explain different disabilities to kids. Our goal is to teach the younger generation to be accepting of people with disabilities. 
Barriers of being a disabled public figure
Has modelling with a disability been easy? No! First of all, the majority of venues have multiple sets of stairs. There typically isn't time for me to come off the runway, go down the stairs, change clothes, go back up the stairs and get back to the runway.
So, my mom is normally waiting backstage to quickly help me change while people are stepping over and around me. I have even changed outfits on the streets of New York.  
There have also been times when other models have wondered why I am backstage. They assume that because I have a disability I can't walk the runway. What the fashion industry needs to realise as a whole is that not everyone is six feet tall and a size zero. People come in all shapes and sizes and we all deserve to feel stylish and be seen.
I feel that God is using me in the modelling industry to be a witness to others and shed his light. My ultimate goal, no matter what I am doing, is for others to find God through me.
To learn more about Autumn and her endeavours, visit her website, Autumn Kinkade.
More on Disability Horizons…