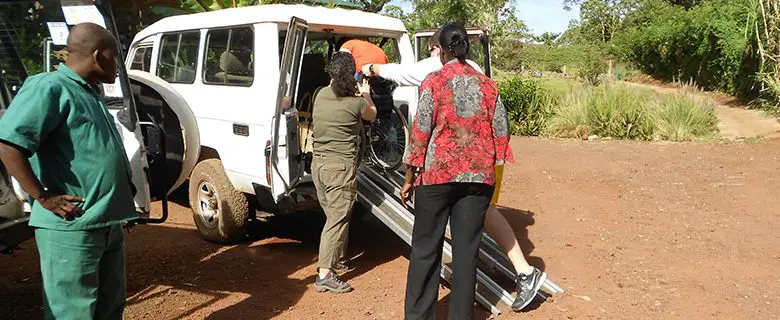 Africa is usually considered one of the most difficult places in the world for a person with disabilities, both local and foreign. The lack of support programs and cultural understanding of disability, as well as the limited infrastructure and difficult terrain, make many people with disabilities dismiss is as a possible vacation destination. However, there are a group of organisations that are currently trying to change that.
Naenda means, "I am going!" in Kiswahili. This exclamation especially captures the spirit of a special safari company operating out of Moshi, Tanzania. The philosophy behind Naenda Safars and Tours is that the natural beauty of African wildlife should be accessible to everyone, regardless of ability. It is the only safari company in Tanzania that has wheelchair-accessible vehicles.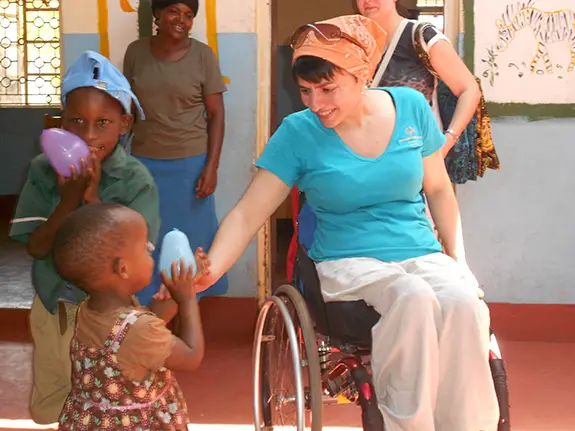 Naenda Safaris and Tours has enlisted the help of two wheelchair users from Motivation Romania to help design and test-ride the wheelchair accessible vehicles they use. They said:
As individuals who use wheelchairs, we never thought a safari in Africa was possible… We know first-hand the challenges of rough terrain, poor accessible transportation and many companies who don't see us as worth their time or investment. We thank Naenda tours for opening a part of the world we thought we could only see on TV.
The commitment to accessibility is not the only way that Naenda tours supports disability inclusion. Jesse Mfoi, owner of Naeda tours, has designed the company to run differently. Naenda is structured as a social business in the model created by Nobel Prize winner Mohammed Yunus. This means that all the investors and the owners receive no profits or dividends. All the profits from the business are donated and used to fund social good.
The company is committed to increasing opportunities not only for tourists with disabilities, but also Africans with disabilities. The profits from Naenda tours are used towards creating a sustainable ecosystem of comprehensive supports for children with disabilities and their families in Moshi.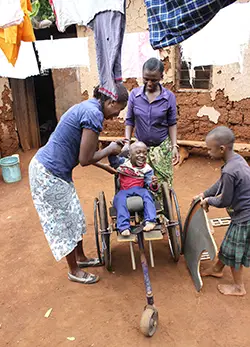 Naenda tours is a partner of a small local NGO (non-government organisation) run by the Lutheran Diocese called Building a Caring Community (BCC). BCC currently serves over 200 children with intellectual/developmental disabilities and their families in the Moshi Municipal area.  They have eleven neighborhood day centres that provide a safe environment where children receive community-based basic education and therapy services.
They also have an in-home services program where outreach workers visit families and provide them with direct support and training.
In addition to providing direct services, BCC works to economically support caregivers. It operates a micro-credit lending program, which has enabled over 70 caregivers of children in the program to open up small businesses to generate income.
The program also has four cooperative social businesses owned collectively by caregivers of children with disabilities. These cooperatives include two sewing companies that produce a variety of bags, a beading company that makes ornaments and traditional Maasai jewelry, and a construction cooperative, which also employees two young adults with intellectual disabilities. The cooperatives donate their profits back to BCC, helping to contribute to the overall sustainability of the program.
Together, Naenda tours and BCC are working together to promote an inclusive society in Moshi. In developing countries such as Tanzania, public funds for disability support programs are scarce, and non-profits and faith communities have to fill the void. Social businesses like Naenda tours are an exciting new model that is being tried around the world.
Social entrepreneurs like Jesse believe it provides a sustainable solution to the challenges of disability in Africa, and are working towards a brighter and more accessible future for both local citizens and tourists who want to experience the beauty of the land and have a safari adventure without limits.
You can find out more about Naenda Safaris and Tours by visiting the website.
By Meghan Hussey
Check out…
• Disability and development: our voices must be heard
• Deaf and volunteering alone in Africa
• Assisted dying: FOR and against
Get in touch by messaging us on Facebook, tweeting us @DHorizons, emailing us at editor@disabilityhorizons.com or leaving your comments below.