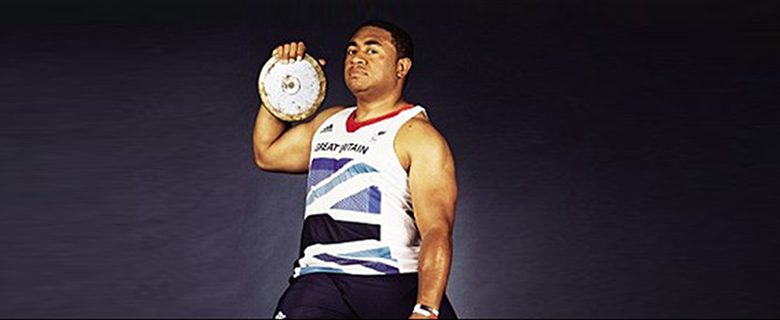 The inaugural Invictus Games, a 4 day sporting contest for wounded veterans from countries around the world will be taking place from 10 – 14 September in London. Derek Derenalagi, a TeamGB discus thrower took the time out of his preparations for the games to have a Q&A with Disability Horizons. Derek is a British Army veteran who was injured while serving in Afghanistan in July 2007; and who has since then represented TeamGB at the London 2012 Paralympics.

After your injury, how did you get involved and discover para-sport?
My first involvement into Para-sports started after watching the 2008 Beijing Paralympic Games while still at the Defence Rehabilitation Center in Headly Court, July 2008.
In October 2008 I and four other colleagues of mine from Headly Court went to the Olympic Training center in Chula-Vista, San Diego, to try out different types of Para-Sports.
What made you take up the discus?
I just knew it that Discus was my event. I felt so natural the first time I threw discus.
Were there any other sports you tried – what did you enjoy? What did you dislike?
I tried other event like sitting volleyball, swimming, hand cycling and bench press. I like them all because they are different sport. But I just knew that discus and shotput was my event.
Once you decided to take up discus and pursue it more seriously, what kinds of challenges have you faced and how did you overcome them?
Discus is a very difficult sport/event because it's very technical. It requires you to be very flexible, very powerful and quick. To train as a discus thrower with your legs are missing from above the knee is not easy.
For our readers who've never tried discus (or any similar field sport) before, can you tell us what kind of equipment you use and if you needed anything specially made?
Yes, that's true I never tried discus before my injury. I don't do anything different or use special adapted equipment to aid my training. Even though I am missing my legs I trained just like a non-disabled person. I use what ever training equipment is available. And that's how I trained since losing my legs. It's not easy but it can be done with the right mind set.
The Invictus Games are coming up, which we're excited to be covering. Can you describe to our readers what the opportunity to take part in the event means to you and fellow injured veterans?
Well, I and my fellow colleagues are really looking forward to the Invictus Games. The Invictus Games mean a lot to my colleagues and I because it aids recovery to servicemen and servicewomen who have been wounded, sick or injured. Also, it gives our servicemen and servicewomen the chance to do things that they thought they couldn't achieve. From my experience getting involved with what ever sports is the best rehab to help you get over what ever injury or illness that one goes through in life.
What are your future plans / goals in the sport over the coming few years? Will you be aiming to compete in Rio?
My future goals is to compete at the Athletic World Championships in 2015 and compete in Rio 2016 for Great Britain.
Finally, what advice would you have for any of our readers looking to try a sport for the first time?
My advice to people who will try out sport for the first time is to….just give it ago. I know that people are different and not everyone likes sport. But from my experience, sport has really helped me get over the traumatic experience that I went through with my injury, on both a physical and psychological level. I would also like to encourage people not to give up so easily when you go through tough times in life.
I know it's hard to face life changing injuries but you still can enjoy life with the right mind set and the right attitude towards life. It could have been worse. As for me I thank God that I am alive today. Even though I am missing my legs from above the knee I am still thankful to have been given the second chance to live. And without the support that I had from my wife I wouldn't have achieved what I have achieved today.
By Zubee

Click on the link for more information about the Invictus Games.

Check out…
• Q&A with Ashley Thomson: one-handed hairdresser
• Top accessible walks in Yorkshire
• Q&A with Rick Edwards: the Paralympics and beyond
Get in touch by messaging us on Facebook, tweeting us @DHorizons, emailing us at editor@disabilityhorizons.com or leaving your comments below.