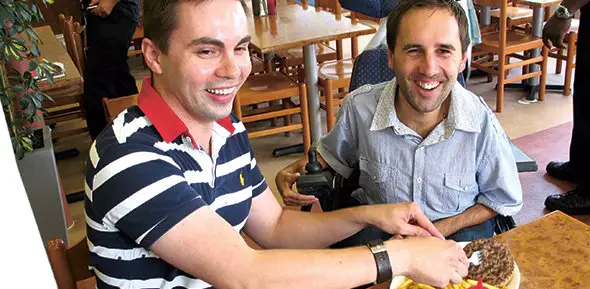 Lifestyle
How to find the right personal assistant
Going to university or moving out for the first time can be a daunting and stressful experience for any young adult. But when you also have a disability to contend with too, it can be even more challenging.  
Here, Disability Horizons contributor Emma Purcell tells us her story of how she recently went through the process of hiring her own PA, and gives her top tips on how you can make the process as smooth as possible.
One of the greatest challenges disabled people face is finding the right care and social support. Using a care agency does seem the easiest option. However, the quality of care appears to lack in many cases – they often don't have enough staff to look after all clients, care times can be rushed or cancelled and the availability is very limited. Moreover, you cannot choose who does your care, and so awkward situations can arise if the carer and client do not get on.
Therefore the best and most successful way to get the most suitable care is to hire your own personal assistant. Having a PA is said to be the greatest lifeline of independence. The key to finding the right PA is to find someone of a similar age, interests and who is committed in supporting you through your life. Not only are they your carer, but also a friend.
Where to begin to find a PA
While a student at Treloar School and College for disabled people, I got to learn various independent skills including domestic chores, booking transport and appointments and organising my care times. I always knew that when I left I would find a place to live and have my own carers. However, I had no idea where to begin my search for a PA and how the process of advertising, interviewing, hiring and paying them would all work.
In my final year of college, at a student leavers workshop, I was lucky enough to meet a family company called Ask Jules that helps young disabled people get the care, academic and social support they need while at university.
The company began when the owner's son Oliver, who has SMA, wanted to go to university but they were concerned he wouldn't be able to get access to suitable care and accommodation. Finding no obvious sources of easily understandable advice, Oliver's mum Julie took matters into her own hands researching the government's direct payments scheme.
Having successfully gone through the scheme's complicated and daunting process for Oliver, it occurred to Julie that there were many more young disabled people in a similar position who would benefit from the guidance and support in trying to gain independence. As such, Jule set up Ask Jules where she uses a Life Style Management system to help people navigate the complicated process of finding a PA.
Challenges faced and overcome
I got in touch with Ask Jules in summer 2014 when I began my own PA search. Despite the great support from Ask Jules, it hasn't gone as smoothly as first hoped. After meeting with Julie and her husband Tim to discuss what kind of support I would require, they published a job description for me on various job websites.
Six months on I have received minimal responses. The majority of the people who have applied so far have tended to either be male (despite requesting females on the job description) or people who lived further afield and expected to be provided accommodation.
I think the main reasons why my search has been more difficult is the fact I live in Alton, Hampshire, which is a town in the countryside, so the population is rather limited. In addition to that, many of Ask Jules' clients live in student accommodation with a spare room for the carer. However, due to the limited amount of accessible rooms at my university, UCA Farnham, I am currently living in a one bedroom bungalow rented out by the Treloar Trust. Therefore, I need a PA that lives driving distance and is happy to travel to my house every day and travel back to their home at the end of the day, which limits me quite a lot.
How it looks going forward
Despite the obstacles I've had to encounter and the lengthy wait, I was lucky enough to have one interview at the beginning of February and the prospect of hiring her was optimistic. I invited her to come and shadow my care so she had more of an idea of how I like things done and how the job would run. Unfortunately a month on, I still haven't received a response to my invite, and so it looks likely she is now no longer interested in the job. I am still determined to find the right PA's and so the search continues…
Top tips on finding your own PA
To anyone who is in a similar position and struggling to find the right support for them, here are some great tips to help you:
Make sure you include as much information as possible in your job description – your disabilities, where you live/study/work, what you study or what is your job, your hobbies and interests (music, films, sports etc) and most of all your preferred type of PA (gender, age, communication skills etc).
Have the job description published on several recruitment sites so more people are likely to view and apply to it. Also, you can share links to the job description on social media, in particular Facebook groups specifically for finding jobs and hiring in your local area.
Living in an urban/city environment with access to a spare room can be an advantage, but don't think it is a necessity when trying to recruit a PA.
In an interview it's important to establish whether you and the candidate will get on well together as a good relationship is the most vital part of finding the right PA. Sometimes this can be difficult to judge at first, but it is said to be a 'leap of faith'. The sign it may work tends to be when you have an informal conversation with them that flows naturally.
Candidates don't have to have any care experience. Sometimes having a person who hasn't been involved in this field before can be easier as you can teach them how you want your care done without them referring to previous care jobs.
Writing up your own care manual can help PAs learn and understand your needs accurately and sufficiently. Many disabled people can also direct their care too but the manual can be an extra guide, especially when some people prefer to learn by reading and others by hands on work. You should include your morning routine, evening routine, baths & showers, eating & drinking requirements, medication, communication needs, domestic chores, transportation (i.e mobility vehicle), academic support and social support.
Find out more about Ask Jules
If you are interested in recruiting your own personal assistants and would like more information, advice and support, visit the Ask Jules website, Facebook and Twitter page.
By Emma Purcell
Check out…
• City disabilities: building a career
• Employment and disability: why should I employ you?
• Building a business around your disability
Get in touch by messaging us on Facebook, tweeting us @DHorizons, emailing us at editor@disabilityhorizons.com or leaving your comments below.