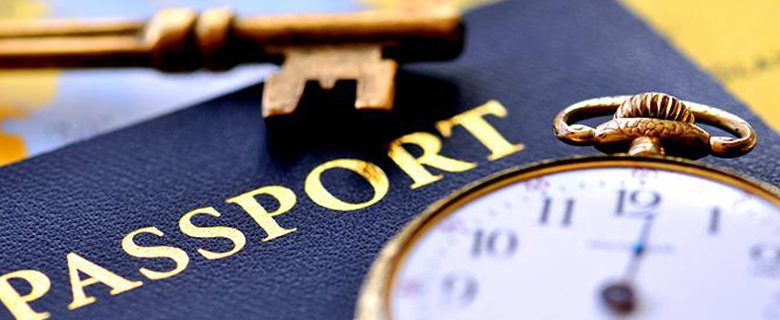 If you have a disability, travelling is rarely straight forward. So that's why we've teamed up with Carrie-Ann Lightley from Tourism for All, to bring you a series of articles to help make travelling and disabled holidays easier and more accessible. Carrie-Ann is coming to us slightly early for April so that she can fill you in on a great place to take a break over Easter!
#DHgurus
Back in February 2014 I was invited by TFA member Hoe Grange Holidays to take a weekend break in one of their accessible self catering log cabins. They have a selection of 4 homely cabins, based on a working farm on the edge of The Peak District, Derbyshire. Easter is a great time to fit in a family break, particularly with the bank holidays. Hopefully this will whet your appetite.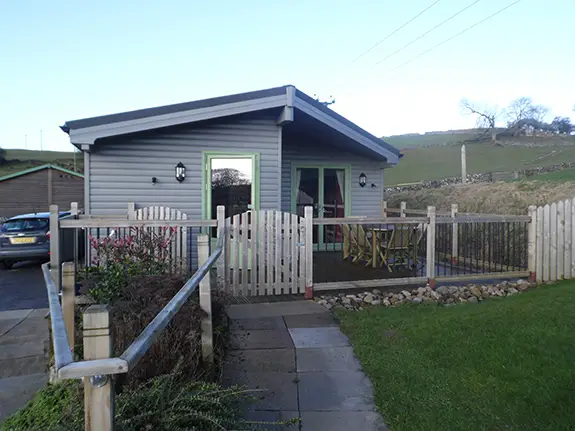 Darren and I arrived and were shown to our accommodation, Daisybank, by David, who runs the farm and holiday business with his wife Felicity. Despite the gale force winds and pouring rain the cabin was so cosy, centrally heated using the latest ground source heating technology. We were welcomed with freshly baked bread and cakes, as well as eggs, marmalade, and gorgeously fragranced eco friendly toiletries.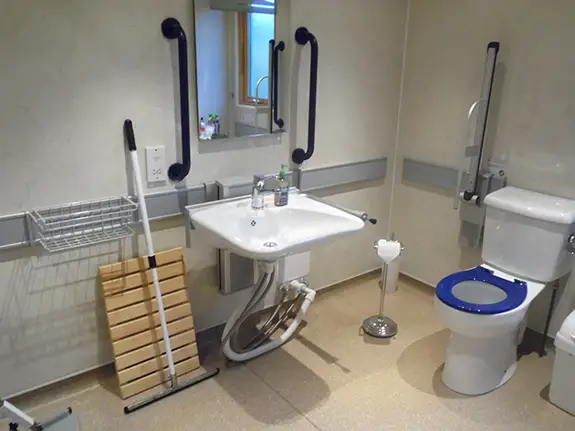 Every requirement had been thought of and catered for in a truly inclusive way – fully accessible accommodation without an 'institutional' feeling, a real home from home. We had a wet room shower with shower chair, as well as a luxury whirlpool bath. The fully equipped open plan kitchen was spacious and easy to use from a wheelchair. A wide range of specialist, accessible equipment can be provided, such as mobile hoist, electric profile bed, perching stool, shower chairs and bed rails.
After a relaxing evening reading the wealth of information provided – accessible places to visit, eat & drink and countryside trails – we started our Saturday a with a delicious Farmhouse takeaway breakfast, brought to our door by David and Felicity. As the weather had not improved, we spent the day visiting the local indoor attractions, including Peak Shopping Village where I bought some lovely local jam and the Peak District Lead Mining Museum in Derbyshire's answer to Blackpool, Matlock Bath.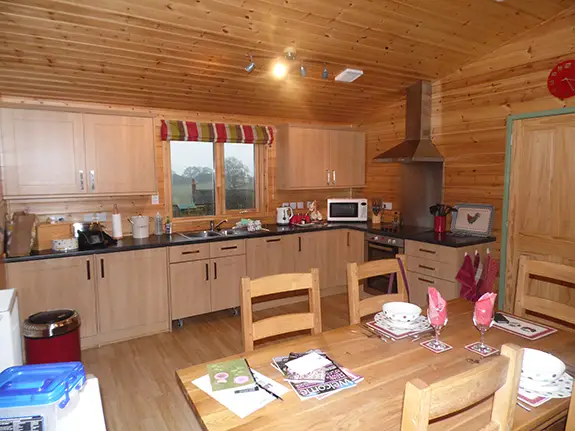 Returning to the farm after a day of exploring, we freshened up taking advantage of the whirlpool bath and headed to The Ketch at Kniveton for dinner, which had been recommended by David and Felicity for its delicious locally sourced food and good access, and it certainly didn't disappoint. We tucked into huge portions of fish pie and lasagne, and were so full afterwards that we were ready for bed!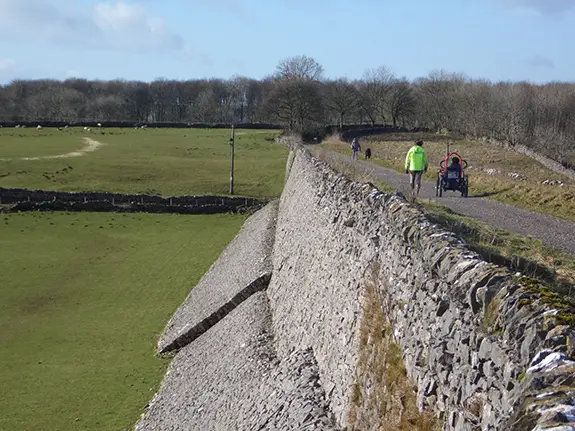 We awoke Sunday morning, at last, to sunshine, and time for the highlight of our break. Hoe Grange is the first and only holiday accommodation in UK to offer Boma 7 off-road wheelchair for hire, which can be used to access the High Peak Trail, around the farm, or at local beauty spots such as Carsington water for exciting outdoor adventures.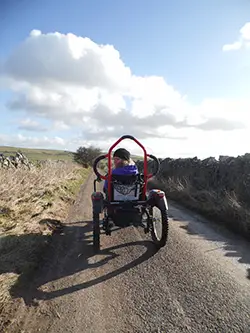 I must admit to feeling a little apprehensive as the adjustments were made and I was seated in the Boma. Being used to a standard power chair, and all it's limitations, meant that it took me a while to get used to the new seating position, powerful speed and breaks. But before I knew it we were through the field of sheep and up on to the Trail.
We enjoyed a 5 mile trek over all sorts of terrain, and met horses, mobility scooters and even a tractor! For anybody considering a stay at Hoe Grange the Boma experience is a must, it gives an amazing feeling of independence accessing parts of the countryside that would normally be off limits, and the views from the High Peak Trail are stunning.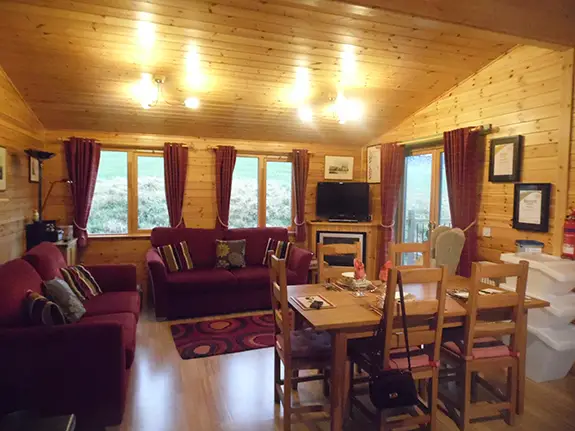 Back at the cabin we removed our wellies and thawed out, ready for the journey home. I was feeling sad to leave and could happily have stayed for a week! It's clear to see why Hoe Grange is award-winning, David and Felicity go above and beyond to make their guest's holidays as comfortable and enjoyable as possible, the little touches make such a difference and nothing is too much trouble. I hope we can return to our Derbyshire 'home from home' again soon!
By Carrie-Ann Lightley
Check out…
• Disability and Travel: a Norwegian cruise ship
• 10 of the most wheelchair accessible beaches in the world
• Disability and travel: top Q&As
Get in touch by messaging us on Facebook, tweeting us @DHorizons, emailing us at editor@disabilityhorizons.com or leaving your comments below.