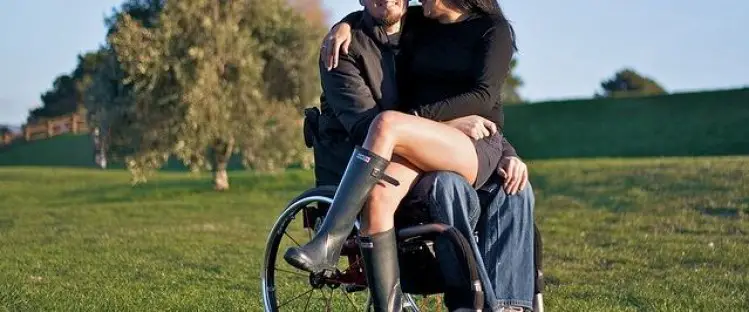 In our series on disability, sex and relationships, expert and resident agony aunt Tuppy (who runs Outsiders – a private club for disabled people looking for a relationship) answers your questions. This week, sexual services.
#DHgurus
Dear Aunty Tuppy,
I am unable to reach a climax from masturbating my penis, and wonder if I should use a prostitute, although I worry about the law and if the experience might leave me feeling grubby.
I am successful in my work even though I am severely impaired by my spina bifida. I would hate my workmates to find out that I'd gone to a brothel. Do you think I'd be better off waiting to find a girlfriend or wife (but I've been trying for nearly 30 years!)?
Jeremy
———- ———- ———- ———- ———- ———- ———- ———- ———- ———- ———-
Dear Jeremy,
First off, all the men with spina bifida I've had calling me on the Sex and Disability Helpline who had the same problem as you with their penis, have found that they can reach orgasm by prostate stimulation. You can purchase prostate simulators online.
Secondly, there are a wide range of sexual services available to you. Women and men who sell sex prefer to be called escorts or sex workers and they work independently, from their own flats or else visit clients in their own premises or in hotel rooms. Buying sex is legal in England, Scotland and Wales, not in Northern Ireland sadly. Brothels are illegal everywhere in the UK.
It sounds from your message as if you could benefit from seeing someone to help you understand and learn. You may need to understand what your body is capable of enjoying, how to please a partner, and need to gain sexual confidence so that you become more successful at finding a partner. There is no need to tell anyone in fact, many people keep this activity secret. A future partner may well not accept the idea. Such secrecy is a shame because it perpetuates the stigma around sex work which is in fact legitimate work. You no doubt know how stigma feels!
My TLC website is a unique place where you can find services which are both reliable and respectful towards to disabled clients. It has just been re-designed and re-written but the new website may not quite be live at the time of publication.
The Advocacy section helps potential clients sort out what they really want to experience and learn from the session. Many people have a false idea of what will happen, and come away from the session disappointed. Most disabled people cannot financially afford to make such mistakes.
Basically, escorts will do whatever is required, be it cuddling, full intercourse, kinky sex, fantasy enactment or a girlfriend experience, i.e. a 'date'.
Sometimes a disabled person wants to reclaim their body from the medical profession by experiencing pleasurable, sexy feelings instead of pain. Sexological Bodyworkers can unblock your sexual feelings and support you to enjoy your body to the full, as can Tantric practitioners. All these services are on offer on the TLC website. The site also gives advice on where to find services if there is nobody suitable near you. It recommends AdultWork and UKAdultZone. It advises clients to treat service providers respectfully and to cancel appointments if they have a cold or other infection because they cannot work if they become infected. Note, having sex with an escort is less risky than having sex with someone you meet in a nightclub, as they always practice safe sex and use condoms at all times.
By Tuppy Owens
Check out…
• Disability and relationships: how to use your assets
• Disability dating websites: we round up the best
• Disability and sex: a beginners guide to a more adventurous sex life
Have you got a question about relationships or sex that you would like to ask Tuppy? Get in touch by messaging us on Facebook or emailing us at editor@disabilityhorizons.com.