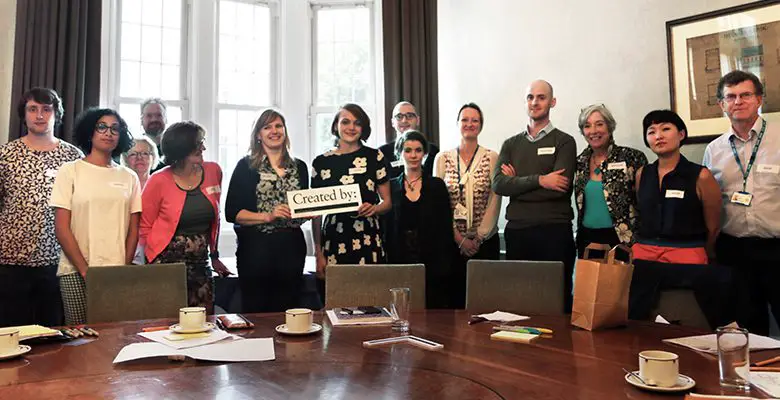 Daniel Jennings shares a thought provoking article on a new initiative to help people take control and co-ordinate the management of their healthcare.
"Harnessing the energy of patients and the public, who have a unique interest in improving their health, is a huge untapped resource. It could make the NHS sustainable once more." Lord Ara Darzi writing in the Health Service Journal, 13th November 2014.
NHS England (London) recently unveiled the outcome of a pioneering new project alongside Kingston University in collaboration with Coordinate My Care (CMC) – a project that I'm proud to have been part of.
Led by Senior Lecturer Kieran O'Connor, and Mike Part, a Programme Architect for the Healthy London Partnership, 50 third-year graphic design students were asked to respond to the following brief:
"My Health Service: How can citizens be encouraged and enabled to play a greater role in the coordination of their own healthcare and, in turn, the overall wellbeing of the NHS?"
In addition to Kingston's acclaimed teaching staff and a handful of guest tutors (myself included), the students were granted unprecedented access to touch-points throughout the NHS to inform their work, with CMC leading the pack.
CMC is an innovative programme that, as CMC General Manager Kate Mansell explains, "shows how the use of electronic urgent personalised care plans can support the provision of integrated care and make a real difference to the quality of care that patients receive, and result in potential cost savings for the NHS." With access to CMC stakeholders the students were provided with an insight into the workings of how good communication and coordinated care programmes work in practice.
The unveiling of My Health Service comes just weeks after NHS England Chief Executive Simon Stevens called for a new partnership between the public, the government and the health service,   adding:
"We'll certainly step up and play our part – but the NHS can't do it alone. Because the NHS isn't just a care and repair service, it's a social movement. We're going to need active support from patients, the public, and politicians of all parties."
With the NHS funding gap estimated to hit £30bn by 2020, Mr Stevens believes that this type of bold action is needed to help the health service through "probably the most challenging period in its sixty-seven year history".
Let's give credit where credit's due, NHS England aren't just saying what they think the public want to hear. Commissioning an exhibition that encouraged 50 design students to investigate the inner workings of the NHS, a system that polarises the public and political parties alike, is a brave move by anyone's standards. And the success of the resulting 16 projects are testament to the open-minded approach of Mike Part, Kate Mansell and their teams – as well as Kingston University's Kieran O'Connor who championed the initiative from the beginning:
"I've grown to know the BA (Hons) Graphic Design course at Kingston over seventeen years as a student and lecturer. I have witnessed so many logic-defying (and logic-defining) acts of design thinking and intervention that I felt a project of this complexity was feasible for our students to take on. What better way to reappraise ingrained practice than with emerging practitioners, helped and guided towards constructive points of difference?"
The students' work went on display at the Royal Marsden Hospital late last year in an exhibition commissioned by NHS England (London). Defined by Mike Part as "refreshingly different", the show was packed with all manner of carefully judged and intelligently formulated pieces of design. The healthy combination of conceptual and practical works garnered overwhelming positive feedback from NHS staff, many of whom were not previously involved in the project.
But My Health Service wasn't designed solely for NHS stakeholders, "I hope it will be hugely relevant outside of education to all participants – students, staff, stakeholders and ultimately patients (all of us) as the project progresses." said Kieran O'Connor. I too hope it will pave the way for change, transforming the way in which patients interact with the health service.
As I reflect on my time with the students it's not individual brilliance that sticks with me, that's not to say there wasn't any. Rather the rallying cry of 50 young NHS users proclaiming as one, 'this is my health service'.
It's a message that I believe should be echoed across the country because there's no denying that the NHS is changing – it has to if we want it to survive. And we, the public, can have our say if we join together. What's more, by commissioning this exhibition NHS England have demonstrated that they want that too, and we must seize the opportunity.
The 50 participating graphic designs students certainly did and as a result My Health Service has gone on to feature as part of The UK e-Health Week 2015 conference at the Olympia London and continues to grab the attention of design agencies and institutions across the UK.
I asked Kieran O'Connor where the project goes from here:
"We're in the process of 'measuring' the effectiveness of the work as a range of insights and 'leads' among a wider network of NHS stakeholders. This is crucial as we (the university and the NHS as partners) apply for further research funding: to develop our overall approach as well as the more immediately implementable individual proposals. But I can already remark on the immense pride and hopefulness I felt in witnessing immediate reactions and the way in which students, staff and stakeholders have conversed in a common language."
You can share your thoughts on the students' work (seen below) on this online questionnaire:
NHS Local – by Victor Hwang, Mary Graham, Alice Blencowe & Timothy Sanderson
NHS Local is an all-encompassing app designed to enable individuals to take control of their health service.
"A way to gather all of your NHS services into one place, and organise your health care around yourself. It reduces the steps between the patient and the NHS, making information more easily accessible for both parties. This takes the form of an app which puts your local NHS services in your pocket."
Use My Experience – by Yingxi Yu, Casey Lee, Alex Joseph & Samuel Chapman
On discovering that a growing number of individuals are seeking advice from fellow patients through online platforms Yingxi, Casey, Alex and Samuel created Use My Experience, a human vending machine that transforms this primarily digital pursuit into a physical entity.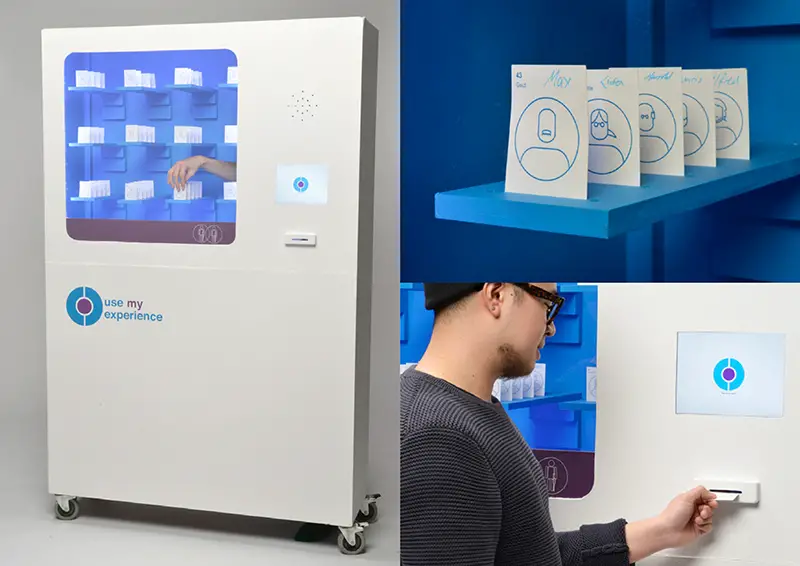 Tough Talks – by Ottilie Thompson, Ursula Underhill, Hannah Lee & Amber Dodds
Tough Talks is an omni-channel platform where difficult topics can be openly discussed.
"We provide a space for difficult conversations and community talks from ambulance teams, hospice workers, GP's and carers… A van with unhinging doors travels the country (hospices, town centres, universities etc) directly partnered by a website that coherently captures and shares the conversations and learnings prompted by Tough Talks."
Transcripts – by Is Bealey, Simon Rogers & Billy Bull
An anthropomorphised, electronic transcriber offering patients a record of each conversation they have with a clinician.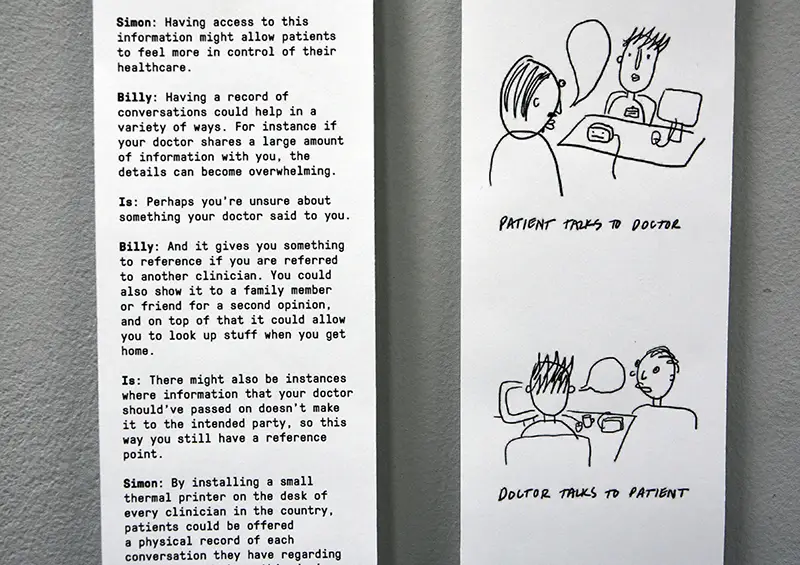 Care Track – by Charlotte Hanson-Lowe, Esther Shelley & Sarah McClarence
An app to help you keep track of your journey through the health service.
"By providing access to information about data transitions, patients are able to assist in identifying where information is missing, helping to minimise pressure on medical staff."
—
Discover more about My Health Service and see all of the students' work on this online PDF.
Please take a moment to share your views on the projects online here.
By Daniel Jennings
Get in touch by messaging us on Facebook, tweeting us @DHorizons, emailing us at editor@disabilityhorizons.com or leaving your comments below.