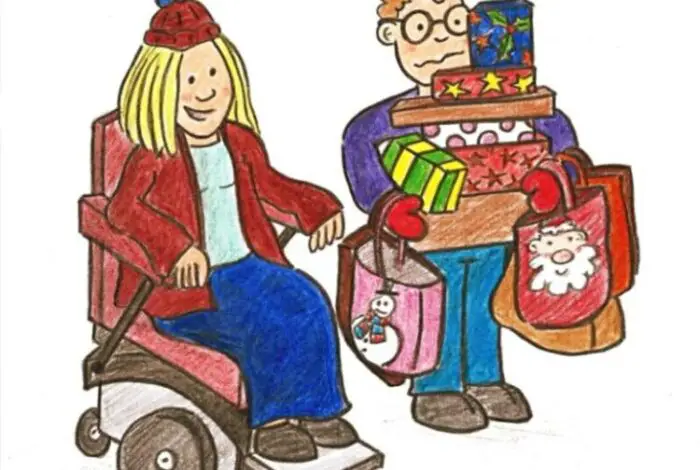 UPDATED Please visit our new page to see all the latest offers and prices
Christmas Gift Guide for Wheelchair Users
Having a wheelchair can enhance a person's mobility. This Christmas, you can get gifts for wheelchair users that can allow them to carry, store, wear and use everyday items that can be attached safely and securely to their wheelchair.
Here at Disability Horizons, we share 5 accessible and trendy gifts for wheelchair users, which are sure to glam up and modernise their chairs.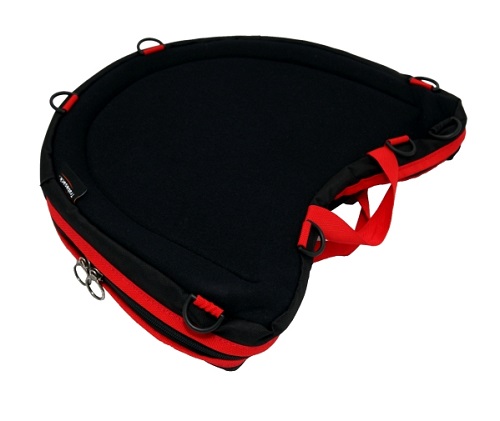 The Trabasack wheelchair lap tray provides a sturdy and steady flat surface ideal for working, eating or playing, whether you're at home, work, school or on your trips away. 
It can also be used as a bag that can be attached to the back of your wheelchair, which can hold electronic devices, toys and arts and crafts. 
There are five styles of the Trabasack wheelchair lap tray and bag:
The Trabasack wheelchair lap tray and bag is an ideal gift for wheelchair users, with its stylish and modern look and multiple uses. 
It is also a great device to use on Christmas Day to use as a tray when opening presents and/or eating your festive lunch from your wheelchair. Plus the bag compartment could be a handy place to store stocking fillers. 
View our full range of Trabasack wheelchair lap trays and bags on the Disability Horizons Shop.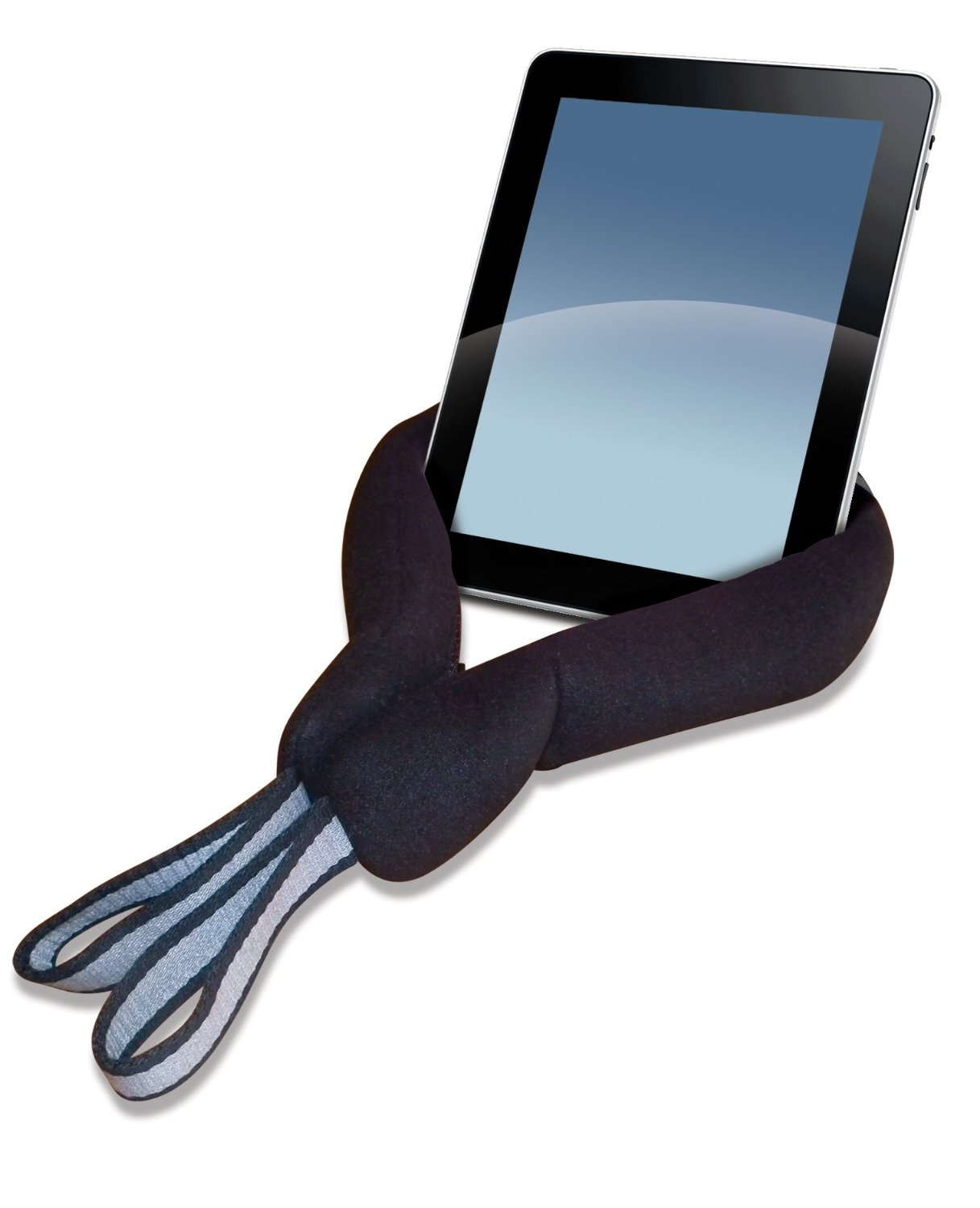 This media mount is a fantastic flexible and multi-purpose device stand weighing 100g. It is perfect for supporting electronic equipment – such as a phone, remote or communication aid – books, toys, bottles and bowls, all at the perfect angle on your wheelchair.
The bendy and adaptable design allows you to wrap and twist it around almost any object and the velcro strip along one side of the mount can be securely attached to the velcro-receptive tray surface of either the Curve Connect or Mini Connect.
This versatile and simple accessory is an excellent gift for wheelchair users who may have difficulty holding and accessing electronic devices and other everyday objects.
Find out more ways to use the Media Mount in our blog post 4 creative and fun ways to use a Media Mount on your wheelchair lap tray and give someone a Media Mount device stand this festive season from the Disability Horizons Shop.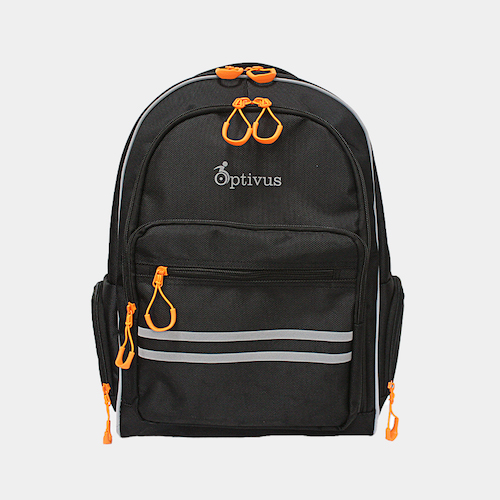 The Captivator is an innovative wheelchair bag created by Optivus, the first streetwear-inspired and adapted clothing brand entirely dedicated to people with physical disabilities.
It is designed to protect and hold your valuable items when travelling. The large capacity will help you organise everything you need for travel, work, school, hospital trips and daily activities.
The wheelchair strap will keep your bag at a safe height so you don't have to worry about it dragging on the floor when moving. The top handle helps you to hold and carry it.
It's ideal for travelling as the wide opening and well-cushioned laptop compartment helps to keep items safe when passing through airport controls. The anti-theft pocket is perfect for passports and valuable things.
The Optivus wheelchair bag is the perfect gift for wheelchair users who love to travel or frequently go out and need to carry essential items such as electronic devices, change of clothes and medication.
It is also an ideal product to take with you if you're going away or visiting family this Christmas.
Head to the Disability Horizons Shop to purchase an Optivus wheelchair bag – The Captivator.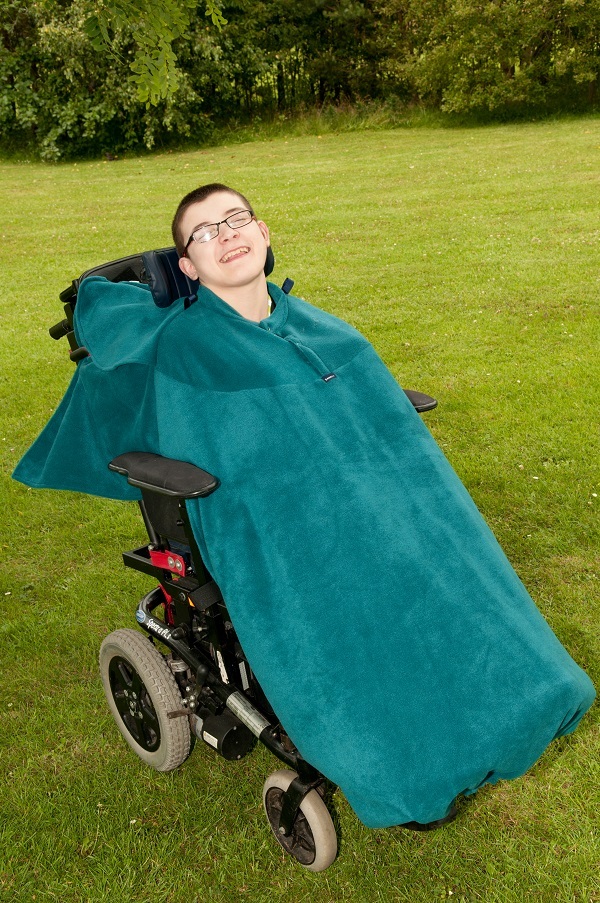 The Seenin fleece leg covers, total fleece cover and waterproof covers for wheelchair users are perfect for keeping you warm and toasty during the winter months.
These wheelchair covers are stylish and comforting gifts for wheelchair users who are more susceptible to the cold. Each cover is sold separately and is available in a variety of colours, patterns and sizes.
Browse the Disability Horizons Shop to get more details and treat your friend or loved one this Christmas with a soft, plush, cosy fleece wheelchair cover and/or a waterproof wheelchair cover.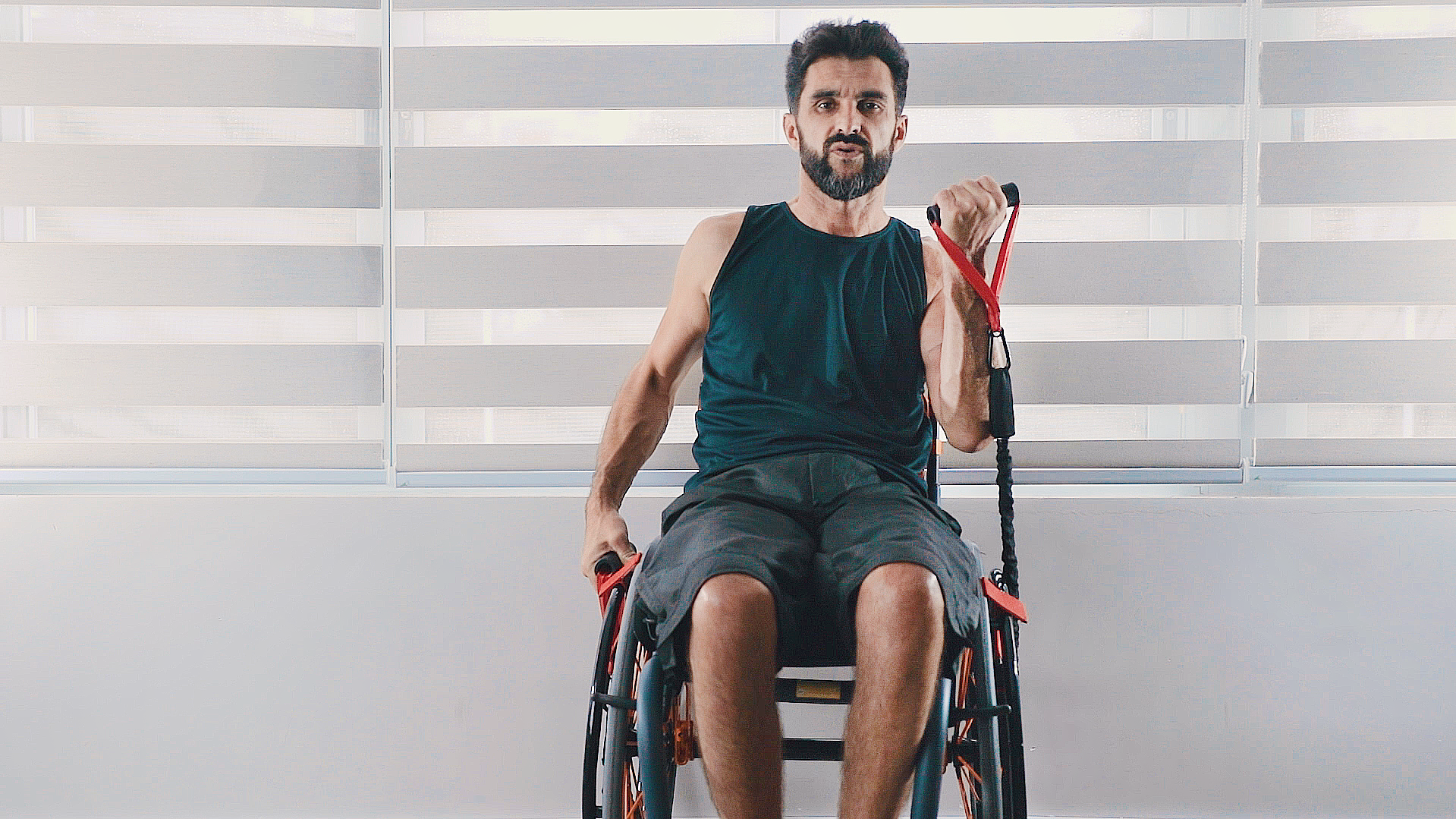 If you know somebody who loves fitness and working out or a disabled person looking for a new, alternative way to exercise, then why not buy this all-in-one portable gym, designed by wheelchair users, for wheelchair users?
The Fusion Wheel attaches quickly and easily to a wheelchair using the supplied 'Fusion T' fittings and loops, allowing you to set up the equipment without the need for assistance.
Affordable, portable and compact, the Fusion Wheel all-in-one wheelchair gym removes the need for large expensive pieces of fitness equipment cluttering up your home.
Included with the Fusion Wheel is a comprehensive training and setup guide with easy and clear-to-read instructions and exercises for beginner, intermediate and advanced users. The guide includes over 100 individual exercises covering all muscle groups in the upper body and each exercise details which muscle groups are being used and which accessories are needed per exercise.
 Check out these 5 wheelchair exercises you can do on the Fusion Wheel all-in-one gym and order the Fusion Wheel on the Disability Horizons Shop in time for Christmas.
With a VAT exemption, if you have a qualifying condition, you can get the Fusion Wheel for just £95.
Disability Horizons Shop Christmas delivery
All of the accessible gifts and products on the list can be bought using credit or debit cards or through PayPal. A lot of the items we sell are also eligible for VAT exemptions if you or the person you're buying for applies.
All orders must be made before Friday 16th December 2022.
We can not guarantee Christmas delivery. If you require guaranteed or special delivery, please email shop@disabilityhorizons.com.
To get more ideas of gifts for wheelchair users, plus other adaptable products, check out our other Christmas gift guides, which include even more stylish, luxurious, fun, practical and accessible gifts for all abilities.
By Disability Horizons 
More on Disability Horizons…