Hyde Park and Kensington Gardens are visited by millions of people annually. The 350 acres of Hyde Park and 275 acres of the formal Kensington Gardens provide a green space in central London larger than the principality of Monaco (480 acres). How easy is it to explore these beautiful Royal Parks for those with restricted mobility?
In 1990 the Hyde Park appeal charity was formed to deliver a variety of projects within Hyde Park. After the opening of The Queen Elizabeth Gate in 1993, a commitment was made to provide mobility assistance, completely free of charge, for anyone who finds it difficult to visit The Royal Parks due to advanced age, disability or poor health. From this initial idea Liberty Drives was born.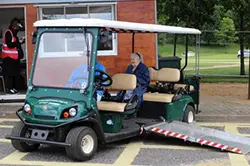 Getting around such a large area of parkland can prove difficult for those reliant on manual wheelchairs or other mobility aids. Liberty Drives is a seasonal mobility assistance initiative from the Hyde Park Appeal running from 1st May until 31st October annually. It provides tours and transportation around Hyde Park and Kensington Gardens completely free of charge, for individuals with a disability or limited mobility and their friends, family or care givers, who are otherwise unable to enjoy a visit to the beautiful park and formal gardens. This popular service started with one electric vehicle and one driver back in 1997 and over the subsequent years the fleet has grown to six vehicles and over twenty volunteer drivers. Each electric buggy has seating for five passengers and one passenger in a wheelchair. In 2008 Liberty Drives was recognised by National Heritage as the leading scheme of its type in the country.
Tours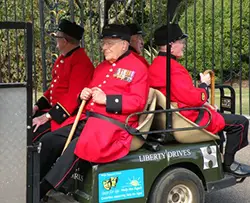 With so much to see and so much history on offer, Liberty Drives provide tours of between 30-50 minutes around Hyde Park and Kensington Gardens so that passengers can enjoy and full and fun experience. Mobility impaired visitors can take in the magnificent formal tree lined avenues and ornamental flower beds around Kensington Palace, visit the Italian Gardens and Albert Memorial, added by Queen Victoria, the much loved Peter Pan statue and the Diana, Princess of Wales Memorial Playground. Or be driven around the park imagining Hyde Park as it was when originally created by King Henry VIII in 1536 to satisfy his passion for hunting deer and wild boar. The tours can also take in other famous landmarks such as the Serpentine Lake, Speaker's Corner and the popular Diana, Princess of Wales Memorial Fountain.
Liberty Drives tours run Monday to Friday between 10:00 – 16:30 (not on Public Holidays) and usually begin at the Liberty Drives Dispatch Office located near to the public car park at the east side of the Serpentine Lake. Alternatively, passenger pick-ups can be arranged at a number of easily identified locations in the park such as major park entrances or Kensington Palace. The drop-off point can also be at a location of the passenger's choice within the park boundaries.
The battery powered vehicles offer a quiet means of transport. The knowledgeable volunteer drivers are happy to narrate the tour and point out areas of interest and historical significance and when possible will try to customise tours to meet the needs of individuals or groups. Alternatively, passengers can request a tour with little or no narration if they already know the parks well or simply wish to enjoy the scenery in tranquillity.
It is important to book a Liberty Drives tour in advance. As the service is entirely staffed by volunteers please allow one to two days for a response.
For more information about this free service from Liberty Drives please call us on 07767 498096 or email us at info@libertydrives.org.uk or visit our website at www.libertydrives.org.uk
By Liberty Drives
Get in touch by messaging us on Facebook, tweeting us @DHorizons, emailing us at editor@disabilityhorizons.com or leaving your comments below.
If you're planning your next holiday, why not visit our new travel site, Accomable, to find accessible accommodation not just in the UK, but across the world.