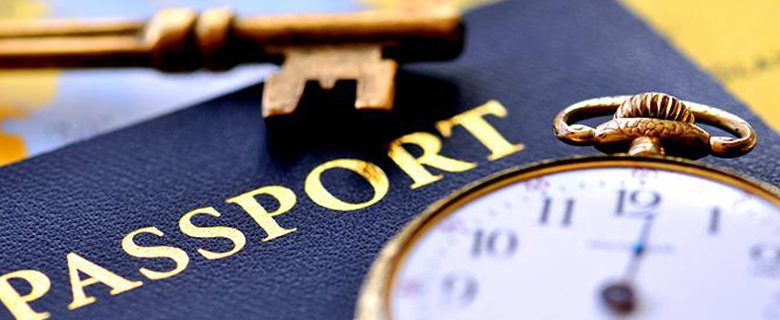 If you have a disability, travelling is rarely straight forward. So that's why we've teamed up with Carrie-Ann Lightley from Tourism for All, to bring you a series of articles to help make travelling and disabled holidays easier and more accessible. The cobbled streets of historic Rome might not appear accessible at first glance, but this month Carrie-Ann gives us her top tips.
#DHgurus
Rome isn't an easy city for someone with mobility requirements to visit, but it's worth the effort. Ancient Rome has an abundance of cobbled streets, so prepare for a bumpy ride with beautiful sights everywhere you look, vibrant culture and magnificent food.
Accommodation
As with many European cities, the hotel rooms in Rome are typically on the small side. Accessible rooms will be relatively larger, and for those who require more space, accessible self-catering options are available. On the recommendation of another wheelchair user, I stayed at the Mercure Roma Centro Colosseo hotel, just a few hundred yards from the Colosseum.
The hotel has a ramped entrance, lift to all floors, accessible rooms with double beds and wheel-in showers, and a rooftop pool and bar, what more could you want! The views from the rooftop are simply stunning, and it's a fantastic place to unwind with a glass of wine after a long day sightseeing.
Accessible places to visit
As the city of Rome grew over the centuries, the major tourist attractions are quite spread out. Accessible taxis and tour buses are available, but if you're using an all-terrain powerchair, or a manual chair and a strong pusher, it is possible to get around under your own steam. I'd recommend a map, a guide book and a sense of adventure – Rome is a beautiful place to get lost in!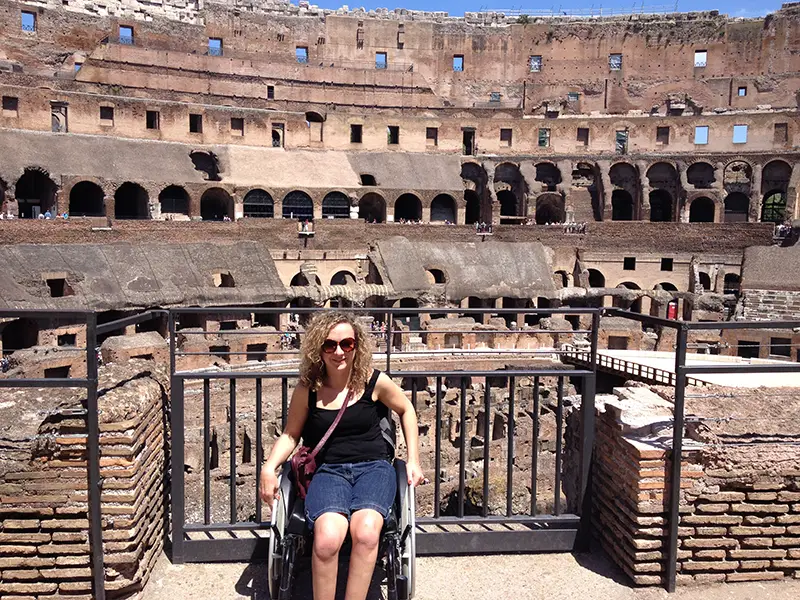 The Colosseum is one of the greatest remnants of Ancient Rome. The size and detail of the monument combined with a little imagination will leave you in awe. You'd be forgiven for thinking that the Colosseum's access would be difficult for wheelchair users – but thankfully it has been completely modernised and has a smooth flat surface throughout, as well as a lift and accessible toilets.
Disabled visitors (+ 1 companion) from within the EU are entitled to free entry. Proof of entitlement is requested – my Blue Badge for disabled parking was accepted. To skip the queue, disabled visitors can use the Colosseum's official website to book a free entry ticket (€ 2,00 reservation fee) and collect at the entrance. The Colosseum ticket also covers the Palatino, and the Roman Forum.
The Roman Forum was once the centre of Roman life, and it's amazing to see these buildings still standing (in one form or another) after so many years, it almost feels like you've gone back in time. For me, the Forum was the most difficult part of Rome to access. There is a lift to take you down from street level, but the ground is so uneven that wheelchair users may struggle.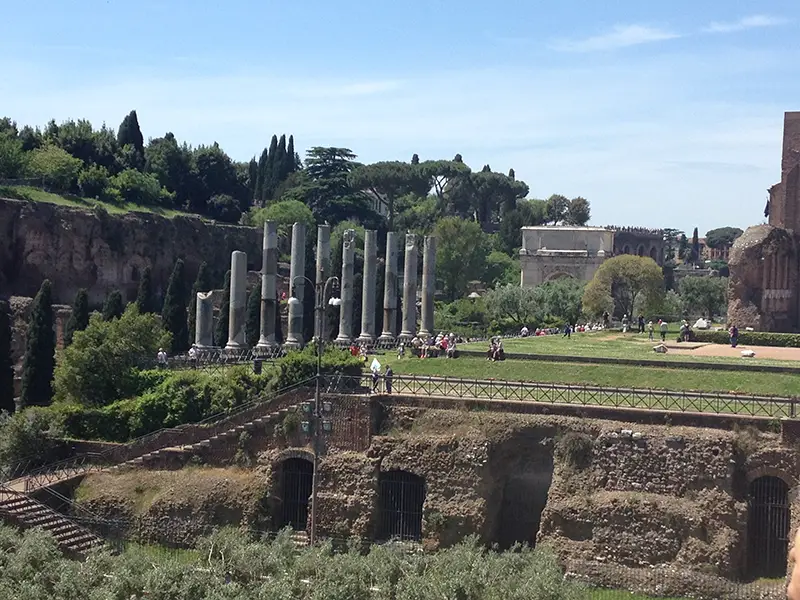 The Pantheon is said to be the best preserved of Rome's ancient monuments, and its dome is record-breaking. It's an amazing feeling to be inside a temple (now used as a church) which was built almost two thousand years ago. What happens when it rains? Look out for the drain holes in the marble floor. The Pantheon is completely wheelchair accessible, and entry is free.
Piazza Navona is the showcase of central Rome. A beautiful square with street artists, ornate fountains and pavement cafes, makes it perfect place the sit, watch the world go by and enjoy a gelato. Piazza Navona has a curb to get into middle of square, with a slight step up.
The colourful, loud, daily market at Campo de' Fiori is a part of Roman life. Smells of spices, herbs and cheese fill the air and vendors encourage visitors to try their produce. In the evening the square is transformed into a place to socialise, with lovely music, restaurants, and a mix of locals and tourists. The square is level, with no curbs. The ground is a cobbled surface, which is relatively smooth and pleasant for wheelchair users compared to some areas of Ancient Rome.
Santa Maria in Trastevere is a church dedicated to the Virgin Mary, said to be the oldest in Rome. It 'feels' much more like a church than St. Peter's Basilica – many tourists stumble across it by mistake, a respectful silence is observed, candles are lit and few photographs taken. There are beautiful golden mosaics and ornate walls and ceilings. Santa Maria in Trastevere is completely wheelchair accessible, and entry is free.
Visiting the Vatican Museums is an unforgettable experience. Here is one the world's greatest art collections in such a beautiful setting. Don't try to cover it all in one go – legend has it that viewing every exhibit could take 12 years! Be prepared for crowds which can make the experience stressful, but definitely worth it. Wheelchair users can go backwards along parts of the tour route and through roped off areas to avoid stairs. Disabled visitors (+ 1 companion) are entitled to skip the queues and gain free entry. Proof of entitlement is requested – my Blue Badge for disabled parking was accepted. Wheelchairs are available to hire from reception.
The Sistine Chapel is one of the most famous works of art on the planet, and is beautiful, awe-inspiring, and everything you would expect. However, though adaptations for access have been made, the accessible route to the Chapel goes against the flow of people, and the sheer numbers of people packed into one space make it an uncomfortable experience. Despite all of this, the Sistine Chapel is a must see for everyone visiting Rome. Vatican Museum staff will escort disabled visitors + 1 companion to the Sistine Chapel, as the accessible route is roped off.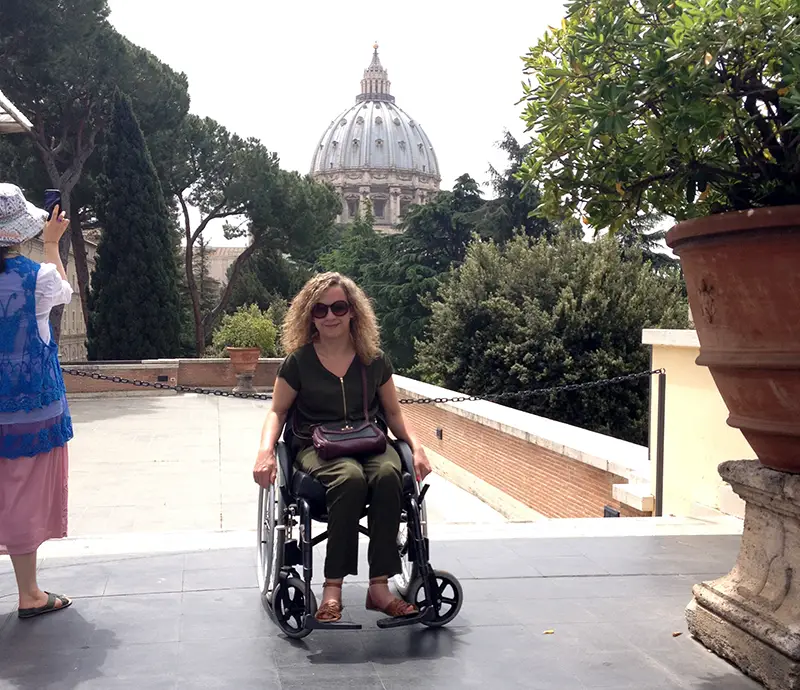 St. Peter's Basilica is Italy's largest church, and a symbol of Rome. Its sheer size and beauty is incredible, and it's filled with history. As you'd expect, the crowds are large, but a respectful quiet is (mostly) observed and it's possible to find peaceful corners to take in the opulent interior. There are accessible toilet facilities. Admission to the church is free for all, and disabled visitors are entitled to skip the queues. The accessible entrance is in St. Peter's Square, to the right of the Basilica's facade. This entrance has a lift that takes your from Square level to Portico level.
Accessible Restaurants
Romans live to eat, and to find the best traditional cuisine it's worth getting off the beaten track, mixing with the locals and diving in to huge plates of pizza and pasta!
Don't waste money on expensive hotel breakfasts – find a local pavement café and have 'cornetti' (croissants) and cappuccino for around 5 Euros.
Isidor is a gem – a hidden, authentic feeling Italian family restaurant within the a few steps of the Colosseum. Here you'll find polite and helpful service, rustic, tasty food and reasonable prices. The house wine is excellent value. Try the pasta tasting menu, selected by the chef.
The neighbourhood of Trastevere is famed for good food, and this Pizzeria is well worth crossing the Tiber for. Arrive early to beat the round the block queues and dine street side on paper-thin, Roman style pizzas alongside the locals. The best, and most reasonable meal I had whilst in Rome! Don't expect fancy tablecloths or silver service at Pizzeria Ai Marmi – this place is about fast-paced buzz, letting the food be the star of the show.
By Carrie-Ann Lightley
Get in touch by messaging us on Facebook, tweeting us @DHorizons, emailing us at editor@disabilityhorizons.com or leaving your comments below.
If you're planning your next holiday, why not visit our new travel site, Accomable, to find accessible accommodation not just in the UK, but across the world.