The Crossing Countries team has just returned from their second volunteering trip to Durban, South Africa. Crossing Countries is a new social enterprise that enables disabled people to volunteer abroad by matching a disabled person (the Traveller) with a non-disabled 'Travel Pal' to work together, with the support of a team leader, to fundraise and plan their trip.
The idea grew from my work with disabled students at university and volunteering in Durban. Lots of people come back from volunteering abroad saying: "It changed my life." It's a cliché, but its true, trust me. I became a more confident person with a passionate belief in the equality, self-awareness and empowerment that can be gained through volunteering and travel.
To share this with my students seemed an obvious, though scary, next step.
On our first trip in 2014 we volunteered in a number of ways. We worked in crèches with abused children, on maternity wards with new mums, and gave presentations in schools to disabled learners and to the students at a high school. The Crossing Countries team also joined in a protest to highlight the necessity of making all buildings accessible, shouting 'Awethu' (which means to us) in response to Amandla (which means power). Fitting words to bring home from South Africa.
Ghandi and the Indian Ocean also played their roles in making the adventure memorable. On a trip to the Phoenix settlement, where Ghandi developed his philosophy of civil resistance, the team were interviewed with Ghandi's granddaughter. She said she was honoured to meet the members of such a worthwhile project. A debate about who was most honoured followed!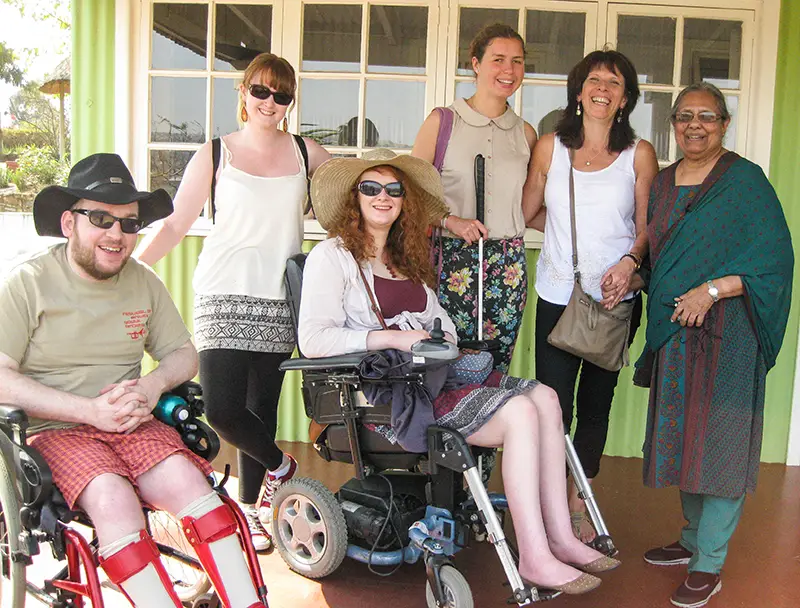 Crossing Countries has also made the Durban newspapers. Jude, who thought she would never be able to be on a beach again, swam in the ocean and Agata, who is blind, had a surfing less.
Of course there were challenges too. The toilet in the hotel we were staying wasn't accessible, so a 'Stanley' toilet surround had to be bought. I even threatened to travel in a t-shirt that said 'they are dry cell batteries and they have been disconnected' to save me from answering the constant questions about the powered wheelchair.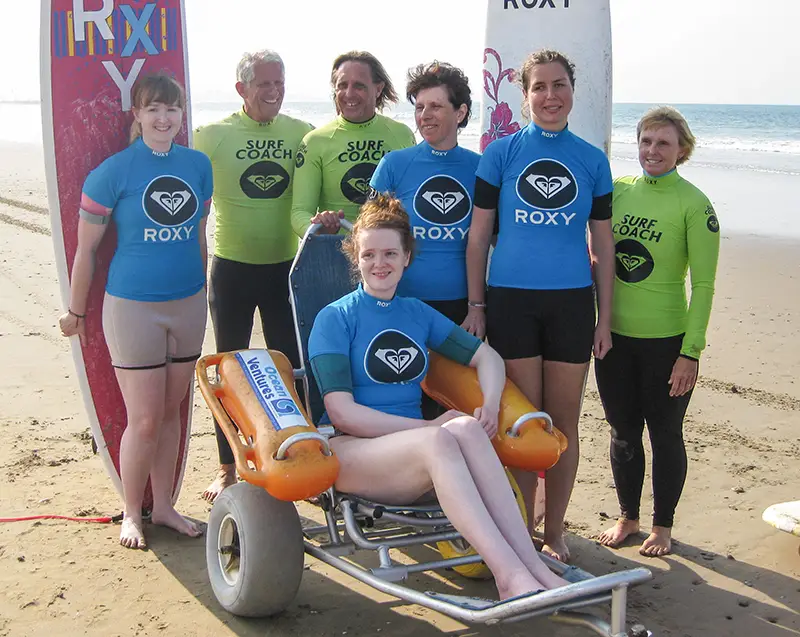 This year's team faced a different set of challenges in South Africa though as our Traveller isn't obviously disabled. There were a range of different reactions and it evoked many conversations about hidden disabilities.
During our time there we facilitated the creation of an outdoor art instillation/learning space using recycled objects at a rural school. Laura and Suzi, with their individual knowledge in art and education, formed a creative force to be reckoned with and surpassed their own and the school's expectation of the project.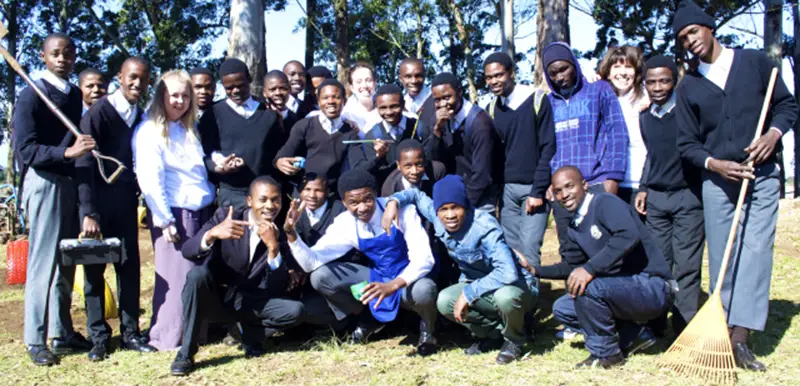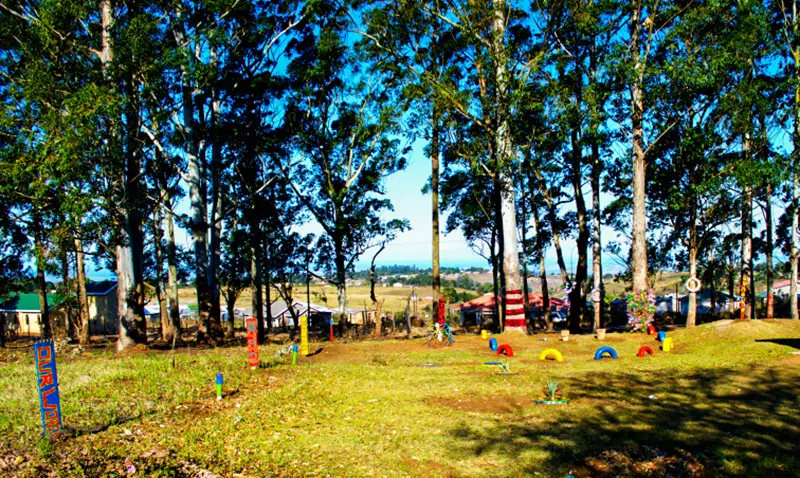 There we held workshops in art, drama and study skills at the school and a special needs school in a different area. We played with the kids in a local crèche and visited a school for children with learning disabilities and their affiliated residential welfare centre. We all shed a few tears after visiting these kids with complex needs… they are physically well cared for but there is little to stimulate them. These will be two placements for next year.
The trip wasn't all work though, there was time for lots of laughter, chat, food and drinks with friends, whether in a beach front bar or friend's house in Umlazi Township.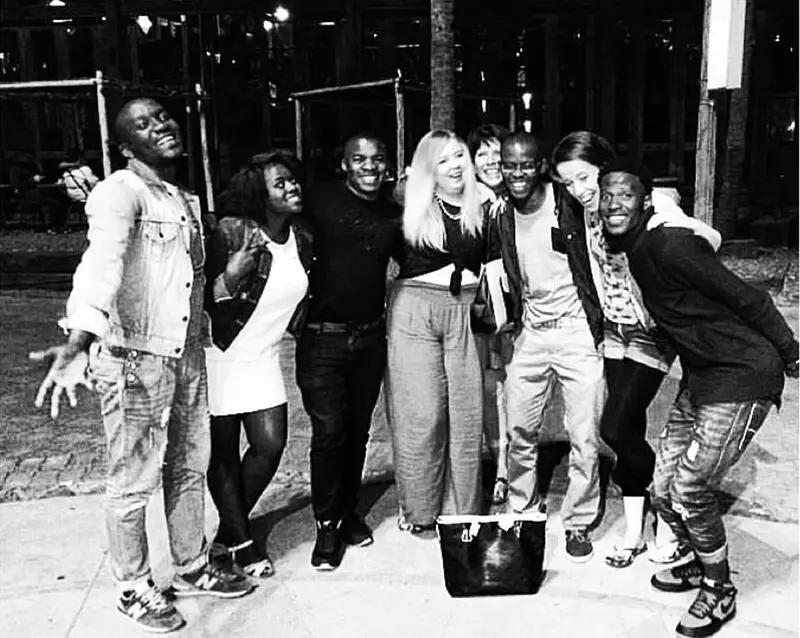 Suzi and Laura organised a surprise safari for my birthday, which was an amazing. It was a really special day as we shared it with Philani, a new Traveller who will be working with us next year. Like our visit to the theatre this was his first experience of anything like this. His words at the end of our adventure embody the premise on which Crossing Countries was founded, that everyone is equal, that everyone faces challenges, that everyone has the ability to support each other and that everyone should be allowed to take risks and have fun together.
He said: "I may look like I am a normal person, but mentally I believe I was disabled. I had a stereotype. I believed there were things which were just made for white people. That was my barrier. But Suzi, Laura and Jean took me in on an adventure. I challenged my boundaries and I am so grateful about that."
If you know anyone who would like to be part of this enterprise as a Traveller, Travel Pal, funder or an advisor please get in touch by emailing cctravellers.edinburgh@outlook.com.
You can also check us out at on the Crossing Countries website, Facebook or Twitter.
By Jean Cathro

Get in touch by messaging us on Facebook, tweeting us @DHorizons, emailing us at editor@disabilityhorizons.com or leaving your comments below. And if you're planning your next holiday, why not pop over to our new travel site, Accomable, to find accessible accommodation not just in the UK, but across the world.