The Wheelchair Football Association has now been running for Ten Years! Below we speak to Chris Gordon, 24 (England player and West Bromwich Albion captain) about how embracing Power Chair Football changed his life for the better and his achievements so far.
From a young age I'd always been a huge football fan and looked to get involved in as many ways as possible. As a child I'd often be diving around the garden in goal making my brother tirelessly take shots at me to try and score.
I even got involved in numerous football camps during the school half term breaks, perched on my knees, diving round a muddy school field trying to emulate Peter Schmeichel who was my sport idol at the time.
However my first experience of Power Chair Football was less than enjoyable!
Gigantic footballs and half a car tyre being used to drive the ball around a sports hall was not my idea of the 'Beautiful Game'.
I remember bursting out into tears and telling my mom and dad to take me home, refusing to get involved.
After crying my eyes out for what felt like hours, my dad finally talked me into having ago.
I got fitted up with the car tyre cable tied to the front of my chair and off I went trying to dribble round as many players as possible like Lionel Messi.
I suppose you could say I was hooked from that moment.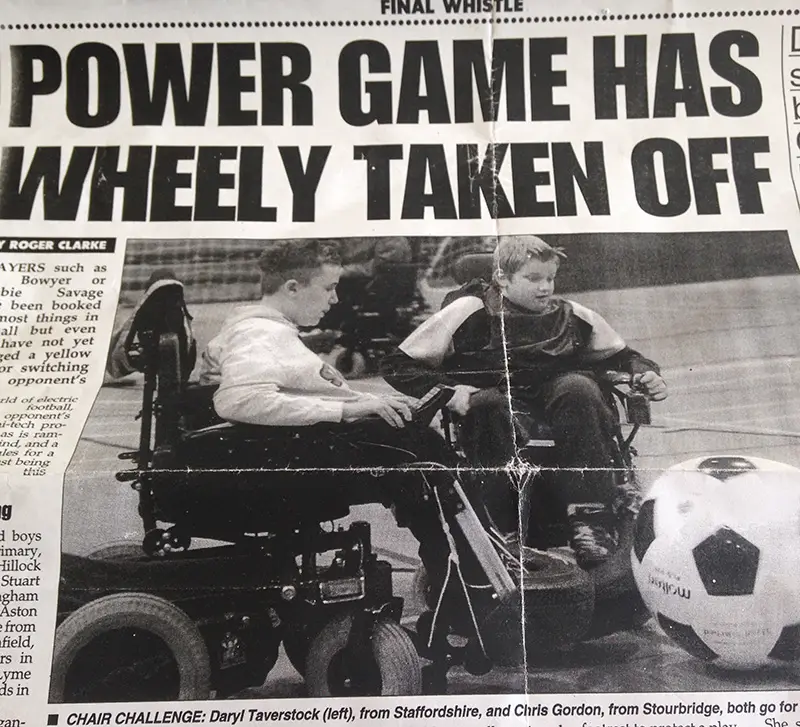 Once returning to school my mom arranged with my PE teacher to allow for me to have some time off lessons to travel over to Worcester to get involved in some open sessions.
However a lack of funding and opportunities in the local area forced me to stop playing.
During the later years at secondary school my PE teacher had heard about a Power Chair Football Team that had been set up at Aston Villa.
My mom phoned up to see if I could go across and get involved and they advised her to get in touch with the Albion as it was closer to where we lived.
I was invited over to watch a friendly game between West Bromwich Albion and Aston Villa with the hope of getting involved.
Sitting watching the game I remember thinking 'I'm better than these players' and being desperate to get involved.
I was asked if I wanted to play in the next game, an opportunity that I jumped at!
I was set up with my own specialist attachment, which was far more technical than the half a car tyre I had previously tried, then off I went playing in my first competitive match and I was even lucky enough to score my first goal.
I was officially invited to play for West Brom's Power Chair Football team and come along to training every Tuesday night.
It wasn't long before I was captaining the side in the Wheelchair Football Association National League competing against the countries topsides.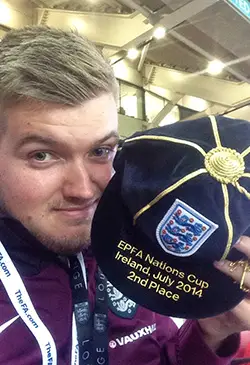 Fast forward a few years and I'm now competing in my ninth consecutive season in the WFA National League.
During my time competing in Nationals I have had the privilege of playing in Champions League events, European Championships and even World Cups!
As a child I always dreamed of playing for England and that dream came true in July 2014 when I captained the first official England Power Chair Football Team during the opening game of the European Championships.
We managed to reach the final but came unstuck against a strong France side eventually finishing in the tournament as runners up.
On our return to the UK we were invited along to Wembley Stadium to watch England vs San Marino and to get presented with our very own England Caps.
My family and closest friends all came down to capture the moment and celebrate my achievement, which will always be the proudest day of my life.
If you'd like to support The WFA and help them continue to deliver Power chair Football to other Sporting talents like Chris please donate here. Any support is greatly appreciated.
By Chris Gordon
Get in touch by messaging us on Facebook, tweeting us @DHorizons, emailing us at editor@disabilityhorizons.com or leaving your comments below. And if you're planning your next holiday, why not pop over to our new travel site, Accomable, to find accessible accommodation not just in the UK, but across the world.