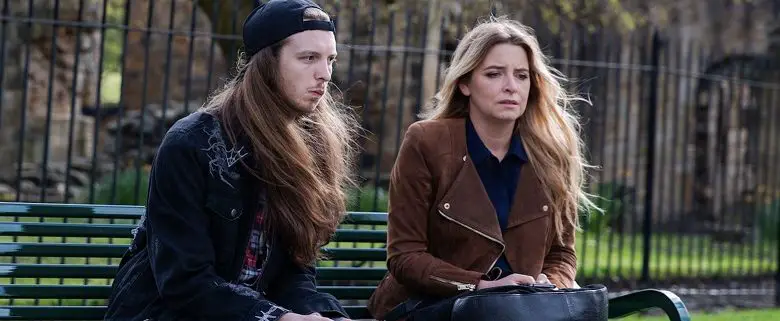 Award-winning ITV soap Emmerdale recently cast a disabled actor in a pivotal role, placing him at the forefront of a major, developing storyline. Newcomer, 25-year-old James Moore from Cheltenham, Gloucestershire has cerebral palsy. His debut as Ryan Stocks, the long-lost son of Charity Dingle, has been met with universal praise and applause.
Our writer Carrie Aimes interviewed him about his career, disability on TV and film, making disability 'normal' and his opinions on able-bodied actors playing a disabled character. 
UPDATE: In January 2019 James Moore won Best Newcomer at the National Television Awards. You can read all about it – and even watch his win – in our recent article. 
In his first scene, James instantly endeared viewers with glimpses of his multi-dimensional character and an attitude to match his on-screen mother's. Some even say there is a convincing physical resemblance between the two.
Engaging opening scenes indicate that Ryan is set to be a strong presence; witty, outspoken and unfiltered. Furthermore, his connection with the prominent Dingle family suggests that he is not destined to become a background, token disabled character. On the contrary, Ryan Stocks will be a regular and crucial feature in future episodes.
Like many avid Emmerdale viewers, I was anxious to see who would be revealed as Charity Dingle's son. To see a disabled actor playing the role was unexpected. But as a disabled person myself, I am more than pleasantly surprised.
The casting of disabled actor James Moore is an exciting, encouraging and essential step forward in the inclusion and representation of disability within the media.
---
Head to the Disability Horizons Shop to find stylish and practical solutions to everyday problems. 
---
Could you please tell Disability Horizons readers about yourself?
So firstly, I have cerebral palsy (CP), but it's Ataxic CP, which basically means that I struggle with movement and co-ordination. I find it difficult to walk long distances and there are certain things I know I can't do, but I've adapted to these challenges in my day-to-day life.
I got into acting because, even from a young age, I've always been interested in film and the theatre. It wasn't easy, and I didn't know whether I would be able to make a career and earn a living from it. It's hard for anyone, but when I was growing up, there weren't many disabled people being represented on film or television.
As an actor with a disability, how does this lack of representation make you feel?
I think societies' attitude to non-disabled actors playing disabled characters is too lenient. I mean, we wouldn't let someone white use black make up to play a black person. It would be deemed unacceptable. So, why let able-bodied people take the roles of disabled characters?
In order to 'normalise' disability on screen, we first have to find disabled actors and give them opportunities, rather than taking roles away from them. I think that is the biggest and most important step.
This is why I love being a part of Emmerdale – it's showing disability in a new light and letting viewers know that disabled people can be independent and have full, healthy lives. Together, we're proving that disability isn't a defining factor.
What challenges, if any, have you faced in your career due to your disability?
I have certainly faced some challenges, but it comes with the territory of being a disabled actor. At the end of the day, it's most likely that I will be cast as a disabled character, and they are not easy to come by.
I also have issues with self-doubt. As there aren't a lot of roles for disabled people, it can sometimes be hard to foresee a lengthy career in the industry.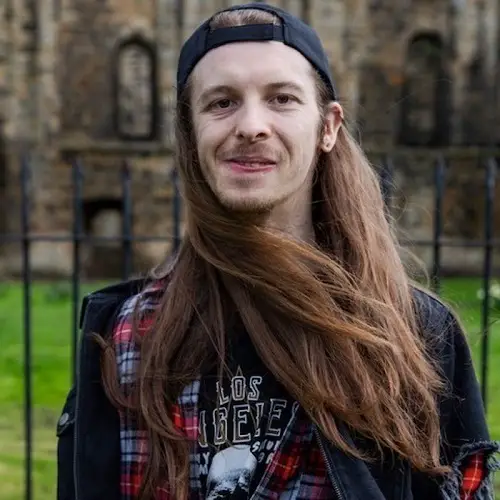 How did the role at Emmerdale come about? Was it always intended that a disabled actor would play the role?
After I signed with an agent, the role came up almost straight away. I really put my all into it. It was always intended for a disabled actor, but not specifically one with cerebral palsy. It was incredible that they wrote that in later. They asked me in great depth about my disability and my experiences with it.
Your opening scenes with Emma, who plays Charity, were incredibly impactful. What feedback have you received so far?
The response I have had so far has been amazing – everyone has been so nice! My Twitter is blowing up and all of the feedback I have received has been overwhelmingly positive. In that sense, I've been really lucky.
Some people who have seen me on TV have asked for my advice, too. To them, and any other aspiring disabled actors out there, I would say – don't give up! Take every opportunity you can. Do street plays, student films and whatever else it takes.
Also, take the time to find the right agent – one who you think will be an asset to your career.
What does the future hold for your character, Ryan Stocks?
I can't go into great detail on the future of Ryan, but there's great humour, unlikely friendships, and gripping drama yet to come. The script is fantastic and so well written. I'm so glad that I can provide an adequate voice for this brilliant character.
By Carrie Aimes
You can take a look at Carrie's blog at www.lifeontheslowlane.co.uk and follow her on Twitter @claimesuk or on Facebook. 
More on Disability Horizons…
Get in touch by messaging us on Facebook, tweeting us @DHorizons, emailing us at editor@disabilityhorizons.com or leaving your comments below.