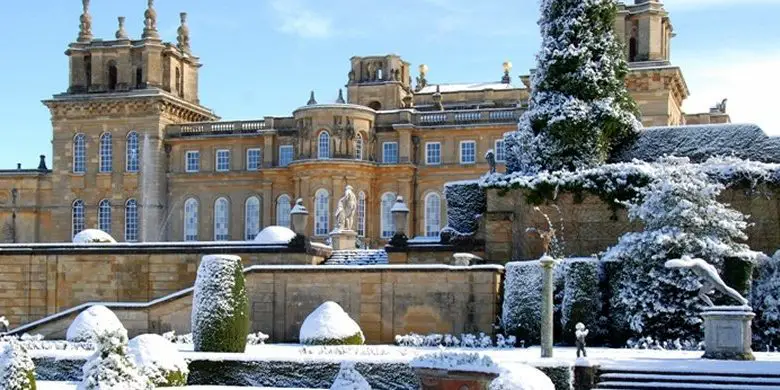 Looking for a Christmas getaway in the UK? Steph Fairfoul, from Enjoybedandbreakfast.com (a small independent travel website showcasing bed and breakfasts and guest houses) shares five accessible breaks to get you in the mood for the Christmas holidays.
It's getting chilly and Christmas is just around the corner. What better way to get in the festive spirit (and treat yourself to an early present) then a break away?
Whether it's culture, family fun or just a cosy winter hideout you're after, here's my pick of five alternative, and accessible, Christmas breaks to get you in the mood for the season.
1. Blenheim Palace – Oxfordshire

The birthplace of Winston Churchill, Blenheim Palace (pictured) is steeped in history. When the festive period arrives, there is no shortage of splendour. From the 10th November – 14th December the Palace will be decorated in a special theme, telling the Christmas story of the three Kings through the stately rooms steeped in silks and glittering with gold. The trail passes through the exquisite banqueting hall adorned with jewel-encrusted palm trees, peacock feathers and lavish and exotic festive decorations.
The vast majority of Blenheim Palace and the grounds are fully accessible by wheelchair, with adapted toilet facilities and parking.
Need somewhere to stay? Green Gables Guest House is a great value, charming Edwardian B&B with one room on the ground floor adapted for wheelchair access.
2. Dickensian Christmas Market – Berwick Upon Tweed, Northumberland

German Christmas markets can be found in any city these days, but for something a little different head to Berwick Upon Tweed, where a charming and original Dickensian Market will be in full swing in the town centre on the 12th December. Situated right on the high street, the entire market is fully accessible to wheelchairs.
If you're really feeling in the mood, you can join the rest of the town as they dress up in Victorian costume and entertain visitors. With well over 50 stalls expected this year, the market will be perfect for last minute Christmas shopping and stocking fillers. To top off the festive spirit, there is entertainment and live music throughout the day, as well as a hog roast, roasted chestnuts and the obligatory mulled wine!
Need somewhere to stay? A warm welcome is guaranteed from Christine and Tony at Meadow Hill Guest House. Situated on the outskirts of Berwick Upon Tweed, Meadow Hill is a delightful and traditional B&B with two wheelchair accessible rooms.
3. Castle Howard – Yorkshire

Castle Howard, one of England's finest and grandest Baroque mansions, embraces the festive spirit from the 24th November – 16th December.  The castle is decked out with elegant decorations, open roaring log fires, Christmas trees and more, all set against a backdrop of stunning 18th century architecture. There's a variety of live musical performances daily and, for the young ones, an audience with Father Christmas every weekend.
To top off the magical experience, you can relax in one of the cafes, or restaurants, and enjoy homemade freshly prepared seasonal fare.
There is designated parking, ramps and level access to the gardens. Inside Castle Howard, wheelchairs can access all areas of the House, except for the Chapel and the first floor of the Exhibition Wing.
Need somewhere to stay? 4* accommodation is available at the picturesque Thornton Lodge Farm. Thornton Lodge makes a perfect winter escape from the hustle and bustle with beautiful views over sprawling fields.
4. Rural Retreat – Shrewsbury, Shropshire

For those who truly just want to get away from it all, Shropshire, one of the quietest counties in England, is perfect. Shrewsbury is a traditional market town and the birthplace of Charles Darwin. It was most extensively developed in the 16th century and features almost 600 period buildings. Nestled in a loop of the River Severn, this characterful town is a perfect escape.
Need somewhere to stay? Situated 4km out of the town centre is Penn Peel Cottage, the perfect place for escapism. Your hosts, Helen and Martin, will greet you on arrival with a hot drink and a slice of homemade cake before showing you to your accommodation. All of the rooms have their own private entrances so you can come and go as you please and be left in peace and quiet. For added luxury, a hearty Shropshire breakfast can be served to you in your room. The self contained Merrington room has twin beds, one with space for a hoist under the bed, and a full en-suite wet room adapted for wheelchair users.
5. Luxury escape – Hexham, Northumberland

Nestled in the heart of Hadrian's Wall country and encircled by Roman history sits Grindon Cartshed. The B&B is a beautifully converted barn and provides the ultimate base for exploring or simply relaxing and unwinding.
There is no shortage of things to do in the area at any time of year. Take your pick from Roman baths, forts or the Senhouse Roman Museum. The museum is brimming with artefacts, the most impressive of which is a commission of 22 altars by the Commanders of the fort for Jupiter.
Situated within Northumberland National Park, Gridon Cartshed has spectacular panoramic views of the surrounding landscape and is a perfect setting for either breakfast or dinner, both lovingly prepared using local produce.
Both the B&B and self catering accommodation are accessible to wheelchair users. The self catering lodge has received an Access Exceptional Award from Enjoy England. For a comprehensive overview of Grindon Cartshed's facilities, including video footage by Accessible Places, please visit Gridon Cartshed's website.
Enjoybedandbreakfast.com also believes strongly in equal opportunities. That's why they recently launched a hand-picked collection of Accessible Bed and Breakfasts, exclusively for disabled travellers.
By Steph Fairfoul
Check out…
• Top 5 accessible walks on the South West Coast.
• Accessible Paris?
• Accessible holidays in Tenerife.
Do you have a favourite holiday spot in the UK? We'd love to hear about it. Get in touch by emailing us at editor@disabilityhorizons.com, tweeting us at @DHorizons or messaging us on Facebook.