In early September, Accomable.com co-founder and Disability Horizons co-editor, Srin Madipalli made a spur of the moment trip to Barcelona to get some warmth and sunshine and escape the London autumn cold! Here he shares why he thinks travelling to Barcelona is so much easier compared to many other cities in Europe!
Travel as a wheelchair user is never straightforward, but this summer I came to the conclusion that Barcelona is probably the easiest and most accessible place in Europe that I have travelled to.
Here are my 5 reasons why:
1. There is an awesome adapted apartment to stay at:
MIC Sant Jordi is a block of beautifully adapted accessible apartments near the city centre of Barcelona. All apartments have roll-in showers, electric doors and profiling beds, with options for 1, 2 or 3 bedrooms. The block also has hoists and shower chairs that are available for guests.
Even though MIC Sant Jordi has been specially adapted, it feels just like any smart and trendy apartment block in any great city. It has a great restaurant and café that's open to the public and guests.
If you're interested, check them out here on Accomable.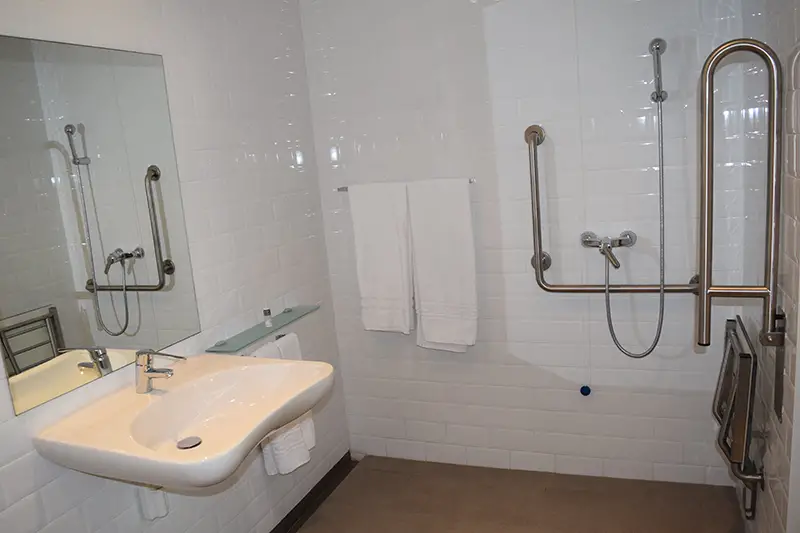 2. Lots of the Metro is wheelchair accessible.
This is what blew me away. I've never been to a European city where I was able to use the majority of the metro system and didn't have to bother with finding adapted taxis or hire cars, which is always difficult.
The only thing to be careful about is that you have to make sure you get onto the train at the correct carriage to make sure that when you get down, the platform gap will be minimal.
Check out this video of me getting onto a train.
3. Ancient architecture can be inclusive and accessible
In many ancient cities, cobblestones, old roads and other related physical impediments can make driving your wheelchair very uncomfortable. However, in Barcelona, even in the Gothic Quarter, the pavements had been smoothed out, which meant that I could admire the city's beautiful architecture without my head bouncing up and down!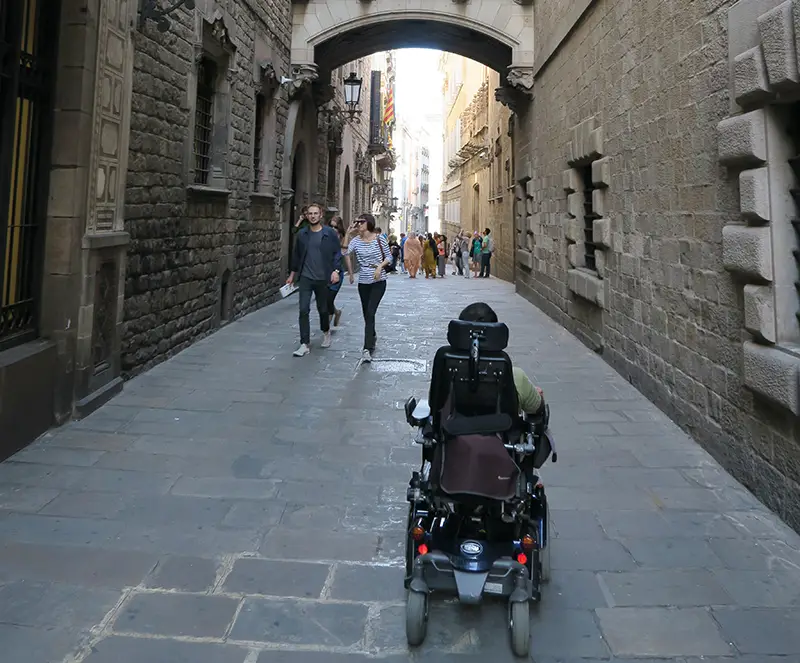 4. Lots of little things have been considered
Pretty much every kerb had a drop down and was smoothed out. All the bus routes had buses with ramps. At the beach, there was a wooden board to get nearer to the sea. Just to make life a little easier, the Catalan Tourism Board have created this fantastic guide to accessible things to do in the region. All in all, these little things just make life easier for a traveller who uses a wheelchair.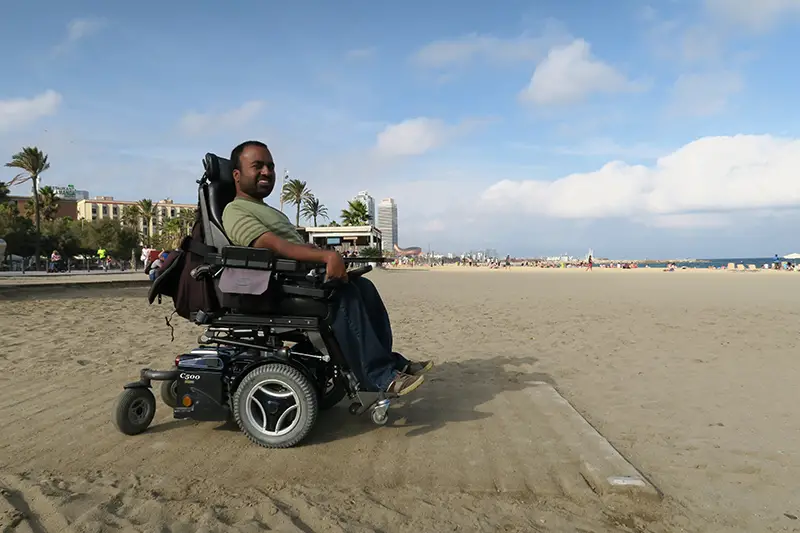 5. The food is great
Sure, this has absolutely nothing to do with accessibility(!) but as a food lover, I really enjoyed the mix and options of places to eat! During my time there, I was able to try a wide variety of things ranging from traditional Catalan cuisine to good old style American barbeques!
So if you're looking for somewhere accessible to travel to, check out Barcelona!
Much love,
Srin
Featured image credited to Moyan Brenn
Get in touch by messaging us on Facebook, tweeting us @DHorizons, emailing us at editor@disabilityhorizons.com or leaving your comments below.