Every week, we'll be posting a selection of holiday rentals that have been posted to our new listing service, Accomable. So if you're looking for that perfect place to get away and have a break, take a look at some of these…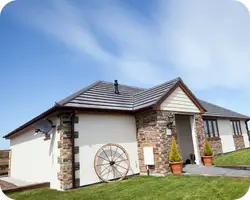 Farriers single story luxurious cottage sleeps 6
The cottage has a fully fitted and equipped kitchen/diner, lounge area with leather sofas to seat up to 6 guests, 60″ television inc Sky HD and DVD player. The lounge has an authentic wood burning stove which gives this cottage an all year round cosy feel, and there is under floor heating throughout. There are 3 en suite bathrooms with shower over bath and WC, including a wet room & ramp access making it the perfect choice for group bookings or multigenerational large family holidays. Enclosed private garden with hot tub. Open plan living room, kitchen/diner, fantastic family cottage with everything in easy reach. There is dedicated off road private parking for 3 cars and a bike rack.
—————————————————————————————————————————————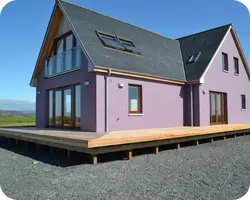 A modern luxury house with stunning sea views in natural countryside

Dundream is an award winning Visit Scotland 5*, Green Gold, Category 1, self catering holistic retreat situated in North Rhins of Galloway in South West Scotland. Sleeps 8. Stunning sea views and sunsets can be viewed from inside or outside on the decking. Accessible Japanese garden for quiet contemplation. Sonos audio, wood burning stove, 3D TV, Wi-Fi. Local converted lighthouse hotel for pub lunch or evening meals. In-house catering available.
—————————————————————————————————————————————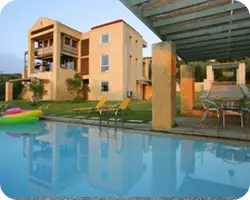 Villa Catani. Architect Accessible villa in Crete
Villa Catani is a unique house that combines innovative design, luxury, comfort, and balance between its traditional elements, (wide stone walls, exposed wooden beams) and modern ones (folding glass panels, interior light wells, decks) to offer residents the sense of being secure and cozy, while open to enjoy the panoramic views and the docile Cretan climate – the best there is!
A cargo lift (80cm X 110cm) gives access to all floors. There are two accessible bathrooms at the main floor and ground floor, 45cm high toilette, accessible sink, gripping bar, adjustable shower-height. The bathroom is accessed by a ramp; its bath-lid is 53cm high and it has a portable bath seat.  All entrances are level but the one to the upper deck.
—————————————————————————————————————————————
Le Manoir offers a stunning 3 bedroom cottage and a lovely 2 bedroom Gite for rent in its spacious 4 acre grounds. We are situated in sunny Charente Maritime amidst a wealth of vineyards, sunflowers and rolling countryside, neighbouring historic towns nearby like Jonzac, Pons and Montendre offer typical French market town life.
On the ground floor, with full disabled access, there's the third large bedroom. It accommodates two single beds which can be put together as a double if required, antique wardrobe and chest of drawers. There is a 90cm wide solid oak door to an ensuite wet room with top quality toilet, wash basin and walk in shower with seat.
—————————————————————————————————————————————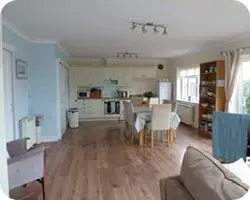 Fantastic accessible bungalow with stunning sea view
Safe Haven is a lovely bungalow in Aberporth, West Wales. It was completely redesigned and refurbished specifically to accommodate guests in wheelchairs. The double room has an oak king size bed with portable grab bars and a monkey pole to help with mobility. A mobile hoist and an air mattress for the single care bed are available for hire if needed.
The large wet-room has plenty of room for a wheelchair to manoeuvre and has a full size bath with a portable rising bath seat, roll-in shower with shower chair on wheels or self propelled shower wheelchair, twin wash basins at different heights for easy access, a heated towel rail and a raised WC with wall grab bars.
—————————————————————————————————————————————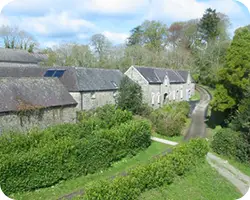 Granary Cottage, Clynfyw Farm, West Wales
Based on a working organic farm and woodland, the Granary is lovely. With level access throughout, homely access is what makes the cottage special.
Outside the door, the farm is accessible. Visit the chickens, sheep, pigs and the woodland sculpture trail and so much more. We have lots of projects on the farm that you can take part in if you like, from arts and crafts to animal care to fixing wheelchairs for rehousing in South Africa! There is lots going on and good people to spend time with.
—————————————————————————————————————————————
By Disability Horizons/Accomable
If you'd like to post a property, you can do this for free at Accomable.com.