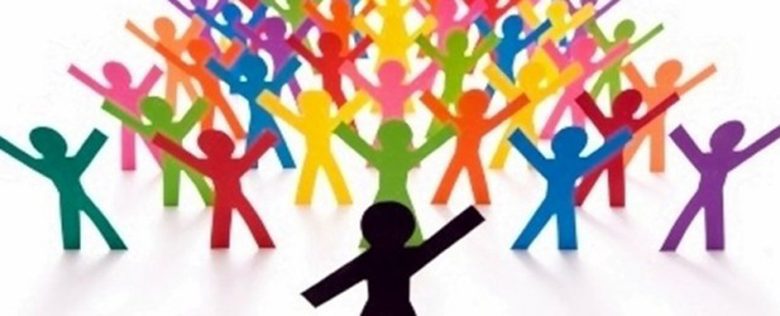 Lifestyle
Disability and independence: comfort and independence in the bedroom
Frances Leckie, editor of Independent Living, looks at developments to help with improving comfort and independence in the bedroom.
#DHguru
We spend an average of one third of our lives in bed, and it may be considerably more than this if you have a disability or chronic condition – so making it as comfortable as possible is paramount. I have recently been taking a look at a range of products that can help, from small and relatively inexpensive aids right through to assistive beds that are definitely major investments, but may warrant the expense in terms of independence and minimising the need for carer assistance.
Safety first
Starting with some simple safety solutions. Anyone who is at risk of falling out of bed might like to consider a bedrail, which can not only help prevent falls, but also act as a useful support when getting in or out of bed.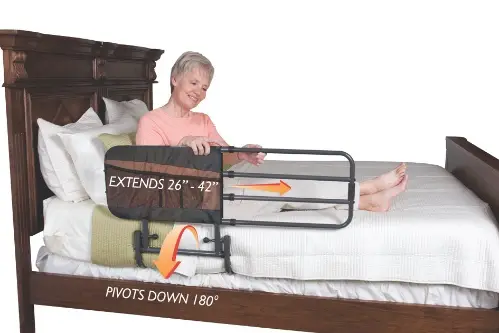 The EZ Adjust rail from Able2 is unique in that it can be altered in length after installation. It adjusts from 660mm (26″) to 864mm (34″) to 1070mm (42″) at the push of a button.
The rail also folds down and out of the way when it isn't in use. It can be installed on either side of the bed, between the mattress and box spring, and has a dual safety strap that secures it to the bed frame.
Compatible with any size home or hospital bed, at 580mm (23″) high it can accommodate the thicker, pillow-top mattresses. The rail also has a useful pouch for holding items such as TV remote control, reading glasses, et cetera.
Another interesting rail is the M-shaped version from Drive Medical. Intended more for support rather than fall prevention, the special shape allows for varied hand positions, to accommodate users whatever their height. Quickly fitted to any size of bed, it can help with moving from lying down to sitting up, and with getting in and out of bed. The rubber-coated foam provides a comfortable nonslip grip, and once again, the rail includes a storage pouch.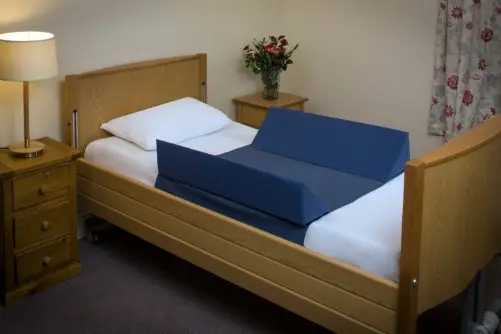 It is important to check that any rails fit properly with the bed and mattress they are used with. You also need to check that they don't provide extra hazards, such as gaps where you could get trapped.
If there is a risk of this happening, then side wedges could be a better solution. They are made from high-density foam and attach to the connecting sheet using a large hook and loop strip, which is then fitted underneath the bed using durable straps and quick release clips.
Getting comfortable – a good mattress
I recently read some academic research demonstrating that people were more likely to use equipment such as beds and chairs if they were comfortable. Doh! Comfort is probably the most important aspect of your bed: however well-designed it is for managing posture or pressure; however many features it may have, like height adjustment or profiling; even how aesthetically pleasing you find it – if you aren't comfortable, it has basically failed in its job.
Some might say that a good mattress is the key to comfort in bed, and certainly it's an essential part of the package. If your mobility is restricted, you are more at risk of pressure damage, so it is essential to choose a mattress or topper which provides protection to the appropriate degree for your situation. Pressure ulcers are no joke, and take a really long time to cure, so prevention is always the best approach.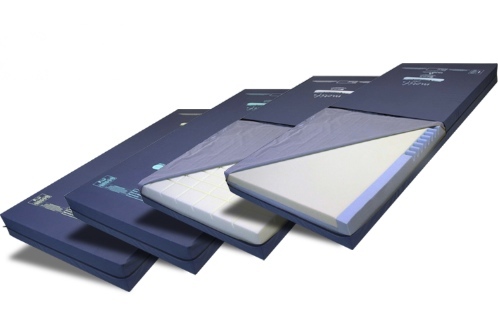 Mattress materials that provide pressure relief include high specification foam, combination foam and gel, and systems that provide alternating pressure, continuous low pressure, air flotation or viscous fluid.
Nexus DMS has a range of high-tech foam and combination mattresses that are internally hinged to work with profiling beds, and that provide pressure management from low to high risk.
Nexus DMS also has a dynamic air mattress for those at severe risk of ulcers. It operates in such a way that you don't get the ripple effect of classic alternating air mattresses, which some people find nauseating. It's also very quiet.
There are several other good mattress ranges, of course, and it is always worth getting professional advice from someone like an occupational therapist, about pressure relief, if you have any concerns.
Accessories for comfort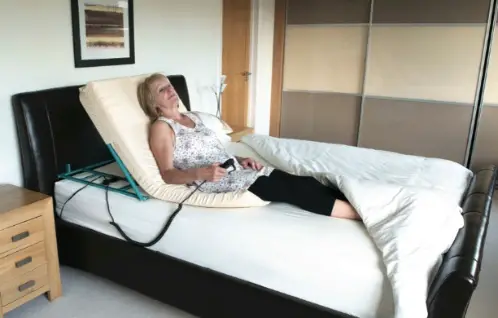 If you don't have an electrically adjustable or profiling bed, which you can alter from horizontal to whatever combination of headrest, back tilt and leg lift works for you, then a pillow lift or assorted cushions and supports can work well.
You can get a simple to use, mains powered pillow lift from Benmor Medical (currently just under £200), which will fit most beds, and is held in place by your own weight, so it doesn't need any straps to secure it. There's a hand control to adjust the angle, enabling you to recline in the most comfortable position for reading, watching TV etc.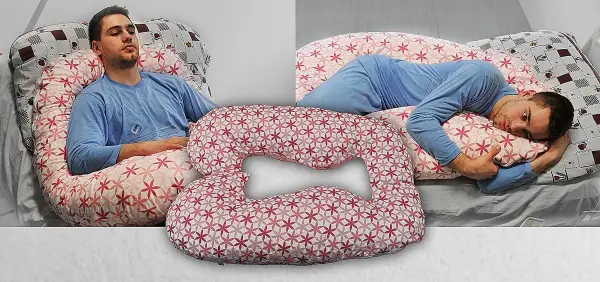 Even more cost-effective – a foam bed wedge can be used vertically for sitting up in bed, and turned the other way and placed under a pillow to give a little lift to your head if you find it uncomfortable to sleep lying flat.
Snug positioning pillows from Win Health are uniquely shaped cushions that help with supporting you in a comfortable position. There are six different shapes, and they can be used in lots of different ways, depending on what works for you.
Communication and environmental controls
Another aspect of feeling comfortable is maintaining control – something that is becoming easier and cheaper all the time. If you have a smart phone or tablet, an app such as SmartHub or EvoAssist, can turn it into an environmental control unit, giving you the possibility to adjust heating and lighting; open and close curtains; control TV, radio and music players, via touchscreen or switch input.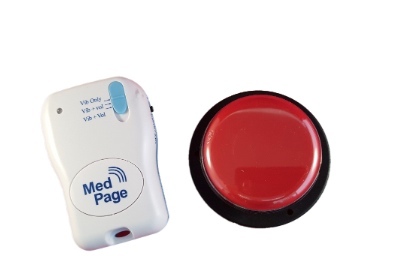 Calling for help when you need it is another essential. Easylink UK has developed a range of switches that are easy to use for anyone who has difficulties with a traditional pendant call button.
The Jelly switch has an activation area of 65mm and operates with a minimal amount of pressure. The transmitter will signal the pager at distances of up to 150 metres. Alternatively, their soft touch pillow switch can be activated by lightly touching the switch with your cheek or head. The switches can be used with a transmitter and alarm pager for help call applications, and there are special adaptations available so that you can use it for lighting control, electrical appliance control, TV remote controls and much more.
Assistive beds
We get a lot of enquiries on Independent Living about assistive beds, which lift and rotate into a chair shape to help you move from lying down to sitting or standing up. Although these are certainly expensive, at several thousand pounds each, they have been calculated to pay for themselves in a matter of weeks, if somebody would otherwise require assistance from two paid carers twice a day, in order to get in and out of bed. They are also available on a rental basis.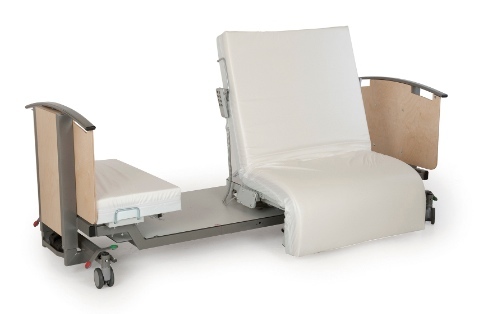 You can have a Rotoflex or Rota-Pro bed as part of a double bed configuration, and it doesn't look clinical. The range of options available now includes bariatric (very heavy duty) and extra low models, the latter proving particularly useful for those of short stature and anyone who requires a low seat height. All the beds can rotate to the left or the right, and have built-in profiling and height adjustment.
What would make your bedroom really comfortable?
If your bedroom is less than ideal, what would you most like to change? Is there a bedroom feature that nobody seems to have come up with yet? Add your comments or wish list below, and share with the Disability Horizons community!
By Frances Leckie
Get in touch by messaging us on Facebook, tweeting us @DHorizons, emailing us at editor@disabilityhorizons.com or leaving your comments below.