The Bimblers describe themselves as the UK's most unlikely travel bloggers. Rob, together with his partner Bridget, travel in a wheelchair, reviewing access as they go. Driven by the mantra 'access for all' Rob has joined us to share his thoughts, observations and ideas to make travel easier for people of all abilities. This month he rounds up the best accessible beaches in the UK and where to hire beach wheelchairs from. 

Video created using Invideo.io.
In the UK, sunny days are few and far between. So, when they happen, there's usually a mass exodus to the beach. We are an island nation, we have an innate affinity with the sea and we are blessed with some fantastic seaside towns and beaches. But, have you ever tried visiting the beach in a wheelchair?
If you have, you'll know that sand and wheels don't mix. Whenever I've tried to push Bridget on sand, I've had to give up because we either got stuck or I collapsed through exhaustion.
Unless you're superhuman, you are going to need to use a beach wheelchair, and that's where it gets tricky.
There are initiatives dotted around the UK, schemes that aim to help wheelchair users access the beach. And when I say access, I mean getting onto the sand and, in some cases, into the sea.
But during my research, it became clear that although there are plenty of accessible beaches, there aren't enough beach wheelchairs, certainly not enough to meet demand. Added to that, information available on both, is often few and far between.
However, there is information out there. So, below I have rounded up some of the great accessible beaches and beach wheelchair hire facilities across the UK to help you enjoy a day out at the seaside.
Accessible beaches in England
When you consider the length of England's coastline, and the amount of seaside towns along it, you'd be forgiven for assuming that many of the popular beaches would be accessible.
In parts, they are, but they're not fully accessible, and that's a real shame. But there are places that take access much more seriously than others.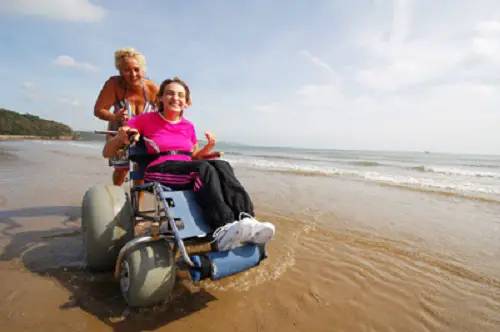 Accessible beaches in Wales
The Welsh coast is home to many accessible beaches, some of which have beach wheelchairs available for hire.
The beaches above are a small selection, but for a full list and to check availability of wheelchairs, take a look at these two guides: accessible beaches in Wales and beach wheelchairs in Pembrokshire.
Beach wheelchairs in Scotland
Beach Wheelchairs is a Scottish charity in North Berwick that believes everyone should have access to the country's beaches. It has four beach wheelchairs available for hire from the beach hut in North Berwick, East Lothian.
Apart from this though, unless I'm missing something, Scotland doesn't seem to have many accessible beaches or other beach wheelchairs for hire.
Northern Ireland
I don't want to be unfair and not include Northern Ireland, as I'm sure it must have accessible beaches along its beautiful coastline. But if it has, their whereabouts is not immediately apparent.
Like most people, I've looked at the official tourism website and I can find information about disabled parking and toilets at individual beaches. But not actual access to the beach or beach wheelchair hire details.
As you can probably tell from my tone, I have become frustrated by the lack of access information. I genuinely believe that information is there, even if I can't find it. And, if I'm unable to find it as a travel blogger, what chance have casual visitors got?
Clearly, this is an area of UK tourism that needs a lot more investigation and work to collate the information. I will endeavour to build a more substantial list of accessible beaches and beach wheelchair hire locations over on my blog, The Bimblers.
But in the meantime, if you've visited any of these beaches or any other accessible beaches for that matter, why not leave a comment and tell us all about them.
By Robert Obey
Check out…
Get in touch by messaging us on Facebook, tweeting us @DHorizons, emailing us at editor@disabilityhorizons.com or leaving your comments below.