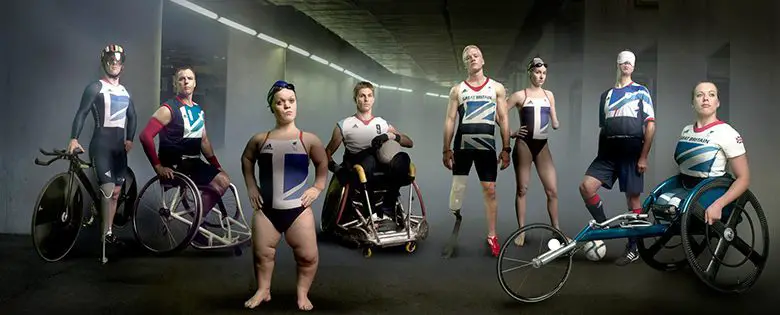 With the Olympics now over, it seems we've all once again been bitten by the sporting bug, eagerly awaiting the start of the Paralympic Games. But are we really all excited? Regular Disability Horizons writer Meghan shares her views on why she's not able to be jubilant about the Paralympic Games. 
Every four years, when the Olympics and Paralympics roll around, the air is different. People are buzzing about their favorite athletes, placing bets on those hotly tipped to win, and cheering on their chosen team.
But for me, there's no buzz. Why? Because the Paralympic Games are virtually extinct in my neck of the woods, the USA. This is actually the first time I have ever talked about it, but I've hardly ever seen any of the ESPN channels showing Paralympic matches, and it's always made me feel like we, disabled people, aren't good enough.
I think it was last summer that there was the 'Special Olympics' in Los Angeles, California, and for once an ESPN channel was airing the opening ceremony of these games. But they were airing it at 1 in the morning. I happened to be awake and searching for something to watch on TV, so the fact that I saw it at all was very lucky!
It was great to see, even though I did only come in as they got to the M countries. But I watched that whole ceremony knowing that this would be the only part of the event I would be able to watch, despite seeing the adverts all over Facebook claiming that those channels would indeed show the games. Well, they didn't.
This year, since I've been writing about the Paralympics, I've somehow surprised myself by the fact that I've wanted to watch the actual Olympics too. I only wanted to watch two events, swimming and gymnastics, but I've watched a whole week worth of it! As it started to come to a close, I figured I would look ahead to see how much our local channel (the one I've been glued to), would actually air from the Paralympic Games. I went onto three different websites and they all said the same thing – despite the fact that Channel 4 will air over 500 hours of the Paralympic Games, NBC will be covering 66 hours only!
In a way, I was glad that my theories were correct. I knew it wouldn't get the same coverage the Olympics got for the whole ten days. Although throughout August, both able-bodied and para athletes shared commercials, our Paralympians won't have the same support that our Olympians had during their games.
We're not all Paralympians
But just because I may not be able to watch the games, it doesn't mean that I can't dream of being a Paralympian and achieving to the dizzying heights they do. I've often dreamt about playing soccer. I'm on the ground, sitting on my bottom on the fake grass, trying not to get hit in the face by the ball or opponents, and running as fast as my little hips can take me!
I also think about archery, playing from my wheelchair. I have Arthrogryposis, which is a joint disease that affects my arms and legs, so my arms are bent at the elbow. To play archery I'd therefore have to first figure out how! But, I mean, if Matt Saltzman can do it with his toes, why can't I?
But truth be told, neither of these scenarios would happen in a million years. Why? Because I have a giant rod going up my back and two pins at my hips keeping them place. Around 14 years ago I was really flexible, as well as being a fast runner. But, now I'm not. I'm the slowest person. I even have to take multiple breaks just going from one room to the next.
And it's not just me that wishes they could play sport but knows they couldn't. I also spoke to Disability Horizons reader Hoss, who has ASBO, which is a form of Ehlers-Danlos Syndrome (EDS), Fibromyalgia (FMS), Chronic Fatigue Syndrome (CFS) and sleep psychosis. He said that he doesn't have what is considered a 'Paralympian disability', but still declared; "if I could be a Paralympian I would to be a member of the dressage team." Dressage is a highly skilled form of horse riding, performed in exhibitions and competitions as part of Equestrian sport. He added; "it's one of the few sporting skills I had when I was able-bodied."
My friend and fellow blogger, Tania Jayne from When Tania Talks, who also suffers from EDS, said: "I think if I were to play a Paralympic sport, it would be Sitting Volleyball." She explained that with EDS, it affects her ability to get around. "With Sitting Volleyball there's no moving, so I wouldn't have to wheel my chair. Plus, I've just always wanted to try volleyball!" She also gave reasons why she couldn't do any other sports like track, swimming, or even Equestrian; "I also have an anaphylactic (life threatening allergic) reaction to horses!"
Another friend, Annie, who has chronic neuropathic pain, Osteoarthritis in her ankle and both knees, and dodgy tendons and ligaments, really enjoys swimming. If she could enter the Paralympics, she would do that. She said: "Being in the water doesn't increase or cause any additional pain." She also adds that she; "can't do anything that involves impact," so both field and track and gymnastics are out of the question.
So you see, some of us would love to be swept up in the excitement of the Paralympics, but there are many of us that can't. Either we can't actually watch the games because the Paralympics isn't deemed as important as the Olympics, or there's so much pandemonium about the Paralympics that people who wouldn't be able to play a Paralympic sport are simply reminded of that they can't do. Either way, we're left feeling inadequate, not uninspired.
Here's hoping they change the viewing schedule and I'm able to jump onto (not literally!) the Paralympic bandwagon…
By Meghan
You can read more of Meghan's articles by visiting her blog, Got Meghan's Blog.
Check out…
Tell us how you feel about the Paralympics. Are you excited? Are you frustrated by it? Or could you not care less?! Get in touch by messaging us on Facebook or tweeting us @DHorizons using the hashtags #Rio2016 #Paralympics.