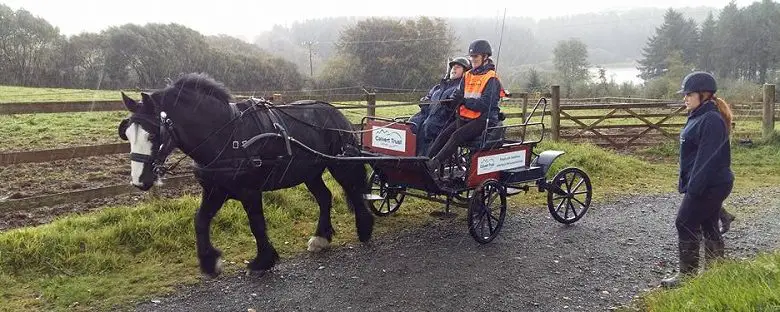 Travel & Holidays
Accessible activity: my wonderful horse and carriage experience in Devon
Remember the competition we ran last week with the National Trust South West, where we asked you to vote for Martyn Sibley to do an accessible activity with the Calvert Trust Exmoor? Well your votes flooded in and we counted them up. The winning activity was a horse and carriage ride – it won by just one vote. Find out how Martyn got on, and how you too can try this activity out.
So last Sunday my fiancee Kasia and I headed from Cambridgeshire to Devon to complete the accessible activity you had chosen for me. With around five hours of driving, we finally arrived in Devon at 10pm to a full moon and silent landscape.
Monday morning came around quickly, and before I knew it I was being swung in a hoist inside some stables, ready to start my adventure. The Calvert Trust is a residential activity centre that organises accessible activities for people of all abilities. This means that the rooms, equipment and staff are all extremely prepared and welcoming of disabled visitors with any impairment.
The hoist placed me into a manual wheelchair, which I used many years ago for abseiling (something I have done at the Calvert Trust aged 14 and 29). It has a headrest for my weaker neck muscles, comfy cushions, and the all important seat belt!
Kerri and Alice, the two helpers there, talked me through everything we were going to do, so I felt relaxed and confident. The next step was to be pushed up the ramps and into the carriage. Here, the manual wheelchair was strapped down, and I could finally see my chauffeur for the day – Hendrix.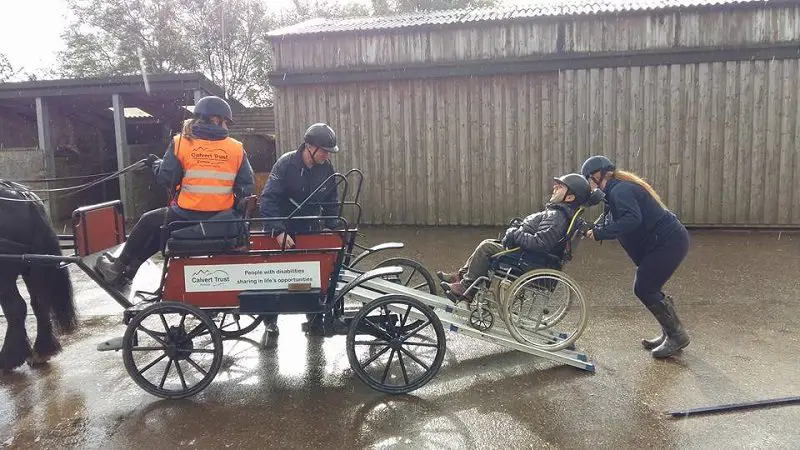 Hendrix the horse (or was it pony? I was zoning out a bit at this point from nerves) had been at the Calvert Trust for years. He was a pro at pulling the carriage and multiple passengers over his career. A real gentleman.
Once Kerri got us from the stables to the outdoor riding school, it was time to test this out. I held a reign in each hand fine. However, to my surprise, Hendrix responded to voice too. A low toned "Hendrix whoa" stopped our forward motion. Or a higher pitched "Hendrix walk on" got us moving again. When I needed to steer left or right, a tiny pull was enough for Hendrix to know my intention. What a top lad!
Unfortunately, it was then that the rain came down. Oh well, it is the United Kingdom. So I borrowed a poncho and cracked on regardless. I was having too much fun to let some water spoil the day. After some trotting (essentially faster speed walking), we left the school and went around the grounds of the Calvert Trust. It was exhilarating.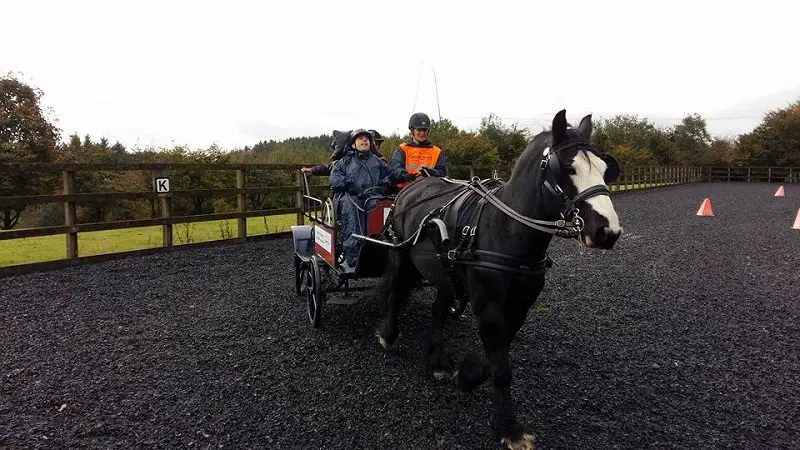 The fresh air, these beautiful animals, such stunning scenery near the lake, and the amazing staff made it a fantastic experience! Thank you National Trust South West and Calvert Trust Exmoor. More so, thanks to all of YOU for sending me on this activity.
With another long drive I was tired. However the adrenaline, exhilaration and sense of achievement made the exhaustion a positive one.
We'll be announcing the competition winner of Cotswold Outdoor Vouchers in due course on Twitter,  @DHorizons, and our Facebookpage, so keep your eyes peeled.
You can find out more about Calvert Trust Exmoor and what activities it runs on its website.
By Martyn Sibley
Check out…
Get in touch by messaging us on Facebook, tweeting us @DHorizons, emailing us at editor@disabilityhorizons.com or leaving your comments below.