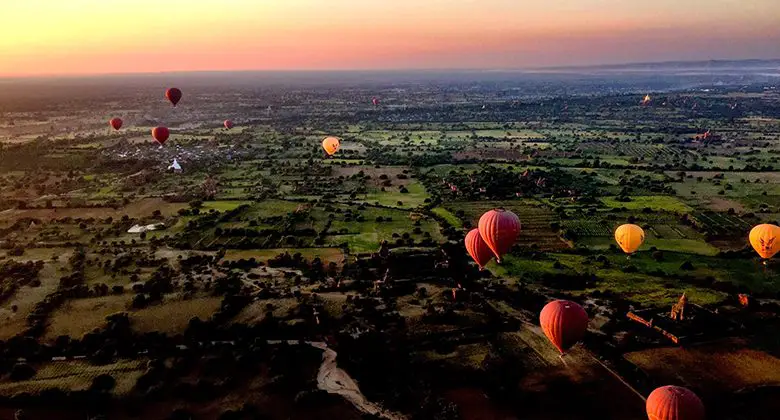 While she had her doubts, Alexa Huth didn't let her visual impairment stop her from going backpacking in Burma for the experience of a lifetime. Read on to hear more about what she learned during her adventure.
One thing's for sure, I'm a hotel girl through and through. While I'm not a huge fan of trips that are packed full of scheduled tours, I do like the security of knowing where I am going to sleep at night. Before last year, I had never taken the more rustic route when it came to travelling. But there's a first time for everything, and when my friend said she was going backpacking to Myanmar (also known as Burma) I decided to give it a try.
Before my trip, backpacking around a third-world country while visually impaired was a tough concept for me to wrap my head around. As I packed my school-sized backpack to last me an entire month, I thought about everything that could go wrong. I was particularly worried about my eye condition, lattice degeneration. Would one of my retinas re-detach?
Somehow, I shoved that fear to the darker corners of my brain and hoped it would be alright. I knew that if something went wrong, I could travel back to America, but hoped this wouldn't be the case. Sometimes when you are traveling you just need to figure things out as they happen and not fixate on the 'what ifs'. This is true for anyone who travels, disabled or not.
Once I faced my fears and arrived in Myanmar, I spent a month traveling all over the country, to places like:
Yangon
Mandalay
Inle Lake
Kalaw
Bagan
Pyay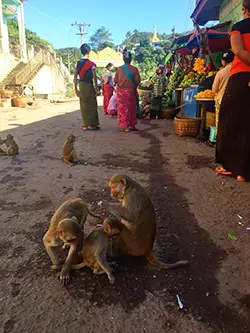 My trip to Myanmar didn't come without obstacles, but it was definitely worth the visit! The country has only been open to general tourists for a few years, so it isn't overly commercial in many areas. However, with this comes a variety of accessibility obstacles and roadblocks.
The bad
Accessibility is definitely a barrier in Myanmar. It is understandable given the fact that the country is doing some pretty hefty rebuilding. But there are some huge concerns that I literally stumbled into that you need to be aware of if travelling there. The worst being open ravines next to many of the sidewalks.
One night I had been hurrying to grab a taxi when I stepped onto what I thought was a sidewalk. Instead, my right leg slipped deep into a hole and squished against some pretty thick muck (although I was scared initially that it might be sewage).
After I was freed from the grime in the hole (shoe intact thankfully), I poured a mixture of bottled water and hand sanitizer on my foot and declared my 'swamp leg cured'. Needless to say I was a lot more careful while walking after that.
The annoying
The steps. Many of the cultural sites we visited were only accessible via huge staircases that took a long time to climb.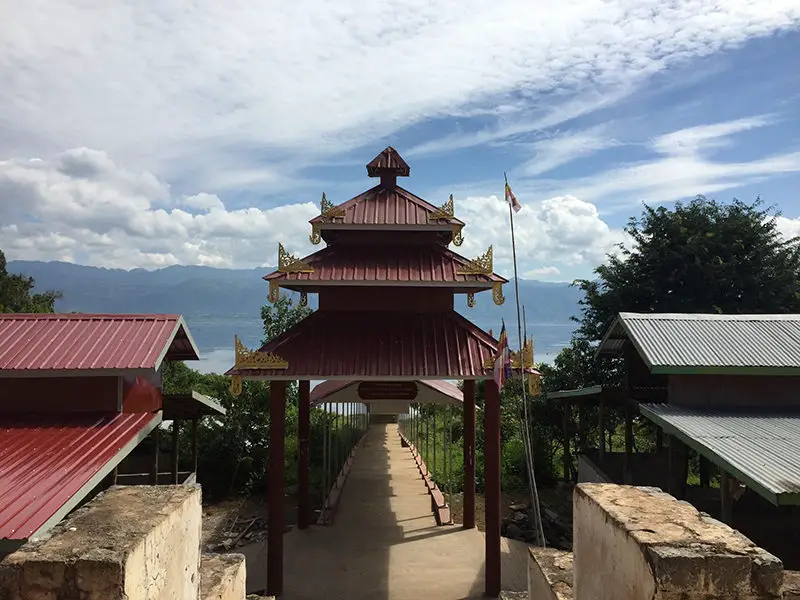 My visual impairment causes me to see double permanently, so I have a loss of depth perception and the inability to see in 3D. This makes steps extremely challenging, especially when they are all the same colour and don't have clear ledges. No staircase was more challenging that the one leading up to Mount Popa near Bagan. Apparently there are more than 700 steps, although I didn't count.
The steps weren't the only issue though – so were the monkeys playing along the steps. They would chatter and run around, making an already difficult climb much harder for me to focus on. After all, thinking; "don't kick the monkeys" is pretty distracting, especially when they were tame enough to plant themselves right in the middle of the path you needed to climb.
The great
Although this trip was difficult, getting to see the sights that I did was really empowering. They made all the struggles completely worth it. While I'm not doing any sort of bucket list for places to travel to, there are some things I really appreciate seeing in case my eyesight does totally fail.
I chose to trek from Inle Lake to Kalaw in a three day journey through the mountains. Looking back, I had no clue what I was getting into. It rained most of the time, turning the mountains into a sloppy, thick mess of mud.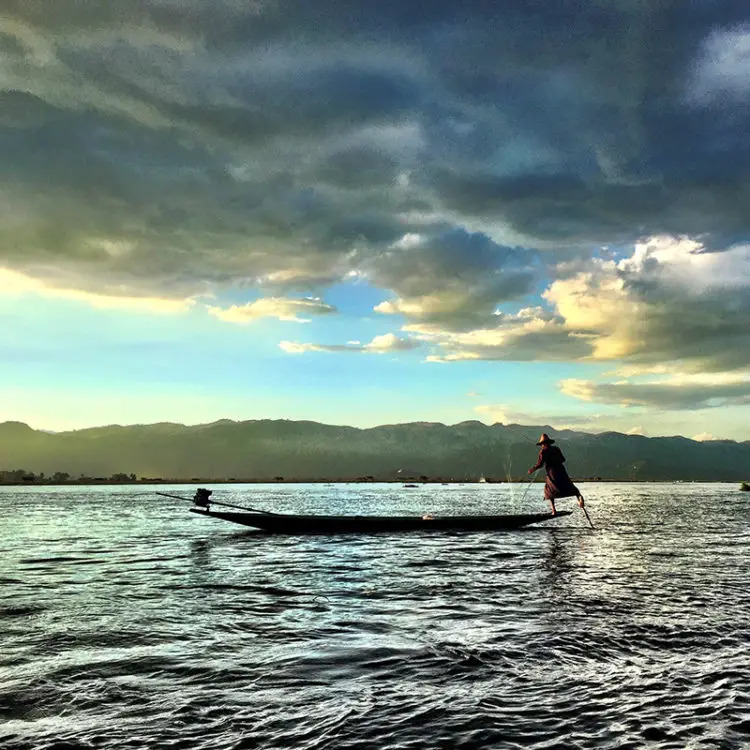 Some parts of the climb were so slick that I was pretty concerned I'd slide right back down. There was even one point where I thought it would be impossible to actually finish the trek.
None of that had anything to do with my eyesight, and that's why it was so incredible. I was so focused on overcoming the challenges nature was throwing at us, at times I was able to forget about my own physical limitations.
The hilarious
Sometimes I think I blame my disability for things, when in reality they could happen to anyone. And that's a lesson I learned during my trek in Myanmar.
The guide took us through so many different, and often unsteady, landscapes that I had to focus on my feet for a lot of the journey. While that meant I did miss some of the scenery, I made sure I took moments to look up and see the natural beauty around me.
At one point, it had been raining for what seemed like forever, when the deluge finally let up. A rainbow appeared across the field, and I got cocky.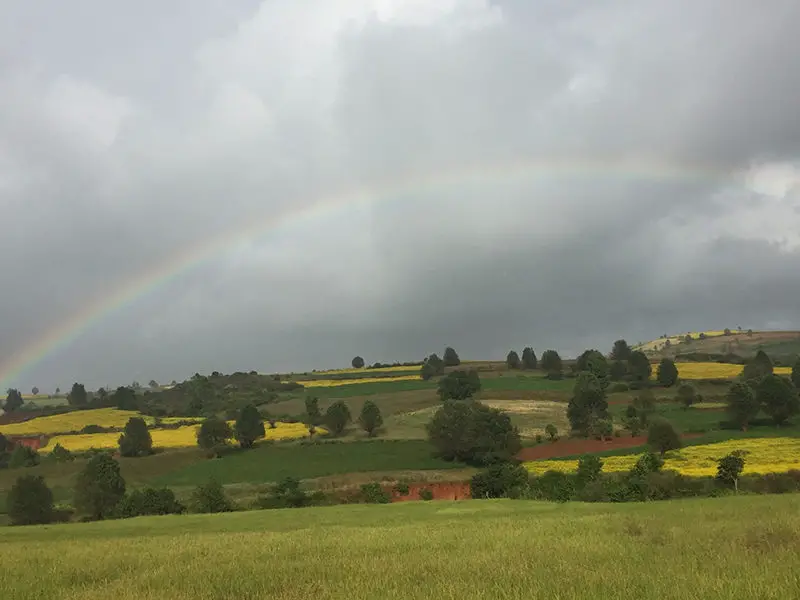 The flat landscape made me think I could carelessly look around and walk across the field. Little did I know we were leaving the safety of the normal field and entering a rice paddy. My brain just interpreted the new landscape as unusually tall grass, and all of the sudden I went from being on the land to in the water.
After being fished out of the paddy, we continued our trek. But my ankle started to hurt. I thought maybe I had twisted it in the fall. But no, this was a different pain. I looked down to see blurry black dots on my ankle. Leeches! Something I never thought I'd see. My guide was equipped with a lighter and a stick, which I learned are the tools necessary to rid yourself of leeches.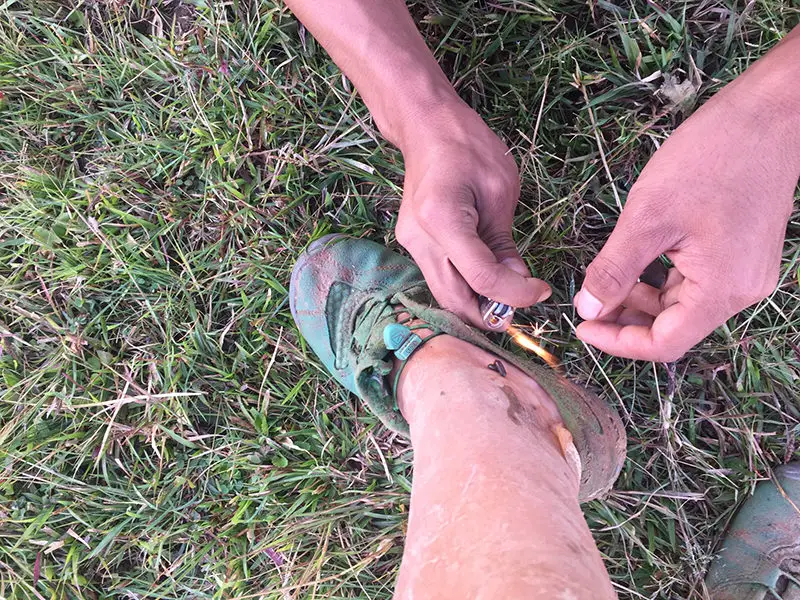 Why was this funny? Well, I had gone from worrying that I'd never be able to walk around on my own due to my diagnosis, to learning the art of leech removal on a remote trek across the Burmese wilderness. In that moment, all I could do was laugh. Getting leeches could have happened to anyone, and it put things into sharp perspective for me.
My sight isn't great but I can still have an amazing adventure.
By Alexa Huth
Check out…
Get in touch by messaging us on Facebook, tweeting us @DHorizons, emailing us at editor@disabilityhorizons.com or leaving your comments below.