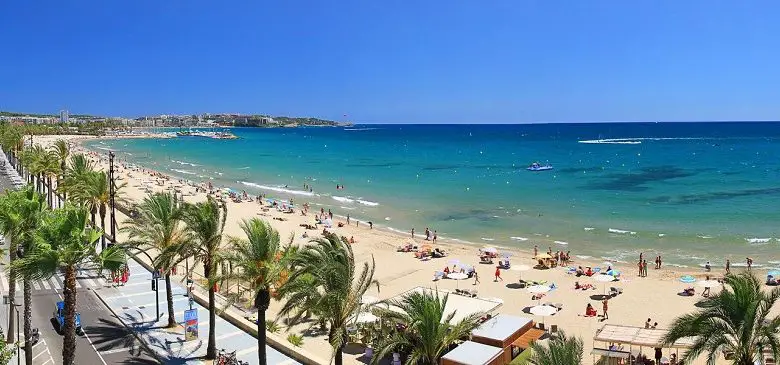 Regular Disability Horizons writer, Carrie Aimes, who has Ullrich Congenital Muscular Dystrophy, tells us about her recent trip to Salou in Spain. Find out how she managed to plan and execute an accessible holiday that she and her parents would enjoy.
Last year, after a prolonged holiday absence, I decided it was about time I set off in search of sun, sea and sand – a sight unseen here in the Midlands! So, the first thing on my to do list once 2016 commenced, was to organise a trip abroad, and one that would meet all my access requirements.
I would be travelling with my parents, which presented me with an additional task – finding somewhere that would satisfy their wants and needs as well as my own.
To say it's not ideal to holiday with your parents at my age (28) is an understatement. But it really was my only option at the time if I wanted to get away. I had resisted their invitation to accompany them abroad for some time, but I had reached the point of desperation. There's only so much British weather a girl can take!
Booking accessible Spain
Having devised a short list of destinations, I compared prices online. I'd previously visited the Costa Dorada region of Spain, booking through Enable Holidays, and found it to be a great place to roam around in a wheelchair. However, this time round I found it quite significantly cheaper to book to go to Salou with Disabled Access Holidays.
A few emails and phone calls later, and a week in Salou, Spain was booked through the Glasgow-based company. Throughout the whole process I was in touch with the same agent, which was very reassuring and felt more personal.
Airport assistance and wheelchair accessible taxi transfers were organised. An electric wheelchair was also hired for the week, as I prefer to travel with just my manual chair – I don't like to take the risk of my Quantum 600 wheelchair being damaged. For me, the booking process was simple and stress-free, as everything was done on my behalf by Disabled Access Holidays (DAH).
The only thing I had to arrange was travel insurance for myself. DAH recommended AllClear, even offering a discount code. I enquired with a few providers, which all quoted a similar price. Just one week in Spain would have cost me more than £500 and so, admittedly, I chose to take the risk and travel without insurance.
Travelling to Spain
We flew from Birmingham airport on 7th July, arriving in sunny Reus after a thoroughly chaotic checking-in and boarding process. Conveyer belt malfunctions, lack of staff, delays and the absence of assistance at Birmingham created an initial sense of unease.
But wha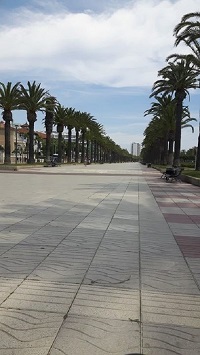 t really frustrated me was the fact that we boarded via the centre of the plane, my parents and I being made to wait until last. Since our seats were at the front of the plane, I had to struggle some distance in an old aisle chair, bumping elbows with strangers all the way (bear in mind I'm pretty damn petite).
I can't stand these cronky aisle seats, mainly because they offer no postural support whatsoever, and are incredibly uncomfortable. My balance is poor and, consequently, I always feel like I'm about to fall out of the chair whenever I'm forced to resort to using one.
Upon reaching our front row seats, dad was left to manually transfer me himself. No help was offered. Nothing. Not even a passive; 'are you okay with that?' Well, no, actually, I can't weight bear at all but don't you worry, we're quite used to this.
A short and thankfully uneventful flight ensued. The length of a flight is always one of my major considerations for me when organising the holiday. A long-haul flight was a no-go as there's just no way I would be able to access the bathroom. With the best will in the world, for me, it really can't be done.
Arriving in Spain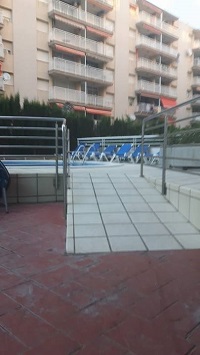 After the disappointment at Birmingham airport, I was relieved to receive a much more conscientious service when disembarking at Reus.
The assistance was swift and effective. Without question, the staff safely lifted me from my seat straight into my manual wheelchair, which had been brought to the front of the plane. I was so thankful for this as I hate to have to burden my parents with the physically exhaustive task of manually transferring me. This is where we then exited from, this time without an audience.
Our pre-booked taxi transfer was at first nowhere to be found, but soon arrived after being prompted by a phone call. The English-speaking driver was again extremely helpful, and assured us repeatedly that she, or another driver, would collect us from our hotel at the agreed date and time when we needed to head home.
Accommodation in Spain
And so we found ourselves at the Medplaya Piramide 4 star hotel in Salou, Costa Dorada. The three of us shared one accessible room, situated on the second floor. Unfortunately, there were a few issues.
Firstly, being on the second floor meant that there was a daily battle for the lift, which everyone felt the needed to use, regardless of age or ability.
Next was the accessibility of the room itself. Aside from the presence of a grimy shower chair with one dismembered footplate, it was difficult to see how our room, and the bathroom in particular, could be considered 'accessible'.
It basically comprised of a regular bath and a roll-in shower, which flooded our entire room and out into the hallway whenever we used it. The bathroom door veneer was all peeled away, suggesting that this is a long-term issue that the hotel has failed to address. We had to call reception for extra towels to mop up the water after every brief shower.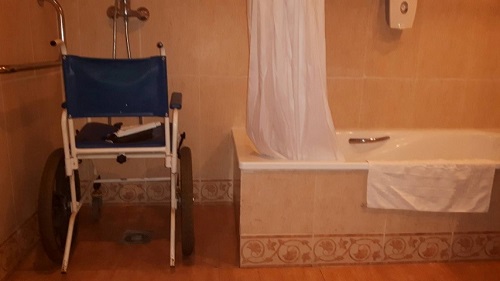 The sink was far too high and so unreachable for me. The toilet was lower than normal and lacked any surrounding support, aside from a fairly redundant and misplaced grab rail affixed to the wall.
With regards to accessing the balcony, my high-power wheelchair was able to run up to and get over the small lip on the patio door. But this could be a problem for someone in another kind of chair.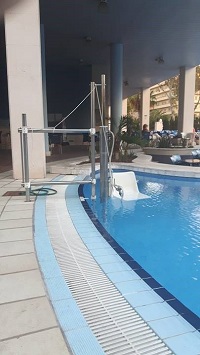 The hotel itself, both the interior and exterior, is suitable for anyone with a disability, as far as I could tell. There were smooth, flat surfaces; ramp access where needed; wide open spaces to manoeuvre around, and a large ground floor disabled loo. All that meant I was able to roam around completely independently. There was also a pool hoist – a clean, fully functioning pool hoist!
With plenty to keep me occupied, including a bar, restaurant, pool room, terrace area, as well as day and night-time entertainment, I could see this modern hotel catering for all ages and abilities. The staff were also welcoming, sociable and most accommodating.
Exploring the accessible beach
There were some steep pavements surrounding the hotel, but plenty of slopes and access points more than made up for this. The hotel is ideally situated, just a short stroll from the impressively accessible Levante beach, 250m from Salou town centre and 1.5km from Port Aventura theme park. The area is, for the most part, flat and even, making it ideal for wheelchair users.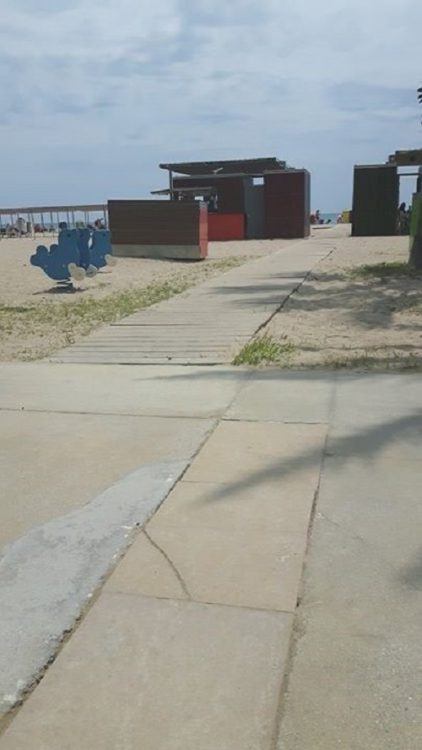 I have to say, the major selling point for me was the beach. Though I'm not an experienced traveller, of all the beaches I have ever visited, this one is by far the best. It's vast, it's flat, and there are numerous platforms, which allow wheelchairs and prams to enjoy a smooth ride right down to the waters edge. I was pleased to see many other people with various disabilities accessing the sands, and without the all too familiar struggle.
Furthermore, the people who hire out sun loungers could always be counted on to offer a helping hand, if and when needed. Without question, they often came running to the assistance of someone. This is not part of their job, nor is it commonplace (sadly), and so I feel it worthy of mention.
On the whole, my week in Salou provided me with much-needed respite and relaxation.
However, the last day of the holiday was unfortunately incredibly stressful. Surprise, surprise, our pre-booked taxi never arrived! So we were forced to ask reception staff to telephone for a local cab asap. This took over an hour to arrive as there is only one wheelchair accessible taxi in the local area.
Fortunately our return flight was delayed, otherwise we would have missed our flight.
Despite this rather stressful conclusion to an otherwise enjoyable holiday, I would definitely recommend Disabled Access Holidays. However, the annoyance with the hotel has reminded me that it's also important to do your own research and investigation, prior to committing to any accommodation and travel arrangements.
By Carrie Aimes
Get in touch by messaging us on Facebook, tweeting us @DHorizons, emailing us at editor@disabilityhorizons.com or leaving your comments below.
Disability and travel: rehabilitation in accessible Tenerife