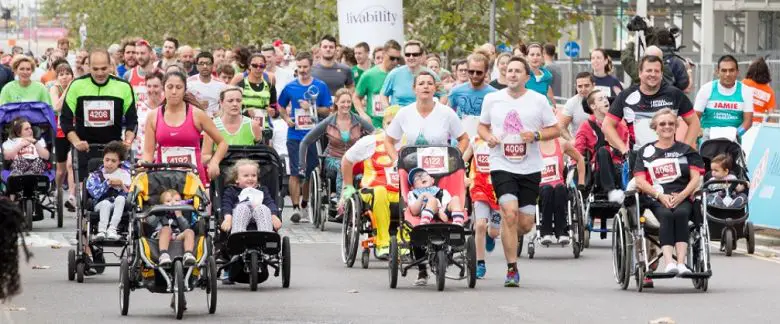 The 3rd September sees the return of Parallel London, a mass-participation race for people of all abilities. Regular writer Carrie Aimes speaks to disabled actress Sam Renke, ambassador for Parallel London, about why the event is so important and why you should get involved.
Despite her disability, 31 year-old Samantha Renke moved to London five years ago to pursue her long-held dream of becoming an actress. Now a familiar face to many, she has since starred in an award-winning film, music videos, webisodes as well as the popular Maltesers television advert. The former teacher is also a columnist, disability campaigner and charity worker.
As if all this is not enough to keep her busy, Samantha was recently appointed ambassador for Parallel London. Here, we learn more about the rising star and her involvement with Parallel London, the world's first fully-inclusive, fully accessible mass-participation event.
Would you please tell Disability Horizons readers a little about yourself, your disability and how it affects you?
I was born in Germany to a German mother and British father. We moved to the UK when I was a baby. I studied French, German, Sociology and European Studies at the University of Lancaster before completing my PGCE in Secondary Education at the University of Cumbria.
Following this, I worked as a high school teacher for a number of years. I was also a trustee for the Brittle Bone Society for 6 years, supporting people with my condition, Osteogenesis Imperfecta (brittle bones).
I am a full time wheelchair user and my bones break very easily. I've had around 200 fractures starting in my mother's womb! I get fatigue and have some breathing difficulties. I do have a PA to help me with day-to-day tasks, which is my saving grace and allows me to live my life to the fullest.
After moving to London in 2012, my debut role was playing Alice Gardiner, a mischievous disabled girl who absconds to London in the film Little Devil. I won best actress and the film won Best Film in the Diversity of Arts category at the LA Diversity Film Festival. From there, I got an agent at Visable People and have appeared in a number of projects since.
I still love my charity work and I am patron of Head2Head, a multi-sensory theatre group. I am also affiliated with some other well-known charities, such as SCOPE. I love writing and have a regular column in Posability magazine and write regular blogs for the Huffington Post.
People may know you best from the popular Maltesers TV adverts, which aired during the Paralympics. Why did you want to be part of that, and what response did you receive?
I think it's any actor's dream to be part of a national commercial as it's certainly great exposure. More than that, I knew the concept was revolutionary and I felt so excited about the positive impact the advert would have.
Apart from some online trolling, the response has been phenomenal. Every day, without fail, when I leave my flat in East London I am recognised. People want my autograph and selfies. The lovely thing is that my disability is not the reason people stare at me now.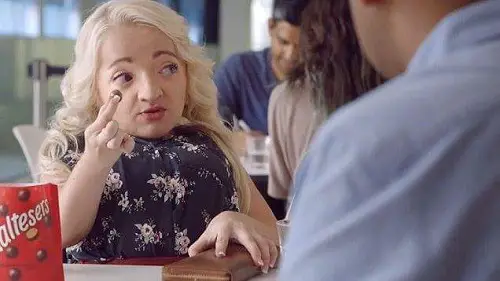 You're a celebrity who happens to have a disability. What does this mean to you, and what challenges have you faced?
I always loved drama at school and attended a number of after-school drama clubs. However, one of my teachers took me to one side and told me not to get my hopes up of being cast in an acting role. I suppose at that time, 15 years ago, she had a point – the representation of disability within the media was non-existent. Nevertheless, this was heart-breaking to hear and I dropped all of my classes.
But after being a teacher for a couple of years, I knew I wanted to pursue my passion again. I hope my story encourages more people who have disabilities to get involved in TV, film and presenting. I'd like to think that when I have my own family, my children will follow their dreams, no matter what anyone else says.
You were recently made an Ambassador for Parallel London. How did you come to be involved with this event?
My amazing friend Daniel White and his daughter Emily, who run the awesome blog the Department of Ability, introduced me to the Parallel team and the rest is history. It is a total love affair!
Can you tell us more about what Parallel London is and what it means for disabled people?
Parallel London is a fully-inclusive and accessible fun run and free family festival held at the iconic Queen Elizabeth Olympic Park. Open to all ages and abilities, there are no cut-off times and no barriers to involvement.
Parallel's inaugural event took place on 4 September 2016. We hosted over 3,000 participants, of which, 41% declared themselves as having a disability. 5,500 people attended our family festival showcasing all different types of inclusive and accessible attractions. This year it is being held on the 3rd September.
Why is it so important to you to be involved with such an event?
Being part of a team and having people around you who love and support you for you is so important. As a child I did not get involved in anything as much as I would have liked, and this left me feeling isolated a lot. Parallel is all-inclusive, no matter what your ability. I think this is just amazing.
Is there any insider information you, as ambassador, can exclusively reveal to Disability Horizons readers?
Expect some surprises! I'm going to be getting my burlesque on with the amazing Folly Mixtures and their all-inclusive Burlexercise master class. So get your feather bowers ready.
My good friend Stephen Dixon from Sky News will also be at the event presenting for Sky and hosting with yours truly. He has told me that, regardless of the weather, he will be wearing his short shorts!
How can we all get involved with Parallel London?
Parallel London is taking place at Queen Elizabeth Olympic Park on the 3rd September. There's a 10km, 5km, 1km, 100m and the Super Sensory 1km walk, cycle, push or run – whatever you want to do. It's for all ages and abilities and everybody can be running side-by-side. You can get sponsorship for any charity or cause that matters to you – so why not give it a go?!
For more information on Parallel London visit www.parallellondon.com. You can also find out all the latest information about the event by following Parallel London on Twitter.
By Carrie Aimes
You can check out Carrie's blog at www.lifeontheslowlane.co.uk and follow her on Twitter @claimesuk or on Facebook. 
https://disabilityhorizonscom.onyx-sites.io/2017/07/disability-and-sport-how-a-little-exercise-can-have-a-big-impact/
https://disabilityhorizonscom.onyx-sites.io/2017/01/we-talk-to-disabled-athlete-turned-entrepreneur/