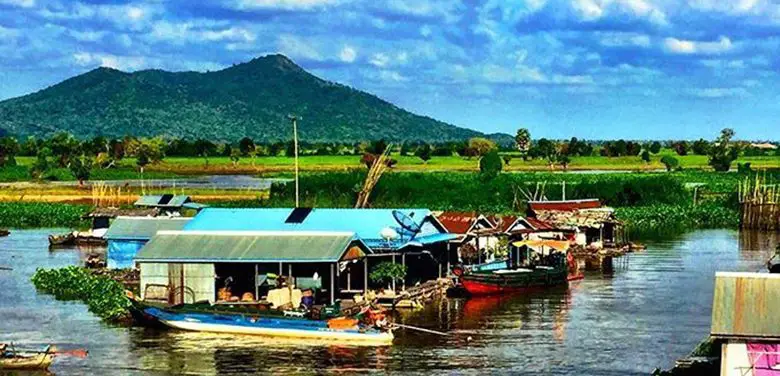 Alexa Huth, who is visually impaired, is an expat who moved to Japan from the US. Since then she has backpacked in Burma and travelled to Korea and Beijing. Today she tells us about her most recent experience, going from Cambodia to Vietnam… by boat.
I'll be honest, I'm not much for packaged tours. I like that they get you exactly where you need to go and often they are much more efficient than wandering around on your own and hoping to see everything. Still, sometimes they can feel a bit forced and you spend a lot of time at "tourist traps" being goaded into buying something.
That being said, my sister and I decided that a boat cruise down the Mekong river would be the best way to see as much as possible over our Christmas break this year. The boat would start in Cambodia and we would sail to an endpoint in Vietnam. The prearranged stops looked good, and we knew we could probably opt-out of some of the excursions if we were tired or needed a break.
The Great
Without a doubt, seeing the wild bird sanctuary was my favorite part of the journey. We were shuttled to a remote area where we took motor boats to another dock. We were then ushered onto even smaller boats that were paddled by our guides. We sat quietly as the line of boats glided through a vast preserve with groups of hidden birds.
I was very lucky to have my sister with me, as she knows what I can and cannot see. She helped me spot countless birds, many of them types that I'd never even known existed. It was beautiful to see them protected and safe in their natural habitat. While seeing them was incredible, I also closed my eyes and listened to their calls and songs for a bit. The stillness of the wetlands created the perfect environment to really be enveloped in the entire experience.
We also were taken to an outdoor classroom where a Khmer Rouge survivor started an independent school. He was filled with so much love and passion for teaching, and it was one of the most inspiring talks I've ever heard. His drive to educate despite all he had been through really gave me perspective on how much a person can really achieve. The teacher was also extremely humble and kind, and I appreciated the opportunity to hear his story.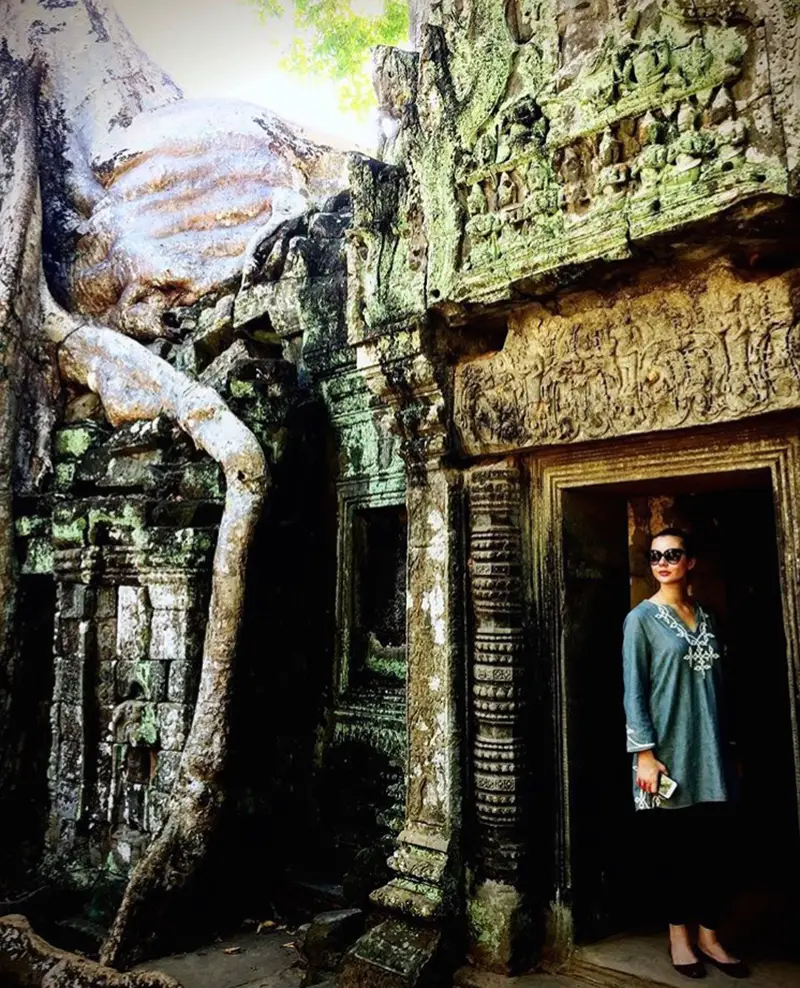 The Good
I was able to choose when I wanted to participate, which was really nice. Sometimes my eyes are just not up for much. I can't really predict when my vision will be uncooperative (unless I've overdone it the day before – then I pretty much know I'll be out the next day). I was given the option of joining the excursion or staying on the boat. The boat had lovely lounge chairs on the upper deck, and I wasn't stuck in my cabin if I decided to stay behind. Staying on the boat didn't feel like missing out on anything. Instead, it felt like a bit of a vacation in itself. I was worried it would be akin to staying on the bus when you go on a normal package tour, and that is absolutely no fun.
If you're worried about being overtaxed on a trip like this, consider a river cruise. You get enough downtime to rest and reset while you are sailing to your next location. We sat on the loungers and floated by villages and beautiful scenery, all without having to put in any effort. While large cruises can be a bit overwhelming themselves, taking a smaller boat allowed me to really relax and enjoy the journey. I do have to note that this had a lot to do with the group that we were with on the boat. There were only 28 of us, and everyone was pleasant and considerate. They helped me if I needed it, and were very accommodating. I know every group can't be like that, and you pretty much get what you get. So I consider myself lucky that I fell in with such a great group.
The Bad
From an accessibility standpoint, this trip was extremely difficult. There were countless steps that needed to be taken to get from point A to point B. The most challenging was getting from one boat to another surface. My visual impairment means I have permanent double vision. Taking that little leap from one small boat that is rocking back and forth to yet another shaky platform was really challenging.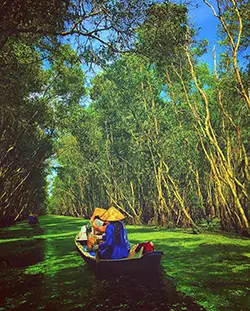 Another issue was the sidewalks and traffic. As with a lot of big cities, the stops we made in Phnom Penh and Ho Chi Minh City were fraught with broken sidewalks, countless objects in the pathways, and terrible driving. Ho Chi Minh City was the worst for me. Walking across the street was pretty much taking your life into your own hands. I don't have much peripheral vision, and while I was turning my head to look one way, a hoard of scooters would whizz past the area I had just identified as clear. My recommendation is to take a taxi or other form of public transportation whenever possible. I was left exhausted and hesitant to go outside by the second day in the city.
Overall
There are two things I'd recommend if you want to do a river cruise in Asia. First, check to make sure that they know you need accommodations, and tell them what you need. Some places would have scooters available to drive you from point to point if you needed it, and others wouldn't. Some planning could have made those options more readily available. Second, take it easy. It can be tempting to go everywhere and see everything, but you won't really enjoy things if you push yourself too hard. Instead, choose what you really are interested in and give yourself a break. Download podcasts or bring books, and take time to reset in between tough excursions. A lot of my travel time is spent gearing up for and ramping down from adventures. Take that time, and you will enjoy the activities that you do participate in even more.
By Alexa Huth
Get in touch by messaging us on Facebook, tweeting us @DHorizons, emailing us at editor@disabilityhorizons.com or leaving your comments below.