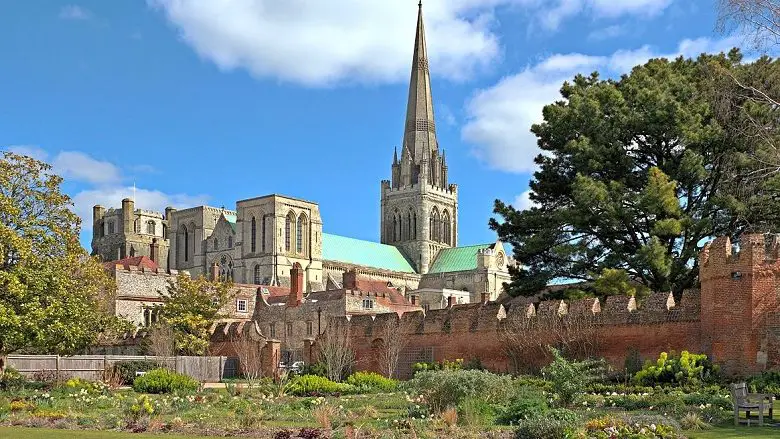 With the bank holiday weekend fast approaching, deputy editor Karen Mogendorff, who walks with a limp, talks about her recent trip to Chichester. You may not have considered it as a place to visit before, but Karen tells you why you most certainly should, especially if you have access needs and love visiting historical sites.
Chichester is originally a Roman settlement that grew in importance during Anglo-Saxon times. But in this small town, it's not just the historical buildings that stand out, but also its people. Cicestrians, as they're called, offer assistance to strangers easily and with a smile.
I was first compelled to visit Chichester when I learned that it boasts one of the largest Roman excavation sites in England – the Fishbourne Roman Palace  – which was discovered and excavated in the 1960s. I love visiting Roman sites as I studied Latin at secondary school. However, that is not always the most practical hobby for me given that I visibly walk with a limp.
But I found the Fishbourne Roman Palace accessible to get around. I borrowed one of two hand-driven wheelchairs it has available. Both to be appear well-maintained, and so using one was a great way to admire several fine and large Roman mosaics and enjoy the reconstructed Roman architecture. Ramps are also installed throughout to ensure that visitors in wheelchairs can admire the mosaics up close.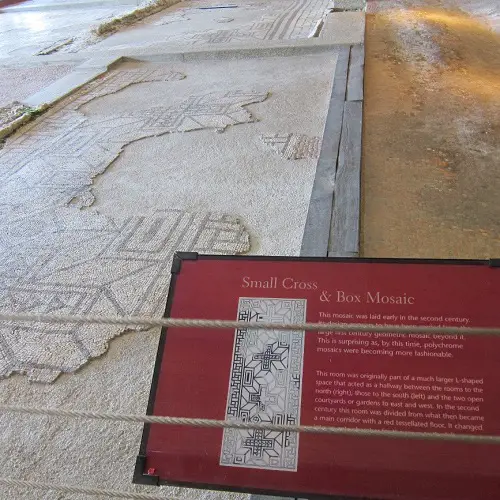 The Palace can be found within walking or rolling distance from the Fishbourne Station and is also reachable by bus and taxi. Local taxis are very expensive, but could be a good option, especially as local buses and trains do not run frequently during the weekends and evenings. If you do want to use public transport, it's best to check timetables and plan ahead. If public transport fails – which on occasion happens, I was told – I found locals to be very willing to give you a ride to the nearby city centre or where you need to go.
After visiting the Fishbourne Roman Palace, I took the bus to the Chichester city centre and got off at Chichester Cathedral – the city's highlight.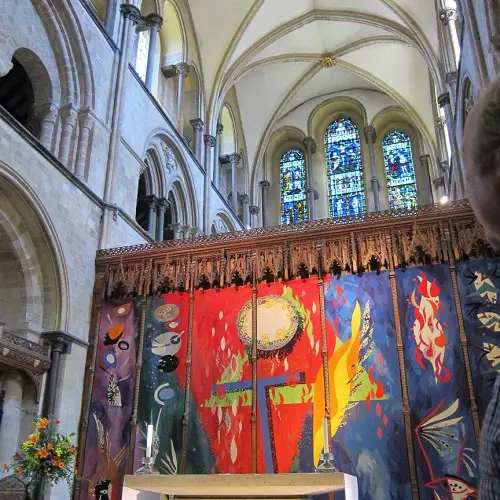 Having got off the bus with a few friendly Cisterians I had met on the journey, they helped me down the steps into the cathedral. It wasn't until we descended that we realised there was a ramp to the side. When I remarked on it, my companions responded that they hadn't realised that a ramp was there. "That is quite understandable," I said, "if steps pose no problem to you, you do not look out for alternatives."
During my Cathedral visit, a choir was practising and a tour of the Cathedral was about to start, so I joined the small tour group. A nice guide took us through the building showing us intricate details of the art – traditional and modern – on display, and telling us amusing stories.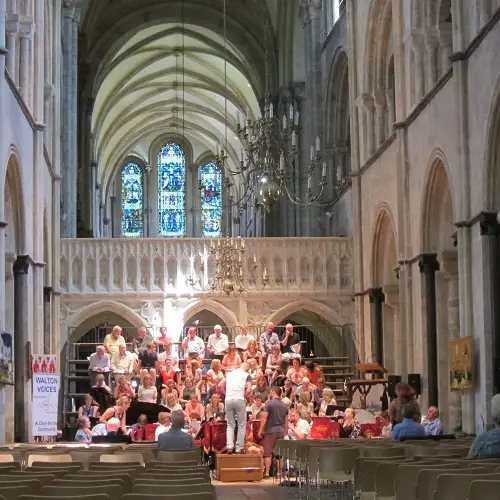 Visiting the Cathedral is free of charge and is open seven days a week. You can attend services, wander about by yourself in the Cathedral and adjacent gardens, or visit the current art exhibition. The Cathedral is well worth a visited for religious and non-religious visitors alike. It's both a centre for worship and contemplation as well as a place to enjoy art and culture.
Not far away you will also find the Novium museum. Having opened its doors in 2012, the Novium houses the tourist information centre and the Roman baths discovered several years ago in Tower street. The museum has no steps in front of its entrance and has an elevator and a wheelchair-accessible toilet. On the second floor of the Novium you can see the nearby Cathedral.
As you can see, I took some pictures during my visit to the Fishbourne Palace and Chichester Cathedral, so you can see some of the art and beauty on display. If you're thinking of heading to Chichester, I have also put some photographs on my travel website: reizenmeteenbeperking.weebly.com.
By Karen Mogendorff
Get in touch by messaging us on Facebook, tweeting us @DHorizons, emailing us at editor@disabilityhorizons.com or leaving your comments below.