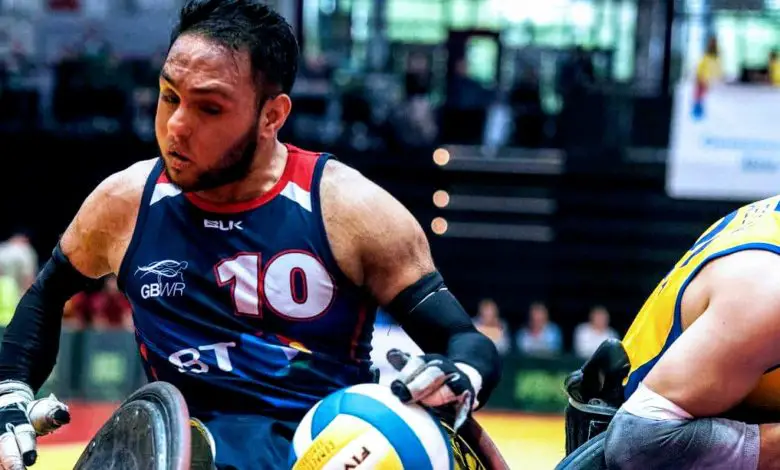 Paralympian Ayaz Bhuta has played wheelchair rugby professionally for the last six years. But the two-time European Champion's hopes for competing at the Tokyo 2020 Paralympics have been dashed as his team's funding has been cut. 
My name is Ayaz Bhuta and I was born with a disability called Robert's Syndrome, which has affected the growth of my upper and lower limbs. As a child, I was in and out of hospital having a number of corrective procedures. My family and the NHS have been a great support over the years. Without them, I don't think I would have achieved anything in life.
From a young age, I have been interested in sports. But because I was the only disabled student at my primary school, it was quite hard to get involved in PE lessons as everyone thought it would be unsafe for me. However, I was determined to take part.
As a child, I didn't need to use a wheelchair as much as I do now. So, one day, I secretly joined in a PE lesson whilst my teachers' backs were turned. This broke down a major barrier and, from that point on, I was allowed to take part.
Becoming a Paralympian
Fast forward a number of years, and I am now a two-time European Champion and competed at the Rio 2016 Paralympic Games for the Great Britain Wheelchair Rugby team (GBWR). But, after missing out on the chance to compete for a medal by 1 point at the Rio 2016 Paralympic Games, our team sadly lost its UK Sport funding for the next Tokyo 2020 Paralympic Games.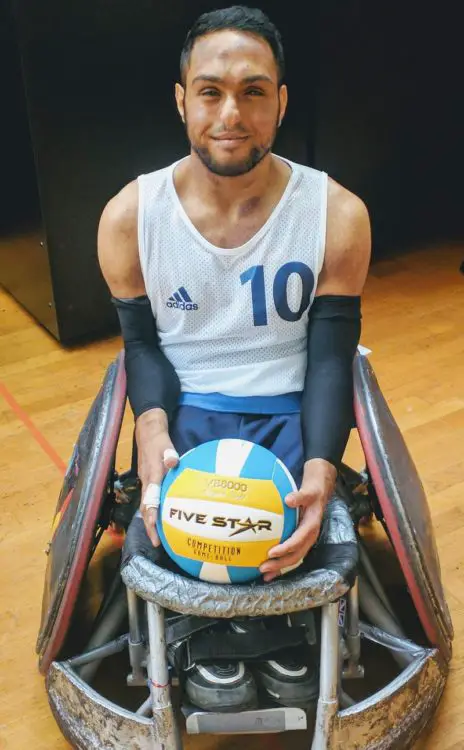 Losing funding for the Paralympics
This decision has had a huge impact on me as an individual, as well as the team. We have lost the vital financial support that enabled us to train. Because of this, we have had to reduce the number of training camps and competitions we attend.
Since losing funding, I am also no longer in receipt of the UK Sport Athlete Performance Award (APA), which enables me to train as a full-time athlete with medal potential. The £12,000 funding that I had previously received allowed me to live modestly and train effectively for my sport. It is was also essential for helping me to manage all of the costs that come with playing sport at an elite level, such as camps, competitions and equipment.
Without funding, my dream of competing at the Tokyo 2020 Paralympics is very much in doubt. The disappointment seems that much greater because we were achieving so much and developing well. We recently won Gold at the European Championships for the second consecutive time. This means we have qualified for the 2018 World Championships in Australia.
These World Championships will be a great stepping stone towards the 2020 Paralympic Games. If we can make it to the next Paralympics, we'll have a chance of winning back our funding
Making sacrifices to play wheelchair rugby professionally
I have had to work very hard and make a lot of sacrifices in life to represent my country at the highest level. When I first started playing wheelchair rugby in 2011, I was drafted into the GBWR team for a Four Nations tournament in Australia.
At the time, I only weighed 45kgs and was 3ft 7inches tall, so my coach was concerned whether I would be able to have a long-term career in the sport. But I wanted to prove those who doubted me wrong, so I adapted the way I play the game. Rugby is all about power and big hits. Because of my size, I can't do this. So I developed a flexible style that allows me to use my size to my advantage; to be quick and nimble to avoid getting hit.
I eventually made it into the GBWR Development Squad in 2012, which is a team that trains athletes so they can join the GBWR elite team. With them, I competed in a tournament in Prague, where I was voted the best player in my position.
Six months later I was given another chance to play in the GBWR elite team. I was selected for the test event (a mock event used to try out games before the main event) for the World Championships in Denmark, where I was again voted the best player in my position.
Later in 2013, I was part of the squad that won Bronze at the European Championships, my first ever international medal. In 2014 at the World Championships, I was voted the Fans Most Valuable Player, which was a great honour. This was all achieved while holding down a full-time job at a call centre for a well-known bank.
By 2015 I had stepped down to a part-time position in my day job so that I could dedicate more time to playing professionally. However, the commitment and pressures of the GBWR team, alongside holding down a job, albeit part-time, proved to be a tough and challenging period in my life. After great deliberation, I decided to leave my secure employment to pursue my dream of being selected for the Rio 2016 Paralympics.
Missing out at the Paralmpics 2016
The GBWR team qualified for the Rio Paralympics 2016 by winning the European Championships in 2015 by 1 point against Sweden. I was subsequently selected for the Rio 2016 Paralympics where the team finished 5th.  We narrowly missed out on being able to compete for a medal because we lost a game by one point against Canada.
This year, the only international preparation we have had was a series of games against Denmark. Despite this, we are even more determined to prove ourselves. We retained our gold medal at the European Championships by beating Sweden by 8 points; a repeat of the 2015 final where that time, we just beat them by 1 point.
Speaking out about disability
As an athlete without funding, I face the daunting reality of retirement and giving up my dream of being a Paralympic medallist. I could take up employment again, alongside being an athlete. But from past experience, this would be counter-productive.
As well as training and competing, I have devoted my time to public speaking at schools and community events. I hope to use this platform to remove some of the taboos surrounding people with disability and in sharing my story, to inspire others.
I am looking for someone to believe in my vision and believe in my team. We want to be the first European team to ever medal on the world stage in wheelchair rugby.
By Ayaz Bhuta
Get in touch by messaging us on Facebook, tweeting us @DHorizons, emailing us at editor@disabilityhorizons.com or leaving your comments below.
Disability and sport: how a little exercise can have a big impact
Starting your own business: we talk to disabled athlete turned entrepreneur