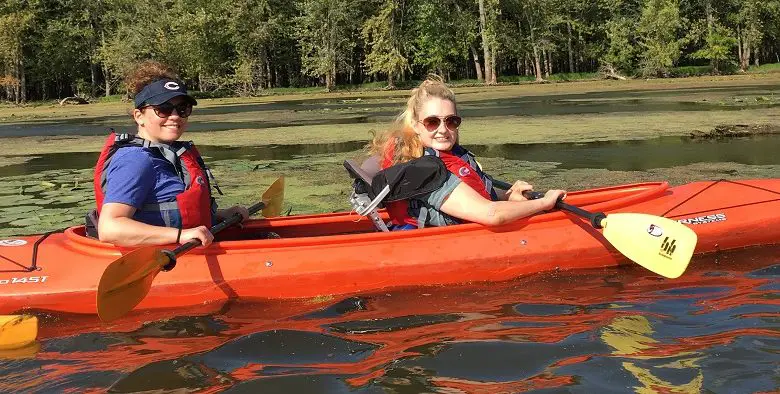 Disability Horizons Deputy Editor Shannon Kelly, who uses a wheelchair, tells us about her recent camping trip and adapted adventures, including rock climbed and kayaking. But the best part was meeting dozens of other disabled people, just like her, ready for adventure and fun.
After months of my friend Aimee trying to get me to attend one of her adaptive sports programs, which she runs for a living in Chicago, I finally went this summer. I am certainly pleased I finally gave in.
Adaptive rock climbing
Located in the popular area of Millennium Park, there is an adaptive rock climbing program that takes place on two Monday nights a month.
I wouldn't consider myself to be a sporty girl, so I was nervous about how it was going to go. Rock climbing typically requires a lot of leg strength, so as a wheelchair user, I was curious to see how I was going to be able to participate with just the use of my arms.
When I got there, there was a big group of people with a wide range of disabilities who were all climbing in their own way. We decided that the best way for me to climb would be to use a Seated Harness/Arc Chair with a pulley system.
Transferring onto the plastic chair with a seated harness draped over it, I got strapped in. Once all the straps were in place, they removed the chair and I was able to ascend with the pulley system, pushing the bar up and then pulling down. With this system, you are pulling up about 20% of your weight, which is still quite difficult.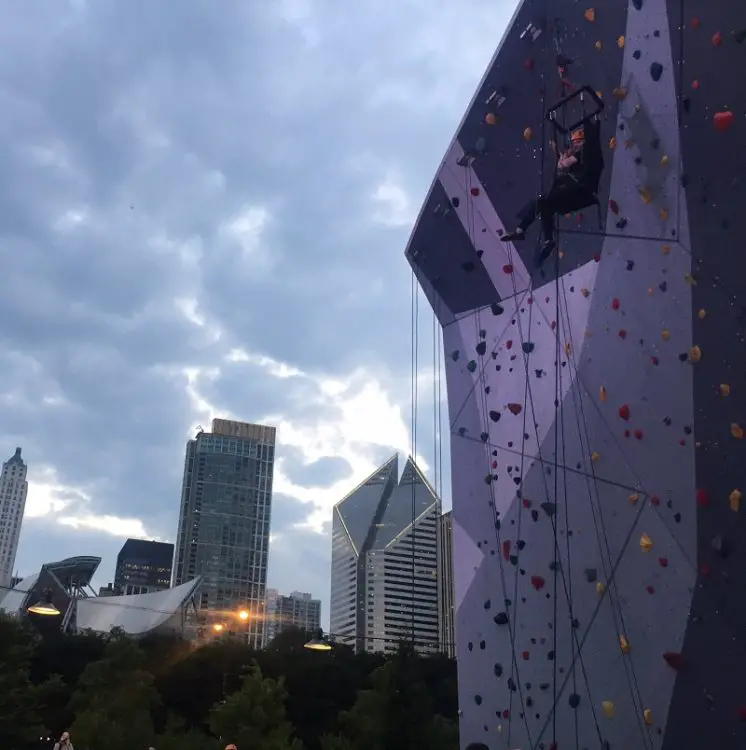 The effort, however, was completely worth it. On getting to the top, the view was incredible. Overlooking boats sailing on Lake Michigan and a beautiful sunset, it was too good to not have another go.
The event was run by Adaptive Adventures, which is an organisation that adapts sports so that people with disabilities can participate. It adapts a wide range of activities including rock climbing, snow skiing, water skiing, kayaking and cycling. I also learned that they were going to be participating in an adaptive camping trip to the Mississippi Palisades campground in September, so I jumped at the chance to go along.
Mississippi Palisades adaptive camping
When I arrived, I was amazed by how many other people there were – more than 100, including people with disabilities and volunteers. It was great to meet so many people who relate to the barriers that come with having a spinal cord injury, or a disability in general.
The trip was packed full of adventures. I tried rock climbing again, but this time it was different – it wasn't a man-made wall, it was legitimate rock. It was also more challenging, compared to my first time, because it was so high. However, it was a really positive experience, particularly because I arrived only knowing a few people, but meeting many and having them cheer me on and motivate me.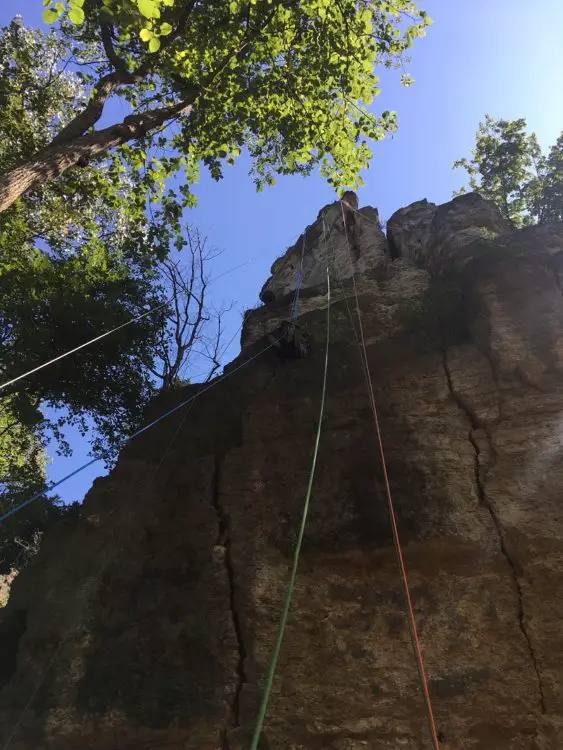 Adaptive kayaking
After rock climbing, I got to try out adaptive kayaking. I didn't know anyone in the group I went kayaking with, but they were equally welcoming. I ended up in a tandem kayak with extra back support and a carbon fibre paddle. These small accommodations made it possible for me to enjoy kayaking and experience the beautiful scenery of the Mississippi River.
Having had a very active day, we went back to the campsite for dinner and a campfire. We slept overnight in a tent, and the next morning I had a peaceful drive home through country roads.
I'm glad that I took the leap of faith and went on this trip, even though I didn't know many people. I'm glad I got to unleash my adventurous side and push myself out of my comfort zone. I'm thankful that there are organisations out there to help people with disabilities enjoy sports. The added bonus was getting to meet other disabled people – it gives you a real sense of support and friendship.
By Shannon Kelly
You can find out more about these adaptive rock climbing programs and camping trips by visiting the Adaptive Adventures website.
Get in touch by messaging us on Facebook, tweeting us @DHorizons, emailing us at editor@disabilityhorizons.com or leaving your comments below.
For the Billion: help make a difference to disabled people's lives – including your own