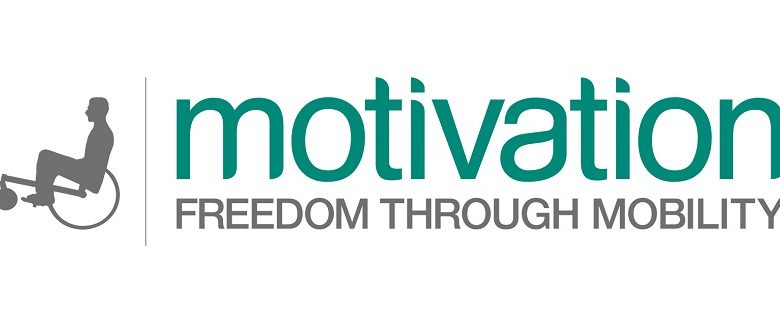 Work & Education
How you can help change the lives of disabled people in developing countries
Being disabled comes with its difficulties. But many of us have it a lot easier than others. Around the world, millions of disabled people live in developing countries, often in poverty, shunned by society and without support.
We hear from charity Motivation about how it's unlocking the potential of disabled people and giving them a fair chance in life. Read on to find out how you too can help make a difference.
Salome (pictured) works as a financial analyst in Nairobi, Kenya. She is confident, fiercely independent and loves her job, but it wasn't always this way.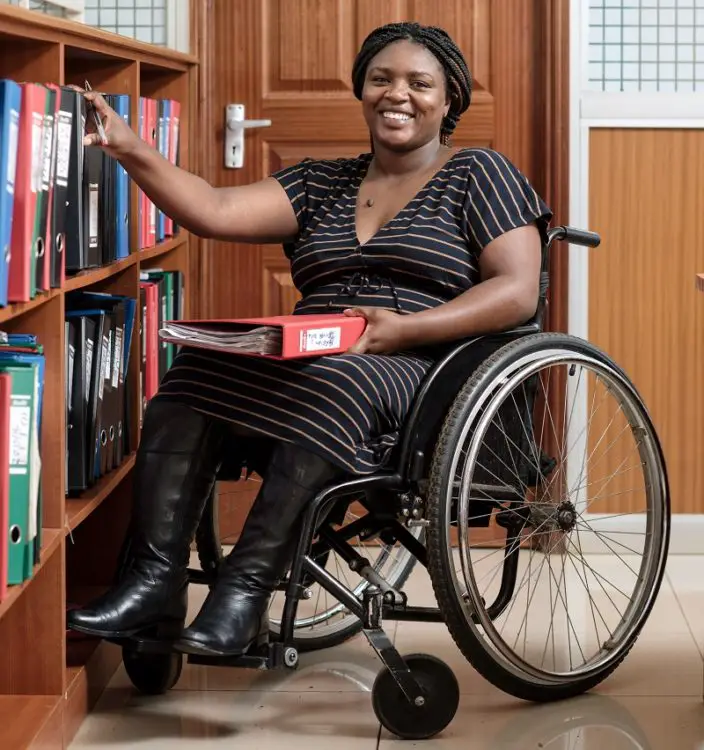 Salome grew up in a slum, looked after by her grandmother, after both her parents died when she was 10. She tells us: "it wasn't a nice place to live for a young girl". From an early age she remembers working hard to help her grandmother with odd jobs in order to put food on the table, and look after her two younger siblings.
There was nothing particularly unusual about Salome's life; millions of people in developing countries are simply getting by, living in poverty. But when aged 15 Salome fell and injured her back, her life was turned upside down forever…
Becoming disabled in a developing country
Following the accident, Salome suffered a serious spinal cord injury that left her unable to walk. Forced to move into a children's home, Salome describes "just living one day at a time" and faced an uncertain future.
Soon after the accident, Salome realised that she was being treated differently. Her friends stopped visiting, implying that she was disabled because of something she had done in her past. They even suggested that her grandmother was a witch.
Sadly, in developing countries this type of reaction is not uncommon, and stigma and discrimination against disabled people remains rife. For Salome, however, it simply spurred her on to want more for herself and her future.
Learning to live with her disability
Salome spent three years at the children's home, using an unsuitable wheelchair provided by the hospital. By the age of 18, it was simply not big enough or safe for her to use anymore. It did not fit her properly and had no cushion, so she had to use one from her room. As a result, she developed pressure sores, which if left untreated, could have proved fatal. She described the wheelchair as making her feel "more disabled than I was."
In spite of these challenges, Salome knew instinctively that with the right support, she could achieve more. This is when she met Motivation, a UK charity that works to improve the quality of life of disabled people in developing countries. Salome attended one of Motivation's peer training camps, where experienced wheelchair users share their stories and expertise to help build the confidence and self-esteem of others.
At the same time, Salome was referred to a wheelchair service, where the staff are trained by Motivation. There, she was assessed, prescribed and fitted with a wheelchair suitable for her individual needs and living situation.
The change was instant. Salome learnt how to look after her health and better care for herself. She also became inspired by those around her, and realised that she could enjoy the life that she had always aspired to.
She said: "Before, I thought, who would want to have a child with me? [But after the training], I met people who had children and realised it was possible. I saw the reality of people with disabilities looking after children."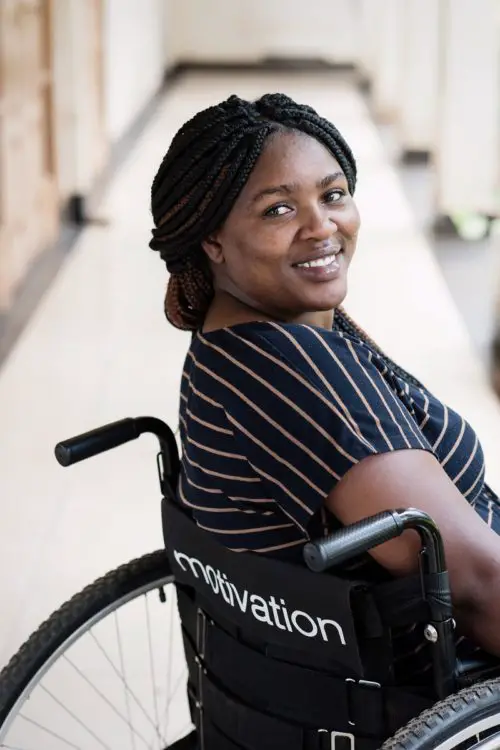 Achieving her dreams
The biggest change in Salome, however, was the realisation that she too could take back control of her life, strive to do more and share her confidence with others.
"I feel like I have a purpose now and can help people that were in my situation."
This gave her the boost she needed to go and seek work. Today, Salome is studying for a Masters, while she works as a Financial Analyst for a firm in Nairobi.
How Motivation is helping disabled people
Motivation acknowledges that Salome's story is a positive one, and that not all disabled people are so fortunate. The stigma and discrimination that Salome faced is not unique to her story. It means that, for millions of disabled people living in poor countries, finding work is often a major challenge for those living.
It becomes a never-ending cycle – without a job you can't pay for your healthcare, support your family or contribute to the local economy, which only serves to reinforce negative attitudes towards you in the community. The result is that 80% of disabled people in developing countries live in poverty, unable to access work.
80% of disabled people in developing countries live in poverty
But what Salome's story also shows is that disabled people in the developing world are ready for change. Not only are they willing to play a full and active part in society, but with the right support and training they are able to take control and drive the change they want to see in their lives.
Ready, Willing and Able
This is why Motivation has launched a brand new appeal called Ready, Willing and Able, which aims to unlock the potential of disabled people and give them a fair chance to work their way out of poverty.
Launching on 3rd December to coincide with the International Day of Peoples with Disabilities, the appeal will run for three months. Motivation is also delighted to announce that the UK Government has agreed to double all donations to the appeal, which means your donation goes twice as far.
By supporting Motivation's Ready, Willing and Able appeal, you can have a lasting impact on people like Salome, helping to inform disabled people of their basic rights and how to stand up for them.
As well as providing training so that people become skilled for work, Motivation will work with families, communities and businesses to challenge the discrimination that leads to the exclusion. By undertaking activities that raise awareness, including going into businesses to talk about the legislation around employment of disabled people, and highlighting the benefits of a more inclusive workforce, this appeal will help to break down the barriers that prevent disabled people from working.
Motivation recently met with Salome again and she shared her thoughts on why this approach and, peer training in particular, is important:
"The changes it brought to my life [are] amazing. We need to change society and help [disabled] people think they are not different. If we had peer training for 5-10 years longer, there would be less of a stigma around disability. I don't have to walk like another person to make money and live in my own place."
So, are you ready, willing and able to help Motivation break the cycle of poverty and discrimination?
Here's how to donate:
Web: www.motivation.org.uk/Blog/ready-willing-and-able-transforms-lives
Tel: 0117 966 0398
Text: ABLE20 £5 to 70070
Post: Motivation, Unit 2, Sheene Road, Bedminster, Bristol BS3 4EG
Your donation will contribute towards Motivation's work supporting disabled people in some of the world's poorest countries to be healthy, mobile and independent. The funds raised as a result of the UK government matching donations pound for pound will go towards a project supporting disabled people in Kenya to access work. Valid on donations up to £5 million received by 3rd March 2018.
By Motivation
Photos of Salome by Matt Grayson.
More on Disability Horizons…
Get in touch by messaging us on Facebook, tweeting us @DHorizons, emailing us at editor@disabilityhorizons.com or leaving your comments below.