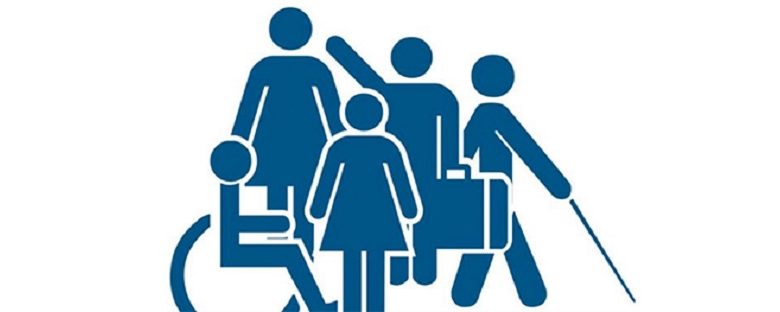 Local authorities are supposed to represent the mix of people in the local area. With an estimated 13 million disabled people in the UK, you'd assume that part of local authorities' workforces are made up of disabled people. So, are disabled people being represented? Sam Heaton wanted to find out… 
For the last three hundred years, local authorities have been the backbone of our communities. They have provided governance, support and services integral to many aspects of daily life, from street maintenance, schools, social care, social housing, parks and more.
In its position as a governing body, a local authority has a responsibility to respond to and represent all residents within its geographic boundaries. And yet, while local authorities may be deftly working for all, are they themselves genuinely reflective of the demographics they represent?
In October 2017, I contacted all five local authorities that make up the Combined West Yorkshire Authority, an area in which I live, asking for information on the structure of their workforces. Here's what I got back:
| | | | | |
| --- | --- | --- | --- | --- |
| Local authority | Total number of employees | Percentage of employees with a disability/long-term condition | Percentage of job applicants who declare a disability/long-term condition | Is the local authority a registered a 'Disability Confident Employer? |
| City of Bradford Metropolitan District Council | 8,385 | 4% | 6% | No |
| Calderdale Council | 2,952* | 4% | 8% | Yes |
| Kirklees Metropolitan Council | 7,992 | 3% | 4% | In progress |
| Leeds City Council | 14,364 | 5% | 3% | Yes |
| Wakefield Council | 8,208 | 2% | 4% | In progress |
Figures are based on latest data available at end of September 2017. School-related employees are not included.
Disability is not being represented
The findings highlight how disabled people and those with long-term health conditions are not being widely represented within these local authorities. For example, whilst 4% of applicants to Wakefield Council have declared a disability or long-term health condition, just 2% of its workforce fall into this demographic.
In fact, in all of these West Yorkshire authorities (with the exception of Leeds) the percentage of disabled employees falls below the percentage of disabled applicants. If applicants were truly offered an equal opportunity, would you not expect the percentages of employees to correspond more closely with the percent of people applying?
Disability employment in the UK
These figures only illustrate half the story. A poll I conducted via social media revealed that of 39 participants only 59% declared themselves as having a disability at the application stage of a job search. A statistic that was compounded by a study published in November 2017 by Scope, which highlighted that almost 50% of disabled people worry about disclosing their disability to a potential future employer.
Bearing this in mind, it is possible that the number of disabled applicants is actually higher due to people's reticence to disclose their disability. If this is true, then the gap between the numbers of employees and job seekers with a disability grows further.
Employment quotas were abandoned in the UK in 1995, with the government hopeful that legislation to combat discrimination – such as the Disability Discrimination Act [DDA] – would be more effective at creating a representational workforce. But is it working?
Government figures point to an employment gap of 30 percentage points between those of working age with a disability (50%) and their non-disabled counterparts (80%) being in paid employment.
Looking into the figures further, according to RNIB, only 25% of working age blind or partially sighted people in a paid job and Mencap states that only 6% of those with a learning disability have taken up work opportunities. These figures indicate that more than two decades on from the DDA being established, inequality not only exists, but also remains rife, despite successive governments pledging to tackle the issue.
Disability Confident Employers
Returning the focus to local government, we can see that out of the five West Yorkshire Local Authorities, only two – Calderdale and Leeds – are fully registered as 'Disability Confident Employers'. The Disability Confident scheme was launched by David Cameron in 2013 as a replacement for the previous 'two ticks' accreditation.
So as local governing bodies, would you not expect local authorities to lead by example, to make a more concerted effort to promote good practice? And why did the government not force public bodies to be compliant at the time of the initial roll-out of this scheme?
Around 18% of working age UK adults are disabled, according to Scope. Whilst admittedly, some of these people may never be in a position to work, either supported or independently, a large number are more than capable of doing so if they were given the right assistance and access.
What disabled people offer a workforce
Those with a disability bring a whole host of new knowledge, experiences and different ways of doing things to a workplace. Yes, there may be initial or ongoing additional costs, such as providing adaptive equipment or PAs. But this is surely outweighed by the positives of having a demographically reflective and dynamic workforce.
No-one with a disability wants to be employed because of their impairment, so, in my view, enforced employment quotas are not the answer. But there definitely needs to be more of a push to close the employment gap, led by better awareness and respect. It needs to come from the top and soon.
Too many individuals are currently being written off, wrongly deemed non-productive and denied the opportunity for social mobility and the right to a life of their own choosing. So, will 2018 bring the equality we deserve?
By Sam Heaton  
Check out…
Get in touch by messaging us on Facebook, tweeting us @DHorizons, emailing us at editor@disabilityhorizons.com or leaving your comments below.