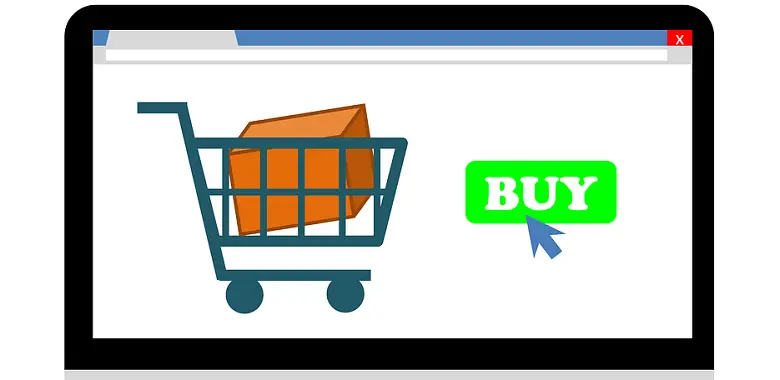 Lifestyle
Don't get caught out: the ultimate guide to shopping online securely
Online shopping can open up a whole world to disabled people, who might otherwise be unable to easily access high street shops. But there can be dangers. To help you shop safely, we've spoken to Evelyn Wood, who, before becoming ill in 2010, worked for 25 years building websites. Read his tips to help you stay safe when shopping online.
In the early 1990s I was living in Brussels, and together with a couple of friends, we had the idea of creating an online shop.  I phoned a director of one of the UK banks. "We want to take credit card payments online," I told him. "Are you are crazy," he spluttered. "Not in a million years."
My first computer's hard drive was 55 MB – minute in comparison to today's computers. Back then, we made everything compact to cope with dial-up modems by writing our own code and making images tiny by indexing colour.  It was years later before I got involved in online payments.
I'm a fan of computers, ambivalent about the web and extremely wary of online shopping. Sometimes, I feel like a goldfish swimming with sharks. There are a number of pitfalls, and the risks can be high, including identity theft and your cash being stolen. But, there are ways you can protect yourself online…
Online shopping – top tips for staying safe
Personally, I would never use a mobile phone for buying anything – online or over the phone. On train and bus journeys I've heard email addresses, phone numbers, security codes and bank details, many a time.
Online banking and government sites are not a problem, in my experience. However, as a precaution, I do print transaction records.
The potential problems are with everything else. The following top tips will help keep you safe when you shop online:
Get an antivirus and a malware program on your computer.
You will not notice if a piece of malicious software has been downloaded and exported all your private information – until it's too late.
You can pay for programs like this, such as Bit Defender and Norton, but some are free, including Avira and Panda. Also, most internet service providers, such as BT, offer free programs.
But, a word of warning: 'Free download' is a trick term. It often means that there is no download charge, but there can be a charge to use the program. Be semantic and analyse words.
Make sure you have all the latest security updates for your computer.
Hackers are always finding new ways to attack, and developments are constantly being made to stop the latest security risks, so old versions of software might not protect you. As well as downloading the latest computer software, update your antivirus and malware software too.
Copy addresses of sites you may buy from, rather than searching for them online.
This will mean you visit the real site, rather than a phoney replica. To do this, click in the address bar and type the full address into it, such as www.disabilityhorizons.com. Press enter and the address will become a clickable link.
Highlight the address and use keys CTRL+C to copy, and CTRL+V to paste the address into a word document for later use.
Sign up for at least two free email addresses.
This is so that when you have to give an address and you don't want to, you can use one of these as a 'junk' box. Yahoo, Hotmail and Google are all free options.
If the address does not start HTTPS (the S means secure) do not pay or register card details, unless you trust the site 100%.
It's cheap and easy to set up a professional looking site, so unless you know the firm, check its reputation first. The easiest way to find out whether you should trust it is to search for reviews. The leading review sites are Trustpilot and Feefo.
Only use a Credit Card or PayPal.
These forms of payment will give you maximum protection and, in the event of a dispute, will be on your side (if you are right).
Do not let your browser save passwords for sensitive sites, such as Government, Banks, PayPal and social media.
If you lose your computer you'll lose more than a machine.
Print copies of everything so that you have proof of a transaction.
You can capture the whole screen by pressing CTRL + PrtSC (top row next to F12), then in Word, press CTRL+V to paste it. Set the page to landscape and resize the image by clicking it and dragging the bottom corner.
Top tip: When you capture the screen, click on the time to bring up the calendar – that way you will have the date and time recorded too.
Use a minimum of two browsers and delete all cookies and history when you close the browser.
This is so that I can copy addresses of sites I'm interested in into a browser that does not have a record of my searches and, therefore, try and force-feed me tailored information.
I use Brave and Firefox, both of which can be set to delete all history and cookies every time you close them. This is a vital security feature – read on to find out why…
Don't be swayed by clever online marketing
Since physiologists got involved in marketing, most sellers have certain basic assumptions about you:
you want what's rare;
what you think you can't have;
you won't check if you think it's a bargain;
herds go in the same direction.
Maximising these assumptions are cookies. They record what you search for, where you look and what you buy.
Recently, I booked a trip away. I put in the departure and return date. The return was 50% more than the departure price, and the day before and after was the same price.
I closed the browser restarted, but this time put a day later as the return. Now the day I wanted was the same price as departure and the one the cookie thought I wanted was 50% more.
Finding the best price online
If you are searching a number of sites to find an item you want at the right price, you will find that your query is already loaded onto a new site you've not been to before. This is due to a combination of browser history and cookies. The longer you search, generally, the higher the price will go.
To thwart them, copy the addresses of the site you want to purchase from by highlighting it and using CTRL+C. Close your browser, restart it and then select 'New incognito window' from the menu (this will usually be to the right of the screen) or open a browser that will automatically clear your history, as explained above. Place your cursor in the browser address bar CTRL+V to paste the address. This should show you a fresh price, not affected by your search history.
Offers online
I was recently tempted with 'Free money' from Argos, but the small print revealed that I would only get it after signing to become a 'partner' at the cost of £15.00 a month. Never, ever, tick a box or say yes until you are 100% certain you know what you are agreeing to. If you do get caught out, cancel at once. Free is a much-misused word, especially on the web.
Online deliveries
It's difficult to separate genuine sellers from Drop Shippers – sites that don't keep stock but ship them out from other places. An indication of these is a long delivery period. They can be a problem if you need to return goods.
Another thing to watch for is the shipping method. Some delivery companies (UPS, for example) will only state a day not time. If you are not in, it will try to leave it with a neighbour or a local shop, which might make getting it back tricky. DPD is a company that gives a time slot. Royal mail is pretty good in the sense that I know when the van usually comes.
Returning items
It's also worth taking a look at the site's contact information before you buy. Do not deal with any site that does not have a local or free phone number. The company must also have a street address and email address/s. If there is a problem, you'll find yourself chasing your tail unless contacts are easy.
The return policy must be 100% clear too. You are buying from a picture and description, so the product may not be what you imagined. Most reputable sellers state the terms for return clearly. Indeed, it's a good rule that honest people, firms and websites don't have a problem with being clear, upfront and not hiding behind micro fonts T&Cs.
Shopping on Amazon
Although sites like Amazon can offer some good value, you can also find you have signed up to things you didn't want. Indeed, the check out on Amazon is now so deliberately complicated that it's quite a feat to escape without signing up to Amazon Prime by mistake.
If you do, go to your Amazon account, click 'Prime' and if you are signed up and don't want to be, click cancel and be prepared to confirm your decision several times. Eventually, you will get an email confirming you have cancelled. Make sure you print it.
Buying holidays and insurance online
Insurance and holidays are huge on the web and, as explained above, the most likely to take you for a fool. Frankly, I don't understand how a comparison site is able to offer my motor insurance renewal (from my insurer) at a lower price than I was offered direct. When I complained, I was referred to the 'Complaints procedure.' Seriously, firms that hide behind 'procedures' are not worth dealing with. These two areas especially are a minefield, surf carefully and close your browser often.
Some hotel booking sites bombard you with notices of: 'Booked seven times in the last 24 hours' and 'Only one left.' For fun, I searched a year ahead and lo and behold, there was "Only one left!" then too!
Search the web and you will see many sites like this, all turning out to be the same company under different names. Two that are not and are, at present, refreshingly straightforward are: https://www.farmstay.co.uk/  and  https://www.toprooms.com/
My go-to website all others should follow!
As an ileostomate (which means I wear a colostomy bag after having bowel cancer), I cannot wear a belt and even with braces, regular trousers are uncomfortable, so I use http://www.darcyclothing.com/shop/ a lot. It makes high-waisted trousers that work for me, plus many other great items. Their website is, I think, a model others should aspire to – straightforward and gimmick-free.
By Evelyn Wood
You can find out more about Evelyn and his new life as an author and illustrator by visiting his blog on Good Reads. He recently launched his latest book, A Frog's Life, part of a series of children's books.