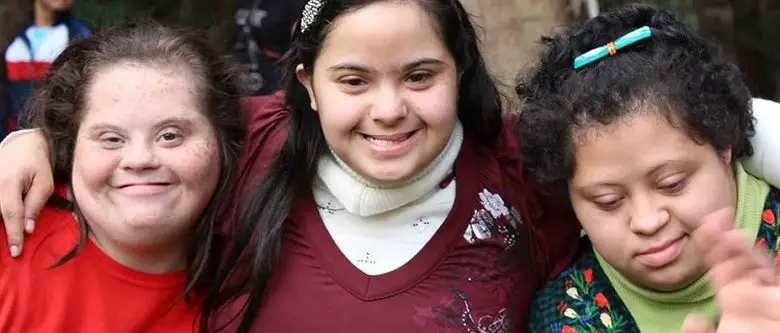 At the start of Down's Syndrome Awareness Week and ahead of Worlds Down's Syndrome Day on 21st March, we hear about a group of entrepreneurial women with Down's syndrome who founded and run their own bakery in Egypt with their families. 
The status of women varies from one society to another. In some countries, they're held in great esteem, in others they're subverted. Even in many nations we would call developed, they're not equal to men.
However, everywhere disability poses additional challenges for women. Arab adults with disabilities, and especially women with disabilities, have less access to employment opportunities than their peers, according to United Nations Economic and Social Commission for Weatern Asia (2014).
This is partly due to the wider issues of limited access to education, employment, medical facilities, social life and marriage. And this is particularly true in conservative societies, where the status of women is relatively low, creating more challenges in their daily life.
But, in the last few years, things have slowly begun to change and improve for disabled people in the region. Numerous non-government organisations, charities and individuals efforts, are all working towards raising awareness and integrating people living with disability into every aspect of life.
Giving people with Down's syndrome a chance
The Four Biscuits bakery is one of these individualised efforts. It aims to empower young people with Down's syndrome by providing them with training in baking, and then selling their products at local markets and online.
The Egyptian initiative began when a group of Down's syndrome girls, their sisters and parents decided to develop something that would make a difference to disabled people's lives. Having taken part in a range of social activities, such as outings to the cinema, swimming pools and restaurants, they knew there needed to be something that enabled disabled woman to live their lives like anyone else.
They wanted to start a project that wasn't just for disabled people, but by them.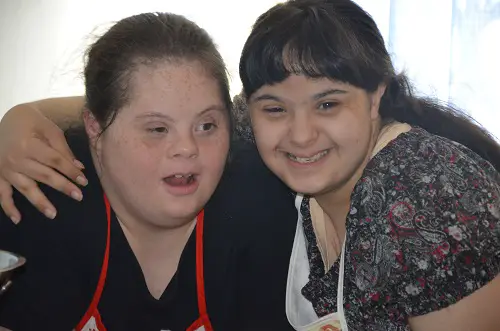 The initial plan was to open a bakery/café where the girls and other women with Down's syndrome would be the employees, enabling them to integrate into society by getting them out and speaking to the public. But, as such a project would have needed great financial investment, they decided to start small with a home-based bakery business, selling the products via social media.
But even for this, and to be able to grow in the future, they needed some help. So the project was made possible after an application was submitted to Idea Camp, an initiative organised by the European Cultural Foundation that helps develops projects.
The team's idea was chosen from 600 other ideas. A member of the team travelled to Spain in March 2016 to attend four days of training there. Eventually, it was chosen among 50 ideas to receive both technical and financial support from the foundation.
The Four Biscuits bakery
The Four Biscuits was officially launched in August 2017 via its Facebook page and it soon started to receive orders. The biscuits they sell are based on a special Swiss recipe from Irene Salem, one of the girls' mothers. I am told that the recipe is a closely-guarded secret!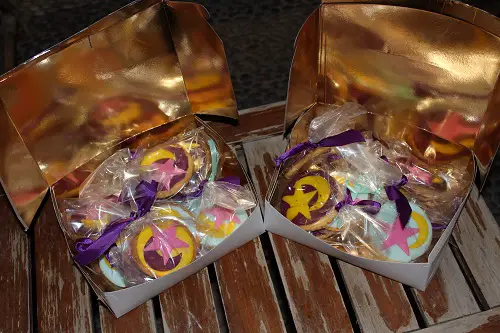 The four girls who run the bakery, hence the name, all attended a special-needs school where they met and become friends. Although The Four Biscuits began as four girls, it did not continue with four, as one of the girls' parents opted to send her to a special-needs education centre, away from the bakery.
The remaining three girls are;
Sherihane Salem, a 20-year-old who loves handcraft and socialising with friends;
Heidi Adel, also 20 years old, who loves singing, putting on make-up and doing housework;
and Seba Ahmed, who is 21 years old and very passionate about swimming and photography.
As soon as they started selling people instantly loved the idea and encouraged the team to carry on and expand.
Disabled people in Egypt
There are approximately between 8.5 million and 12 million people with disability in Egypt and they are often stigmatised, hidden away by their families and denied work opportunities.
These are all factors that contribute to the image and attitude that society has of people living with a disability. This ultimately makes it harder to progress and succeed in Arab societies on the whole, not just in Egypt.
Nada Ahmed, PR for The Four Biscuits and sister to one of the girls, says that society finds it; "hard to accept any differences of any kind. No progress can be achieved unless people learn to accept each and every citizen, regardless of gender, religion, appearance, colour, race, disability or not.
People with special needs have great potential and can push any society forward. They can, if empowered, bring so much innovation and success to their nation."
When asked if the girls endured any discrimination or bullying living in the Arab region, she said: "It's more discreet and indirect discrimination, such as judgemental looks."
According to the team, the main message that they want to convey is that; "disability is an illusion. We all have certain limitations, obstacles and challenges to overcome, but that is because we are simply human. These obstacles give us the energy to fight back, reaching for our dreams."
They believe that disability is the creation of society because; "we all lack something, so we are all disabled in some way. A chromosome less is just like any other human vulnerability."
As for their future plan, The Four Biscuits is aiming to expand its team and let other young people with Down's syndrome join the initiative. Long term, they want to have multiple teams all across Egypt.
You can find out more about Down's Syndrome Awareness Week and World Down's Syndrome Day.
By Raya AlJadir
Check out…
Get in touch by messaging us on Facebook, tweeting us @DHorizons, emailing us at editor@disabilityhorizons.com or leaving your comments below.