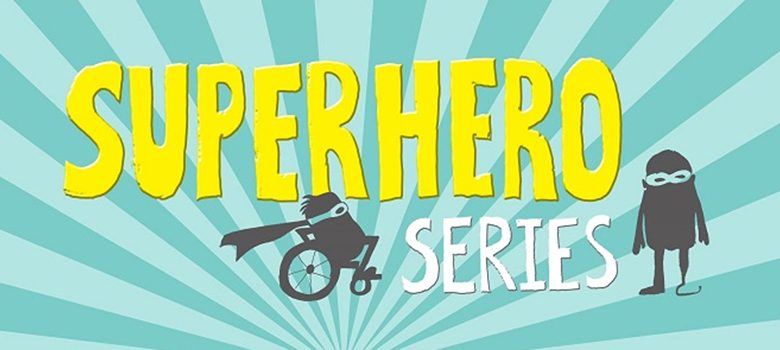 Wellbeing & Fitness
Superhero Tri: see how you can get involved in this mass-participation event
Last year saw the launch of Superhero Tri, the first event in a new mass-participation sports series aimed at including people of all abilities – the Superhero Series. Set up by Paralympian Sophia Warner, this year it returns on the 18th August. We've spoken to some of the ambassadors for the event to find out more about how they got involved and how you can too.
More than 2,000 participants – AKA Everyday Superheroes – have already signed up for one of three tri distances at this year's Superhero Tri, where they can choose to fly solo, team up with family and friends to do a relay stage each, or nominate a 'sidekick' to propel you around the entire course.
Gizmos and gadgets, from floats and boats to adaptive bikes and trikes, are positively encouraged on the course – as are masks, capes and pants over tights. The emphasis is very much on fun!
The event has both celebrity ambassadors, including Jonnie Peacock, David Weir and Adam Hills, and everyday superhero ambassadors. Below, we meet five of the ambassadors.
Stephen and Chloe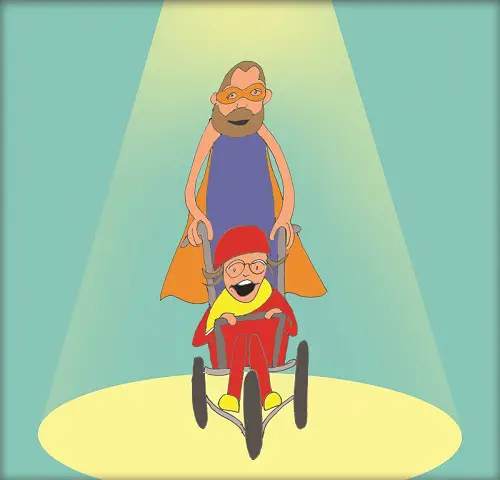 Please can you tell Disability Horizons readers a bit about yourself and how you got involved in sport.
My name is Stephan and I have always been into the outdoor sports. I did a lot of cycling when I was younger and raced with a club. I also have a love of walking and mountains, and have done a lot of climbing in the UK and in Europe.
After I married Di we adopted a little girl Chloe, who is severely disabled, which means she is totally dependent on us for all her needs. This includes all aspects of care and in Chloe's case, because she loves the outdoors so much, it also means giving her the opportunity to fulfil her need and enjoyment for speed. We also found out later that she has a severe visual impairment too.
Our first year with Chloe was a huge learning curve, for her and for us. We were all constantly figuring out what she could and couldn't do. On one occasion we had gone out for the day to visit a garden centre. At the time Chloe was in a buggy, not a wheelchair. The café had a service island, which had a metal tray rack for people to slide their tray around.
We suddenly saw Chloe reach up her hand and pull herself forward a few inches in her buggy. This was her first independent movement, and we were both shocked and thrilled. We spent the next two hours just going round and round the island!
After that we fought for Chloe to have a wheelchair instead of a buggy, enabling her to have some independence for the first time in her life. But because Chloe has no concept of danger and speed, she needs supervision when wheeling.
What is your role as Superhero Tri ambassador?
As an ambassador for the Superhero Tri, my main role is to promote the event and the benefits of taking part. I have given a lot of talks, helping families to see that, with the right support, equipment and training, it is possible for their child to take part in these sorts of events.
It is inspirational to see the faces of the participants and their families and friends as they compete in the challenges.
What other sporting events have you participated in and what did you enjoy most about them?
Chloe and I started doing a mixture of fun runs and 5Ks, but quickly realised that Chloe was up for so much more. We have now done a 10K, ½ marathons, duathlons, triathlons, sportive events (a short to long-distance mass-participation cycling event) and long distance events.
We have thoroughly enjoyed all of them. The change of scenery, locations, the events, the supporters and the other competitors have made all of the events special.
Where do you get the energy from to compete in so many events?
Chloe gives us both the inspiration and the energy to keep going. Doing any event with Chloe is challenging – it involves a lot of planning, packing, training and travelling. But to see her face and hear her singing and shouting as we race and as we come over the finishing line makes it all worthwhile.
Are you doing any particular training leading up to the event?
Chloe and I are out most evenings training, and many of our weekends are taken up with races. At the Superhero Tri we are doing the sprint distance, as well as helping other families compete in races too.
What does the Superhero Tri event mean to you personally, and how does it promote disability and diversity within sport?

We take part in all kinds of events, not just those designed for people with disabilities. We are often the only disabled team racing and usually the first disabled team to take part. We are always looking for new challenges and this May we flew to Gydina, Poland, to take part in the GFNY Polska 80K, in its inaugural race.
Again, we were the first disabled team to take part. It was a real challenge as we have so much kit to travel with. Getting in on board the plane was tricky, and it required us to taking off fra om different airport than planned. But we managed it in the end. This was Chloe's first flight, and as with everything else, she took to it like a duck to water.
Every time we do events like this we are trying to break down barriers between able-bodied and disabled people, and to show the world that disabled people can take part in sporting events safely. We want to ambassadors for all those that would like to take part in events designed for mainstream athletes.
The Superheros event shows everyone what is possible to achieve, even if you have a disability or are a parent or carer of a disabled person. It gives disabled people a chance to experience something different in life, and who knows where it will lead.
Jenni, Steve and 'Tiny Tornado' Eve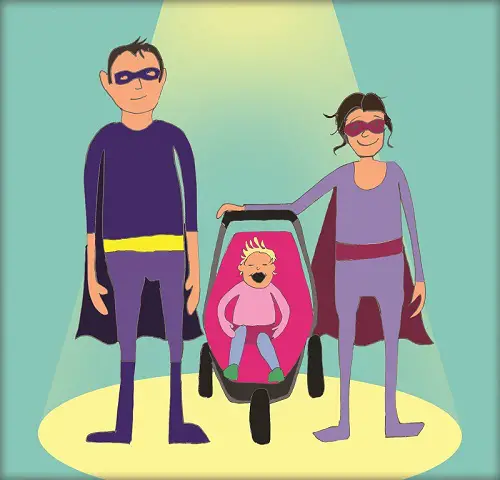 Please can you tell Disability Horizons readers a bit about yourself and how you got involved in sport.
We are Team Williams – mum Jenni, dad Steve and the Tiny Tornado herself – Eve! There's also Scout, our four-legged family member, who helps us train. Steve and I have always enjoyed sport, particularly running, cycling and swimming. Eve has a rare chromosome condition that causes global development delay and epilepsy.
But despite this, she is quite simply a ball of energy who is always on the move, just in a different way to other children her age.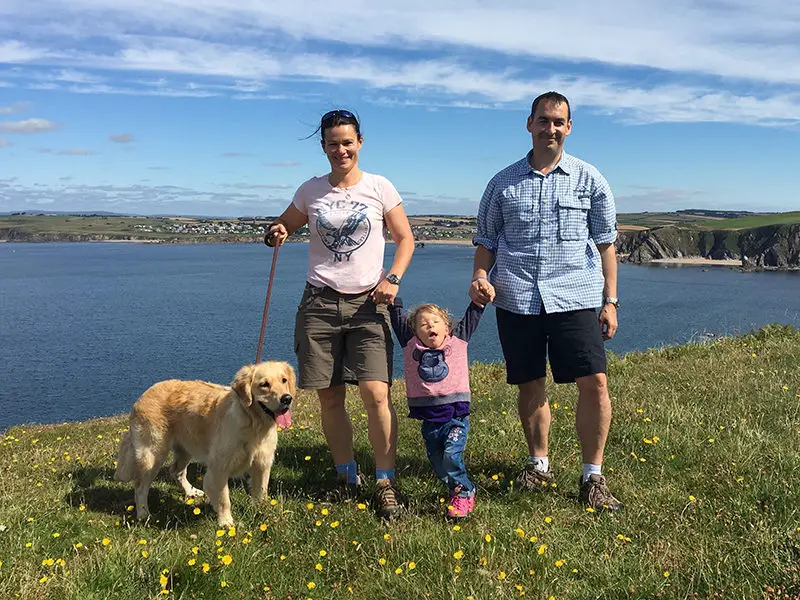 How did you hear about the event and what motivated you to get involved?
In 2017, when Eve had just turned 5, we did the first Superhero Tri. Although I did the swim, Eve finished the last 10 metres of the bike stage for Steve. I then pushed her for the run/push, but she did the last 100m holding my hands and in her walker.
We were hooked, so when we found out it was coming back this year, we signed up straight away. Then Sophia asked Eve to be an ambassador so, of course, we agreed. We didn't know they were looking for ambassadors so it was a lovely thing to be asked to do.
What is your role as Superhero Tri ambassador?
The real ambassador is Eve, of course – Steve and I are well aware that we're just the sidekicks! Eve's role is to show people that anyone can do the Superhero Tri and that, however you participate, you're a SUPERHERO.
We hope Eve will be able to do more and more by herself as she gets older. I'm very sure that she'd like that too as I think we cramp her style a bit!
What are you most looking forward to during the event?
The feeling of camaraderie. Whilst there's definitely a lot of friendly rivalry on social media before the event, on the day itself everyone is on the same side. Your competitors are really teammates and everyone cheers each other on – even if you're being overtaken by the person you're cheering!
Are you doing any particular training leading up to the event?
We're doing the sprint relay, which is a triathlon over shorter distances (150m swim, 3k cycle, 1k push/run) where each team member does a different stage. Steve is a cyclist and I will run and swim.
Beforehand Eve and I will be doing a lot of pushchair runs with her kicking her legs to encourage me. I'll also be going swimming more often, which I sadly don't seem to have much time for these days. Eve doesn't need to do any training – she's already perfect.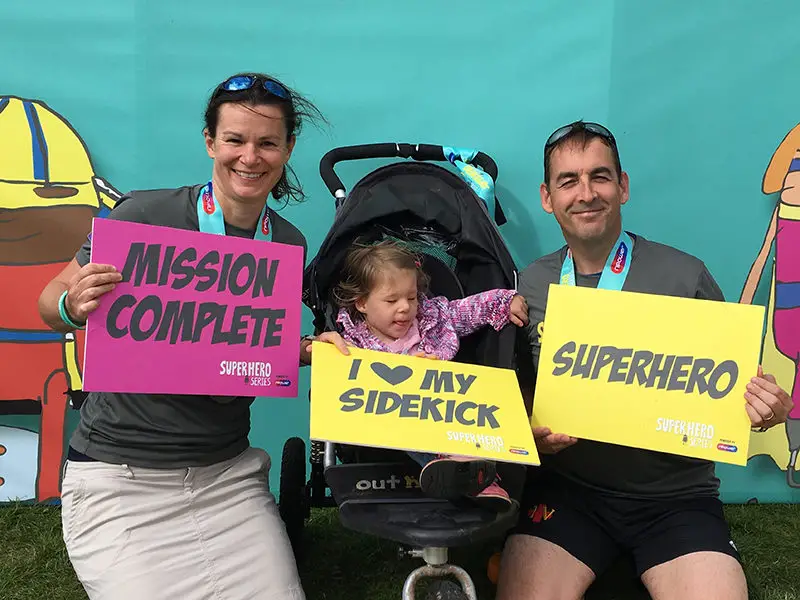 What does the Superhero Tri event mean to you personally, and how does it promote disability and diversity within sport?
I think in this country we're great at accepting physical disability – so long as the individual concerned is a medal-winning Paralympian who doesn't ever need to use a train, the Tube, a bus etc! The idea that someone might want to do sport for fun – in the same way that many people without a disability enjoy sport for fun – seems an alien concept.
The Superhero Tri gives people who would not be welcome at mainstream runs, triathlons, sports clubs etc an opportunity to be included and experience the satisfaction of pushing yourself and crossing a finish line whilst people cheer you on.
The Superhero Tri ethos that you can use any gadget you need to enable you to take part – whether that's a powered wheelchair or an inflatable Pegasus – is spot on. There should be no barriers to inclusion.
So to us personally, it's an amazing life-enhancing event to be a part of.
By Zubee
More on Disability Horizons
Get in touch by messaging us on Facebook, tweeting us @DHorizons, emailing us at editor@disabilityhorizons.com or leaving your comments below.