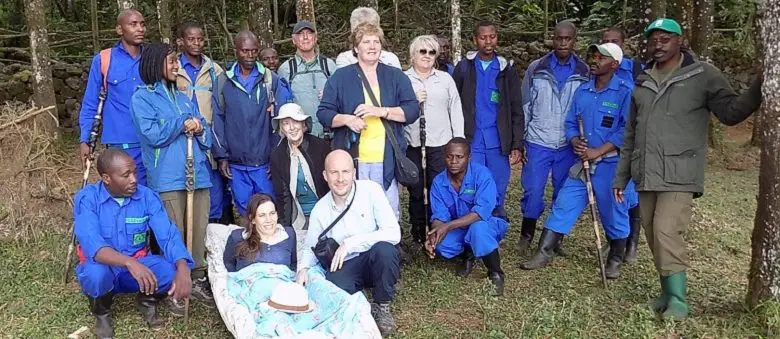 Have you ever believed that certain destinations and activities abroad are inaccessible to you because you have a disability or chronic condition? Susie Twydell, a partially sighted wheelchair user with MS, thought so too. She never imagined that she would accomplish her dream of visiting mountain gorillas in Rwanda, but she changed her mind after reading about other wheelchair users' travel experiences on her travel site, wheelchairworld.org. 
For a long time I feared that I would never be able to achieve my ambition of visiting mountain gorillas in Rwanda, Africa, not after my mobility became impaired by MS and I started using a wheelchair.
But, thankfully, it didn't stop me. A number of years ago I set up a wheelchair travel website, wheelchairworld.org, which brings together hundreds of personal wheelchair users' travel reviews and showcases some of the amazing adventures wheelchair users get up to. Through wheelchairworld.org, I discovered that it was possible to travel to a number of far-flung parts of the globe I thought were off limits.
Planning my accessible trip to Rwanda
The first thing I did was get in touch with the officials at Park Volcans – the park where the gorillas live – to find out what was possible. The park rangers informed me that there is a stretcher that can be used to transport people who are unable to walk to the gorillas. There used to be a sedan chair (a small carriage carried by people), but that it was decommissioned after lazy individuals abused it. The stretcher is for people who really need it.
Using it meant having to employ the services of a team of porters to carry me, which I wasn't sure about initially. But as I knew that the mountain gorilla tourism industry is good for the local economy as it provides employment opportunities, I reasoned that it was okay.
Wheelchair accessible accommodation in Rwanda
Rwanda is not at all wheelchair accessible, not least because of the myriad hills and valleys. There are also no dropped curbs on the pavements and, more often than not, you have to use the road as the pavements have been destroyed or have gaping holes.
The hotel I stayed in, Gorillas Hotel, claimed to be wheelchair accessible. The public parts of the hotel are indeed step-free, but not all the rooms are. One of the rooms that I was offered had a 'roll in shower', but it had a step up to the bathroom itself!
What the owners of the hotel also didn't consider when they told me that the property is wheelchair accessible, was that the entrance to it is up a flight of stairs! The staff were happy to carry me and my wheelchair up the steps, but I didn't feel comfortable exiting and arriving at the hotel, and I definitely couldn't have come and gone independently.
Whilst there is a growing awareness of the need to provide wheelchair accessible options, people and organisations in Rwanda still have a lot to learn about wheelchair accessibility, as is true for many countries across the world.
I visited one hotel, the Serena hotel by Lake Kivu, which actually had a disabled sign outside one of its toilets. But the entrance and toilet doors had not been widened. I honestly couldn't see anything different from a regular toilet, except that there was no step inside the disabled toilet!
Luckily, there was no shortage of people who were willing to help, and it was their assistance that meant I was able to access some very wheelchair unfriendly areas. If you too want to visit Rwanda or somewhere like it, you'll definitely need to be open to people helping you if you want to get around and see anything.
The mountain gorillas
After various emails back-and-forth with the park wardens, I was pretty confident that a stretcher and a team of porters would be waiting for me. On the day of my visit, we first went to the park's headquarters, although I had heard that visiting there was not essential.
As I feared, the headquarters were not wheelchair accessible at all. However, once again, people did their best to try to accommodate me. The guide was very keen to pull me over the rough terrain and, after a few hours, we were on the move to visit the gorillas up the mountain.
We had to hire a driver and a car to get us to the start of the summit, which I organised through the hotel. The first part of the journey was on a sealed road, but it wasn't long before we began bouncing along a very rough track. Locals stared at us as we passed and children ran alongside the car, waving and smiling at us. That was a great part of the journey!
Using the stretcher instead of my wheelchair
After being thrown around in the back of the car for about half an hour, we arrived at the setting off point. I was massively relieved to see the stretcher and the team of porters waiting for me. I was manhandled onto the stretcher –  I can actually stand, but the team efficiently took me from my seat in the car and carried me onto the stretcher. They then covered me with a sheet and. alongside the rest of the group walking, we were ready to go!
I was hoisted up high onto the shoulders of the porters. I had been quite nervous about that, about how high I would be and what would happen if they dropped me. But, despite my concerns, I felt absolutely no fear of being dropped. I had complete trust in the porters' surefootedness, and felt that they were completely comfortable on the terrain. I actually found being bounced around in the car much more nerve-wracking!
The team carrying me moved incredibly fast over the first part of the journey as it was quite clear. My wheelchair came along as well. Some of the pieces from it were taken off and distributed amongst other members of the team, but the main part of my wheelchair was carried on someone's shoulders.
The boundary of the Parc de Volcans, where the various families of mountain gorillas live, is marked by a stone wall. Here is where the terrain became much more difficult as there is a huge amount of vegetation, trees and branches that had to be navigated on the rest of the climb.
Still, the porters didn't seem daunted and manoeuvred me ably through the dense jungle. I did get covered in leaves and a few broken off branches, but my hat protected my head from the vegetation. When we paused to wait for the rest of the group to catch up with us, the porters set the stretcher down on the floor and picked off the leaves and branches that covered me. I couldn't help but notice that they paid particular attention to what had landed around my boobs!
Interaction with the baby gorillas
We finally came to a clearing where we got our first sighting of the gorillas. A baby gorilla was, in fact, blocking the path that we were following and, near to him, more members of the family were resting. Our guide excitedly pointed and said; "look, gorillas!"
Quickly, my wheelchair was positioned in a good, flattish spot and I was transferred into it. I am also partially sighted, so even though the gorillas were very close to us, I had to use a pair of binoculars to help me see them more clearly.
There was a large silverback gorilla a few metres in front of me and three or four babies clambering all over him. Further to my right, the mothers watched the scene. The adult gorillas barely moved the whole time I was there – the guide said it was their 'coffee break'. I later read that this is a very common occurrence as the gorillas like to coincide their break with when they are being observed by humans.
The young gorillas, on the other hand, were very active, swinging from overhanging vines and exploring everything. Brilliantly for me, they were mesmerised by having a wheelchair in their midst! One of the young gorillas came up and touched my spoke guards (wheel covers), extending a tentative finger until the little one was chased away by the guide.
Later on, another baby gorilla came over and investigated my shoes. I am really pleased that I managed to capture this priceless on video (see below). I think this last baby would have climbed upon me if it had not been chased away by the guide.
Other members of the gorilla family were in another clearing chewing on foliage, but I was told that I had the best view where I was! The rest of the visitors had disappeared with one of the guides, but the main guide and a number of the porters stayed with me and ensured that I could see the scene before me, pointing things out and describing what was happening.
The return trip down the mountain
After an hour our time with the gorillas was over, the rest of the group joined us and we made our way back down the Parc – a lot quicker than we made our way up! We stopped for a couple of group photos and then, once we reached where we had started our trip, we just had to deal with the uncomfortable issue of tipping – we didn't really know what was appropriate! I imagine that every group is different, and so we all tried to give a similar amount.
The Rwanda Wheelchair User Committee (RWUC)
After the excitement of meeting the gorillas, we went back to Kigali and I had the pleasure of meeting up with Emmanuel, who is a Rwandan wheelchair user whom I met through wheelchairworld.org.
He is an amazing person. He lived through the genocide and has never let himself be deterred in life by the fact that he is a wheelchair user. He is always trying to help people and, at the moment, is working to set up the Rwanda Wheelchair Users Development (RWUD), which aims to help disabled people in Rwanda live their lives as independently as possible.
By Susie Twdell
Check out Susie Twydell's top tips for travelling in a wheelchair on Disability Horizons. To see more travel reviews and resources for wheelchair users, visit www.wheelchairworld.org, follow her on Twitter @WorldWheelchair and Facebook.
More on Disability Horizons…