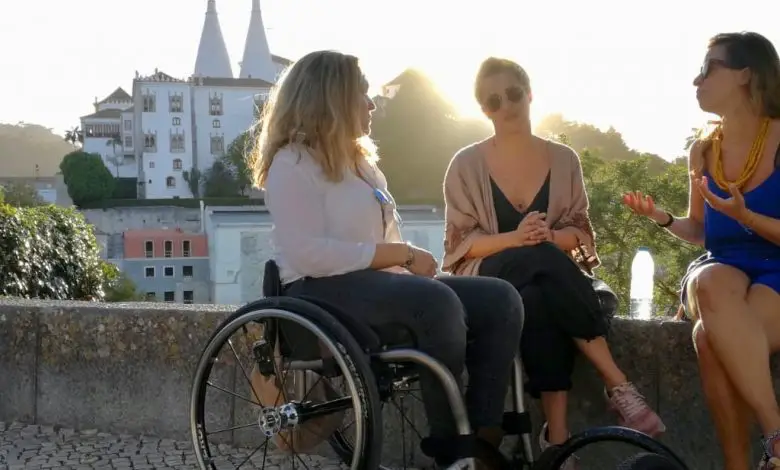 Sisters Daniela and Rita from Portugal 4all Senses, which organises accessible holidays in Portugal, were born and raised in Lisbon. They love their city and enjoy nothing more than strolling around it. To enable you to explore this beautiful city too, whether you're a wheelchair user or slow walker, they round up the top 10 delights in Lisbon that can't be miss and are totally accessible.
1. Belém
This neighbourhood is a historic and monumental setting by the river Tagus, where many ships set sail at the time of the Portuguese Age of Discovery, to explore new European countries and cultures.
One of the great things about Belém is that it is totally flat. It's also where many of Portugal's distinctive buildings and landmarks are located, including the Jerónimos Monastery, Tower of Belém and Monument of the Discoveries, which symbolises the Portuguese Age of Discovery.
2. Jeronimos Monastery
Also called Hieronymites Monastery, Jeronimos Monastery is one of the most visited sites in Lisbon, along with the Tower of Belém, and was declared a World Heritage Site in 1983 by UNESCO.
Jeronimos Monastery was built in the Portuguese Late Gothic Manueline style of architecture. The construction of the monastery and church began on 6th  January 1501, and was completed 100 years later. The religious building was designed by the Portuguese architect Diogo de Boitaca to commemorate the return of the navigator Vasco da Gama from India.
The Church houses the tombs of Vasco da Gama and the poet and writer Luís de Camões. There is a wheelchair ramp to help you access the church and the neighbouring cloister, where the bottom level is accessible.
3. Pasteis de Belém pastry shop
If you are in the Belém area, you have to taste the authentic pastel de nata (custard tart). You can get these in every café in Lisbon, but the ones in Belém are made using a secret ancient recipe.
The owners say that the recipe is from the monks of Jeronimos Monastery, and history tells us that the monks made these tarts to be sold at a shop next to a sugar cane refinery. But one thing we do know for certain is that the recipe is locked in a safe and only a few people know the whole cooking process.
Custard tarts are usually eaten with a sprinkle of canela (cinnamon), and always accompanied with a bica (local expression for an espresso). The cafe can be crowded, but it is large inside and there are adapted toilets. You'll usually need to wait in a queue for a pastel de nata, too, so we'd suggest going early or at the end of the day. But whenever you go, trust us, it's worth's the effort!
4 .The Museum Berardo of modern and contemporary art
This museum is among the best in Lisbon, so don't miss it if you're in the Belém area. It is devoted to contemporary and modern art, with plenty of inspiring paintings and installations. It offers insights into the world of abstract, surrealist and pop art by historic and world-renowned artists.
The museum is located in the modern Centro Cultural de Belém, which is near the Jeronimos Monastery and across from the River Tejo. In the complex, there is a café and restaurant (both facing the river), a bookshop and a museum shop. There is accessible parking underground and the gardens, galleries, restaurants and terraces can all be accessed via a ramp or lift. Admission is free all day on Saturday.
The large open space, which is flat and mostly pedestrianised, is a must-see destination for visitors to Lisbon. With beautiful 18th century symmetrical buildings and arcades facing the River Tejo, the Terreiro do Paço is one of the most important squares in Lisbon.
It is built on the site of the old Royal Palace, which was destroyed by the 1755 earthquake, along with much of Lisbon. Also known as Praça do Comércio, it houses the equestrian statue of King Dom José I, who survived the destruction of the great earthquake, and put into motion the reconstruction of Lisbon.
On the northeast corner lies Martinho da Arcada, the oldest café-restaurant in Lisbon, established in 1782. It sits amongst the many restaurants and cafes where you can appreciate a great Portuguese wine, beer or a bica in this iconic square. Several of the eateries have accessible outdoor terraces and adapted toilets. One of the best accessible bathrooms on earth is by Renova – it's totally adapted and truly beautiful.
6. Baixa and Rossio – from Terreiro do Paço square to Rossio in great style!
Rua Augusta is Baixa's main commercial street, stretching from the Terreiro do Paço to the Rossio. Just go through the Arco da Rua Augusta archway from Terreiro to enjoy this beautiful street.
Pedestrianised since the 1980s with Portuguese calçada (mosaics of limestone and black basalt), Rua Augusta is home to numerous fashion retailers, and famous restaurants and cafés. Although the street is covered with cobblestones, they are wide, helping to make the whole area wheelchair friendly and very easy to stroll around.
At the end of Rua Augusta, you will find the Rossio Square. It is the liveliest square in downtown Baixa, where many locals and tourists meet up. The square houses various monuments and landmarks, including Column of Pedro IV, a monument to King Pedro IV built in 1887. It also has a pedestal with marble allegories of Justice, Wisdom, Strength, and Moderation, qualities attributed to Dom Pedro IV.
While there, take the opportunity to taste a Ginginha – a sweet cherry liqueur that originated in Lisbon – or a sangria, and just relax and enjoy!
7. National Palace of Queluz
The National Palace of Queluz is the Portuguese Versailles, a grand palace in France. Its historical gardens are one of the most remarkable examples of the harmonious link between landscape and palatial architecture in Portugal.
This fascinating palace is located partway between Lisbon and Sintra, which means it is often overlooked by tourists. But for those who visit, they will be rewarded with an exquisite Baroque palace that has an intriguing history.
The sober façade of the palace, which used to home to the Portuguese royal family, hides the majesty and opulence of the interior. The palace combines Baroque, Rococo and Neoclassical architectural designs, while the gardens are inspired by French styles.
Among the highlights in the gardens is the surprising Canal dos Azulejos, which means 'tiled ceramic canal' in English, and is decorated with typical 18th-century scenes.
Mobility scooters are not allowed inside the palace, but you can change to a manual chair, which can be hired from the palace. Swiss tracks, which help make the ground easier to roll over, are provided for free, you just need to book them in advance.
There is also a metal ramp that allows wheelchair users to access the palace, ticket counter and accessible toilets. Tactile displays can be found around the palace, including a precise scale model of the palace, and you can pick up audio guides.
8. Benfica Luz stadium – come and cheer for us!
We have been Benfica fans since we were born, so football is a family tradition for us, and many other Portuguese families. We're all crazy about football – for us, it is a religion.
For football fans, a stopover at Luz stadium in Benfica is the cherry on top of a Portuguese cake! Is the biggest stadium in Portugal and one of the biggest in Europe. It also showcases more than just football, with a museum where you can hear stories about some of the best athletes representing the club Benfica, and see their trophies.
Luz means light in Portuguese, and its name reflects the architect's vision, whereby he designed the stadium to focus on light and transparency. Its polycarbonate roof allows the sunlight to penetrate the stadium and illuminate it. The brightness and magnificent construction is part of why many supporters refer to the Luz stadium as "the Cathedral."
There are steps leading up to the Benfica Stadium, but wheelchair users can easily enter through adapted turnstiles in 12 of the doors to the stadium. There are 72 seats for wheelchair users, all with an adjacent seat for whomever you're travelling with.
9. Relax by the beach
Portugal is the sunniest country in Europe and has an extremely large coast. But you might be surprised to also hear that we have more than 222 official accessible beaches all over the country, including the islands!
Lisbon is less than 30 minutes away from the coast and there are plenty of options to choose from. Accessible beaches are identified by an official flag. They all adhere to basic criteria – accessible parking spaces, an easy beach path and adapted toilets. On some accessible beaches, you can also get additional support, such as an amphibious chair or trained staff to help you.
Every year there is a national competition for the most accessible beach in the country, and in 2017 the winner was Praia do Ouro (Gold Beach) located in the charming fishing town of Sessimbra, a one-hour drive from Lisbon. A closer option to Lisbon (20 minutes drive or by train) is Carcavelos beach, where you can find several surf schools and cafés along the promenade.
10. Portuguese coffee – keep calm and drink a bica
Although the English discovered the pleasure of drinking tea through a Portuguese Queen living in England, we find coffee a far more appealing option! Drinking coffee is a habit deeply rooted in our culture and it is always present in our daily lives. As a consequence, coffee shops are spread out all over the city.
From little "tascas" (Portuguese version of tavernas) to sophisticated places – everybody has the right to drink a decent coffee for a reasonable price. There is also a lot of choice when it comes to the type of coffee. The most popular version is the regular bica, but you can order a lighter version, such as café pingado (coffee with a drop), which is an espresso with a little bit of milk. If you want to go wild, order café com cheirinho (coffee with a scent) – you will find the combination of espresso with brandy invigorating!
Our favourite place to have a coffee is in one of the several beautiful kiosks made in Art Nouveau style. The first one opened in 1869 in Rossio square. You can find our kiosks in the main squares, avenues and parks around the city. They're all very small inside, but have large terraces, and while in beautiful sunny Lisbon, enjoying a coffee out in the sun is the best way to do it anyway! The toilet facilities are usually basic, but some have adapted toilets, such as the Kiosk of Ribeira das Naus. It is one of the largest kiosk and has great views across the Tagus River. We totally recommend it.
Explore accessible Lisbon
Now that we have shared our favourite jewels from Lisbon, we hope you will explore our great city and find new exciting places to add to our list! And remember, even if you have a disability, much of Lisbon is accessible to all. So, what are you waiting for…
By Daniela Guimarães Duarte and Rita Duarte
More on Disability Horizons…