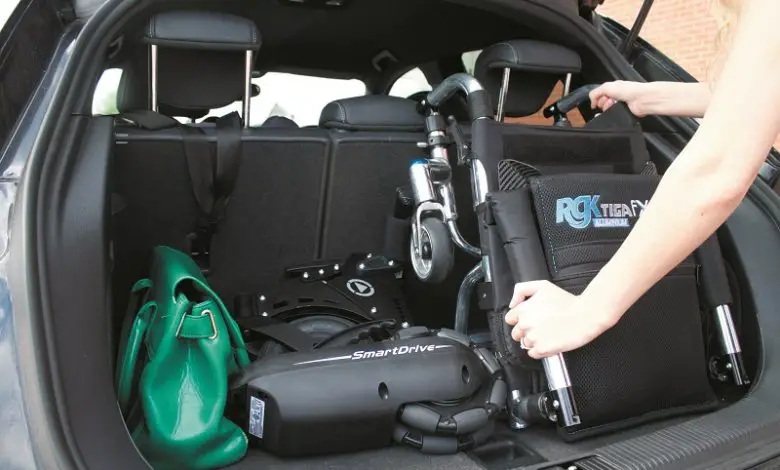 Weight has been the focus of the active wheelchair market for the last few years, after all, a lightweight wheelchair means it's easy to propel and manoeuvre. But what's the real weight of a manual wheelchair, and what affects this? Review My Wheelchair editor and wheelchair user, Dominic Lund-Conlon, has some answers.
What makes a wheelchair lightweight?
Lightweight wheelchairs can weigh as little as 3.5kg. In comparison, standard manual wheelchairs usually come in at around 14kg.
The key thing that determines the weight of a wheelchair is what it's made of. but it's expensive. Carbon fibre is the material of the moment for ultralight wheelchairs – but it's expensive. Carbon fibre wheelchairs can cost anything from around £3,700 to £8,000, and that's without adding any additional features, such as Spinergy wheels – a type of very sleek wheel that is far lighter still than standard wheels – or soft-roll casters, which absorb vibration and aim to provide a smoother ride.
Aluminium, and to a certain extent titanium, are still close enough in weight to be competitively light, but costs far less – around £2,000 to £5,000. Recent manufacturing improvements mean that aluminium is also a very strong material, maintaining similar rigidity to titanium.
It's not all about the core of the chair – a long list of added specifications can really add to a wheelchair's certified weight. Earlier this year I visited a manufacturer who makes ultralight manual wheelchairs. My contact there told me: "Every time a wheelchair is laden with additions, the engineer who designed it shudders, knowing that all their work to make the chair light and manoeuvrable is being eroded away by the options list." I know how much goes into the design process, so I sympathised.
But wheelchair users are being given more options than ever: multiple fabrics; different backrests; cushions; seat slings; pockets; side guards; seat cooling/heating; handles; brakes; air conditioning… OK, I made the last one up. So, if you want a lightweight and nimble chair, it's important to remember that every component weighs something.
However, even some of the added extras come in their own weight-reduced forms. I recently tried out a wheelchair that has carbon fibre side guards, a carbon fibre footrest and carbon fibre Spinergy wheels.
What makes wheelchair weight important?
Is the end weight of a wheelchair really that important? The real answer is something that only the user can determine. If you're looking for easy propulsion, or the ability to lift your wheelchair frame yourself into the car, then yes.
Personally, with my own disability (I have Congenital Myasthenia), lighter is better. This is because my body tires easily and if I'm moving less weight, the effort I have to exert is lower. However, if you have a little more upper body strength, you might be prepared to forgo some reduction in weight to save some money, or put the money towards other options.
However, when buying your wheelchair, your first priority should be to meet your clinical needs. The backrest, seating position and seat support should be perfectly tailored to you. For example, if you are paralysed, you might need a manual chair with frame inset to keep your knees closer together. Or, if you have poor core muscle tone/strength, then a backrest moulded to your own body will give better support and reduce fatigue.
It's important to get the seat right first, as this will also affect the size of the frame, how high the casters need to be and where the centre of gravity is. This will all help to reduce how heavy it feels to push.
Your second priority should be how it will help you in your everyday life. Pick the brakes that you can use; add fold-down push handles if you want someone to be able to assist and look at the sideguards or consider fenders to protect your clothing. You could even consider power attachments, such as a SmartDrive or Handcycle.
Since options all weigh something, the lighter your initial frame weight is, the more you'll be able to add an extra kilogram or two of options without significantly impacting your propulsion.
What's the real weight of a manual wheelchair?
The bottom line is that the real weight is individual to you. You should always use the advertised weight as a starting point, rather than a finite number, and be aware of the weight of the individual items you're adding.
You can also use Review My Wheelchair to help you to understand how adjustable and customisable a chair is, and narrow down to those in your desired weight range. They'll also enable you to identify what key options are available and how they could benefit you.
At Review My Wheelchair, when we try out a wheelchair, we look at all of the options. Each person is different, so we examine all the ways in which a chair can accommodate someone's needs and improve their mobility. While we might not focus on your own specific needs, we can help you select the best wheelchairs to consider.
At the end of the day, it is your mobility that matters, so make sure your needs come first.
By Dominic Lund-Conlon
More on Disability Horizons…
Get in touch by messaging us on Facebook, tweeting us @DHorizons, emailing us at editor@disabilityhorizons.com or leaving your comments below.