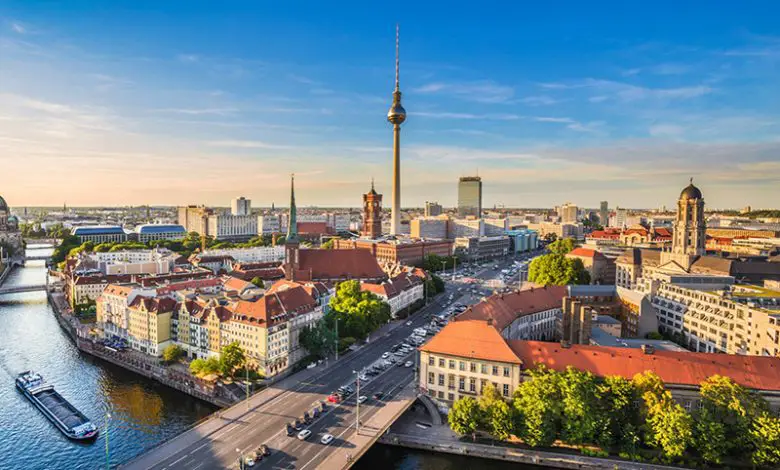 Travel & Holidays
Disability and travel: why Berlin and Hamburg are definitely worth visiting
Disability Horizons writer Wolf, a wheelchair user from New Zealand, has set off on a four-month-long trip to a number of cities across the world. In the second article of the series, he talks about why Berlin and Hamburg in Germany are definitely worth visiting.
Berlin – accessible transport
No matter what you're interested in, Berlin is jam-packed with attractions. Statues, monuments, museums – take your pick.
If you haven't been to Berlin before, the easiest way to see the city is by using a hop-on and hop-off tram or bus. When I visited the city for the first time I took a circle tram from Alexander Platz. It took me to many of the well-known attractions, and was easy to get my wheelchair on and off. You have to communicate with the drivers to do so, but they were really helpful.
This time I mainly wanted to catch up with friends, so used taxis most of the time. But whenever I have used other modes of transport, such as the metro or buses, they have been extremely easy to get on and off. You might want to ask the staff at your hotel's reception for advice – I have always found them to be very helpful and knowledable.
Whatever you decide to do, a good place to start is the BVG website, which stands for Berliner Verkehrs Gesellschaft. It has an App for IOS and Android called FahrInfo Plus. It allows you to use your mobile phone as a ticket, find connections, and even save your favourite routes.
Another website I found useful was Visit Berlin. It not only has an events calendar that gives you a good overview of what's happening in Berlin, but also an accessibility section and page specifically for wheelchair users and those with limited mobility. It also has a very helpful call centre team, who can advise you on sightseeing tours, hotels, tickets, and all sorts of packages.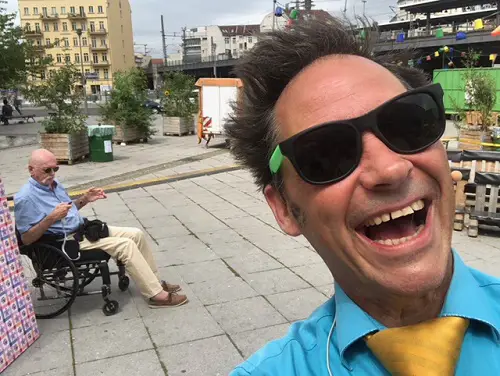 Accessible attractions in Berlin
Generally speaking, the Western part of the city is more access-friendly than East Berlin (the former GDR). An exception would be public buildings and new buildings. I've been to a number of museums and art galleries and they have all been barrier-free with accessible toilets.
Many of Berlin's sightseeing spots are in the open air, hence easily accessible. I've been to the Jewish Memorial, the Brandenburg Gate, Checkpoint Charlie and East Side Gallerie. I've also looked at the Reichstag building (which is fully accessible), and the Potsdam castle, situated on the banks of the river Havel. Even though it is about 24 kilometres southwest of the city centre, it is worth a look. Not only is it in a beautiful setting, but it also has a lot of history.
A different way to see Berlin
But there is another way to see the city that not many people are aware of. It's called the Berlin Greeters and is run by a group of volunteers who can give you a unique welcome to their city.
On the website, it says: "We have no strong rules about what a 'greet' should look like. Every Greeter will focus on his special topic and/or will ask you if you have special interests. You and the Greeter will meet at an agreed place and start your discovery 'greet' through Berlin. The Greeter will share experiences, stories and anecdotes with you – and provide useful tips on how to get around in Berlin."
I applied for a 'greet' on the website, and had almost forgotten about it until one day an email came in announcing that a Greeter had been found for me and that he would be in touch shortly.
My Greeter, Michael Drutschmann, and I exchanged several emails and fixed a date to meet. I didn't feel like mingling with thousands of tourists in the main part of the city, but instead being surrounded by nature.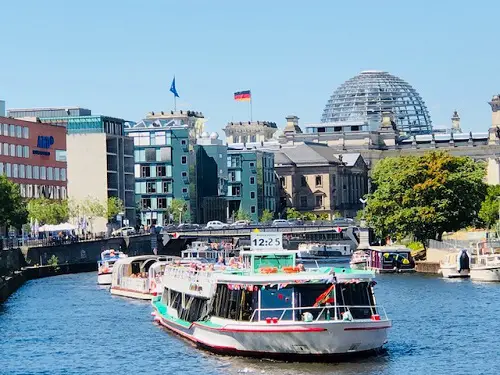 We, therefore, decided to go to Wannsee, a large bay on the river Havel. The area is connected to many canals, which allow you to explore many parts of the city and surrounding areas. Berliners spend weeks going from one lake to another, through different canals, without ever setting a foot on dry land.
Michael picked me up at my hotel, the Melia. It is centrally located in Friedrichstrasse, the popular district of Berlin-Mitte, and has excellent accessible rooms. It's also not far a train station Friedrichstrasse, which was once the only station with access to East Berlin, and an accessible restaurant close by.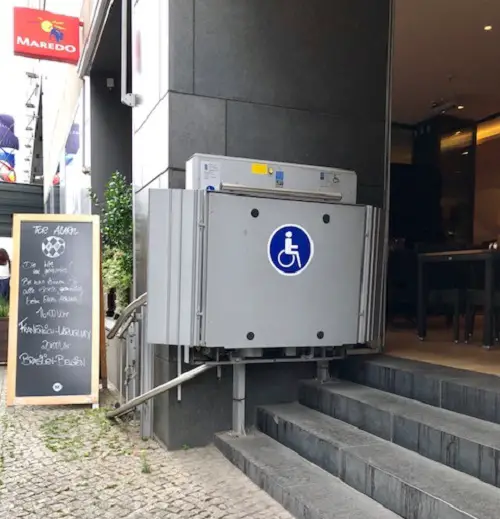 We took the S-Bahn railway system out to Lake Wannsee. The station had lifts onto the platforms, and level entry to the trains. Once there, we avoided the tourist-laden boats, which only go on a round trip. Instead, we took the passenger ferry across the lake, which was fully accessible and even had a toilet on board.
Once there, we rested in a beer-garden and sipped on a cold beer while Michael told me many stories about Berlin.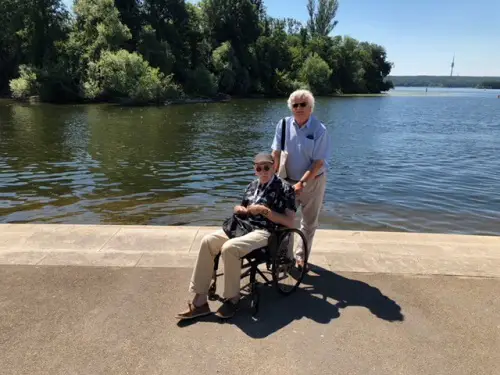 By 2pm, we went on our way back to the hotel. It had just been what I needed – a relaxed morning into the afternoon. I would recommend a 'greet' to anyone.
You don't have to travel to Berlin to use one either – 'Greeters' operate in many other cities across Europe and around the world. Take a look at the Global Greeters website for more information.
Hamburg
After Berlin, I stopped briefly in Stuttgart, where I saw some friends and family. And no, I didn't go there to pick up my new Porsche! I'm quite content with my wheelchair, thank you.
There I stayed in the lovely town of Gerlingen. It has plenty of accessible pubs, restaurants, and even some nearby beer gardens. Even though it's outside the main centre, it has a tram station, meaning you'll be in town in just over half an hour.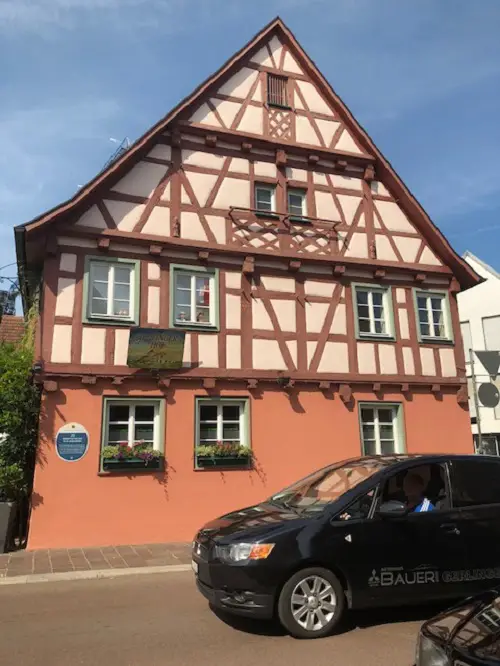 The Stadthaus Hotel – fully accessible for guests and staff
From Stuttgart, I flew to Hamburg and stayed in the Stadthaus Hotel in Altona. It has a very unique selling point – it employs a high proportion of disabled people. It was, in fact, the first all-inclusive hotel to be set up in Germany. In the 199, a group of parents with disabled children founded it.
Today, it is run by a board that has a rotating chairman who always is the CEO of one of the major hotels in Hamburg. This means that there is professional input, while the social credo is maintained.
It is also part of a group of more than 40 independent hotels in Germany, and even one Italy, called Embrace. They all have the same policy – the workforce is made up of between 20% and 40% disabled employees. It's a small hotel that doesn't have the fancy trimmings some others do. But it was very comfortable. You can also be assured that they fulfil any disabled guest's requirements.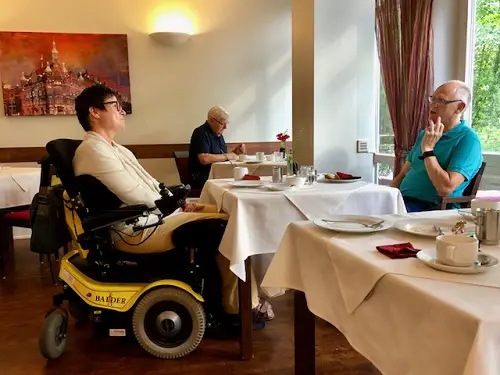 Accessible places to visit in Hamburg
Hamburg is, of course, famous for its red-light district Reeperbahn, a street full of strip joints, bordellos, and fast food shops. It's certainly an experience. The street itself is fully accessible, and some of the shops are, too. I don't know about the strip clubs though – you would have to check those out yourself!
If you can manage to get up early, you should definitely head down to the famous fish market, Fischmarkt. It opens at 5am every Sunday. Traditionally, it was where both fishermen came to sell their catch, and sailors coming back from overseas voyages would sell their exotic wares from all over the world, such as monkeys or cockatoos.
Today, the sailors have disappeared, but there are still plenty of treats available, including warm shrimp straight from the boat and delicious smoked eel. Basically fish, fish, fish. The Fischmarkt is so sought after that it regularly goes on tour tto other German cities.
You can get there using public transport: U3 Station Landungsbrücken, S1, S3 Station Reeperbahn, or you can take the bus line 112 to the bus stop Fischmarkt.
But, at that time in the morning, depending on where your hotel is, it would probably be easiest and safest to go by cab. Hamburg isn't unsafe, but at 5am in the morning there tend to be some drunken people around, and there is a chance your electric wheelchair might be mistaken for a spaceship!
Another thing to do in Hamburg is to visit the Landungsbrücken, a floating dock. You can take one of the harbour cruises from there, but for me, the tide wasn't right, so I couldn't access it. Like many cities in the northern hemisphere, the difference in the tides is quite significant. The low tide meant that the ramp down to the boat was too steep.
If like me, you're a wheelchair user, your best bet would be to plan ahead and go two hours before high tide. You'd also want to time it so that your boat is back within two hours after high tide, or you might not be able to get off the boat.
So instead I caught a fully-accessible sightseeing bus, which is part of Red & Yellow Bus Tours. These tours are free for disabled people and there are several companies operating them. Because they are all hop on and hop off buses, you can find the closest stop to your hotel on their website.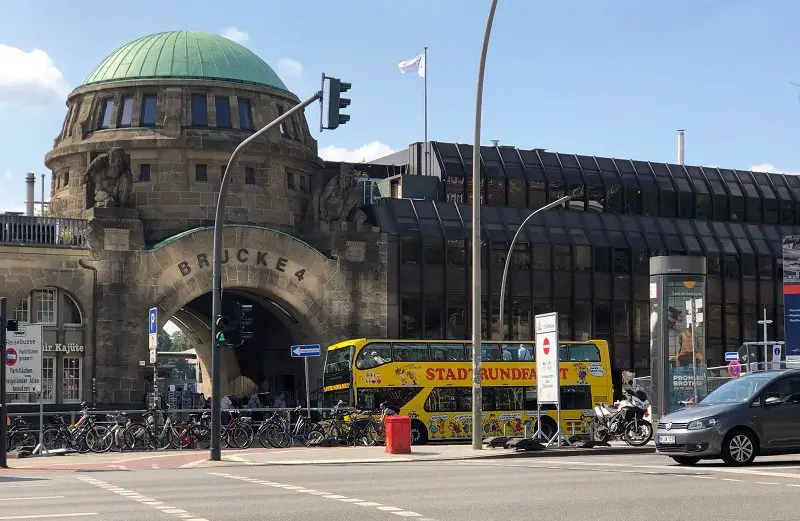 To finish off I went to the Speicherstadt, a former warehouse district surrounded by canals. The canals used to enable ships to unload their cargo on one side, store it and then dispatch it onto trucks the other side. Today, many of these former warehouses have been converted into offices or apartments.
Even though the area is fully accessible, big parts of it are paved with cobblestones. As they are spaced quite wide apart, small wheels might sometimes get caught between them. This makes it hard going at times, particularly for manual wheelchairs. For transport, I again relied on a cab and had no problems.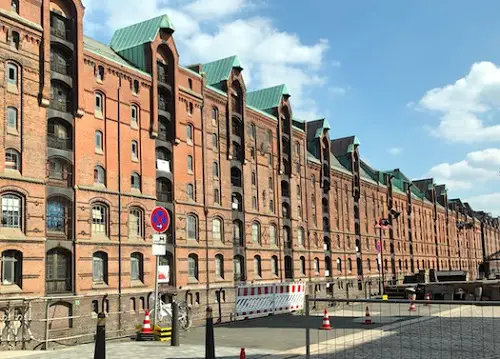 This district also houses the world famous Miniature Land model village. There, not only are model trains, planes and cars on display, but also several countries and different historical periods.
When I got there, I had to get the attention of one of the workers so that he could operate the stair lift. I then for me had to take another lift up to the display area. This wasn't a problem at all as there was a lot of staff around. In fact, it left me with another positive impression of Hamburg and its accessibility.
By Wolfgang
More on Disability Horizons…