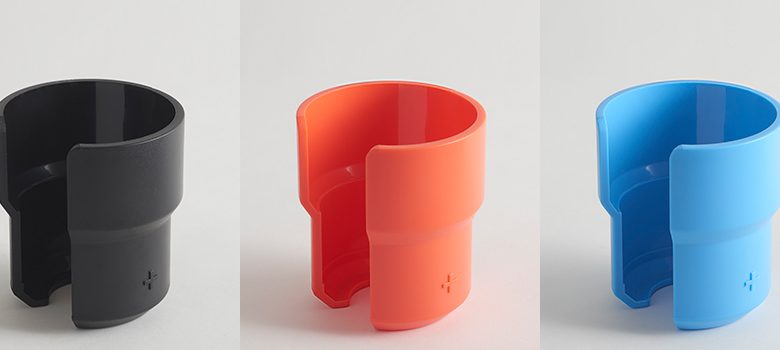 Blue Badge Style, which highlights venues that are as accessible as they are beautiful, has created a stylish cup holder, DRINK, ideal for wheelchair and mobility scooter users. And Disability Horizons' readers can get 15% off!
We all know how ugly mobility and assistive aids can be. That's why Fiona Jarvis, founder of Blue Badge Style, developed DRINK, an elegant solution for people who have their hands full. It comes in three colours – red, black and blue – and can be customised.
Its clever design attaches to practically anything using Smart Fixing, which comprises a clamp with an attachment. It holds a glass of almost any shape or size, as well as some bottles, coffee cups etc.
All Disability Horizons readers can get 15% OFF DRINK until 31st October 2018. Simply visit Blue Badge Style's shop – Addition Collection – and use the code DHORIZONS.
How adjustable DRINK holder works
The clamp can be screwed open to a maximum width/diameter of 5cm. The attachment can be unscrewed and adjusted at any angle to the clamp using an Allen key. This means that the glass holder can sit level, no matter where it's positioned. The glass holder is then placed into the attachment until a 'click' can be heard.
We spoke to Fiona to find out more about the product and the inspiration behind it.
Where did the idea for DRINK come from?
I was at an event with a number of inventors who could see first-hand how tricky it is to try and hold a glass and socialise when using a wheelchair. It's difficult, if not impossible, without asking for help.
I know that a lot of other people have the same problem, and that there was nothing on the market that looked good and held drinks of different shapes and sizes. I also know that adding attractive accessories can be a great way to update an ugly contraption – we don't all want to wait years for a new wheelchair design!
So, alongside an inventor I made contact with, who wanted to prove that disability can be re-defined with stylish and functional products, we started designing DRINK.
DRINK came into being after winning a Spark award, which helps new designs to be realised. Can you tell us more about that?
I have always admired the work and aims of the Design Council, which started the Spark award as a way to encourage UK product innovation. When I was younger, I remember my parents taking me to the Design Council shop on Regent Street, and being amazed by all the new ideas.
The Spark award gives money to designers to help them develop and produce viable products that meet a pressing need. As well as the funding, we also received invaluable help from our mentors and co-Sparkies, many of whom we still collaborate with today.
The design process was the most intense thing I've ever done, but it was completely worth it. I now understand a lot more about the processes and have a new network of knowledgeable people I can turn to for advice. As well as DRINK, we already have five other products in our Addition Collection shop, and hope to create more in the future.
Get 15% OFF DRINK NOW until 31st October 2018 by visiting Addition Collection shop and using the code DHORIZONS.
More on Disability Horizons…