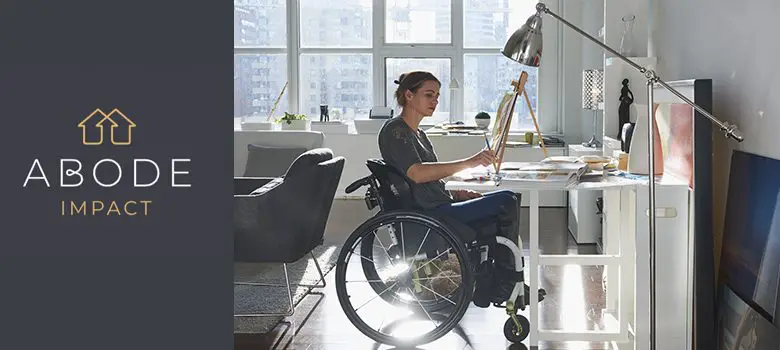 News
Over 90% of wheelchair users struggle to find accessible homes for private rent
The largest-ever survey on wheelchair users and their housing need has found that there is a chronic lack of wheelchair accessible homes in the private rented sector, according to new research by Abode Impact.
It also found that:
4 in 5 are currently living in a home that fails to fully meet their needs as a wheelchair user.
91% have experienced barriers to accessing the private renting sector (PRS).
Wheelchair users report having to be carried downstairs in order to leave their property, and being turned away by estate agents after arriving in a wheelchair.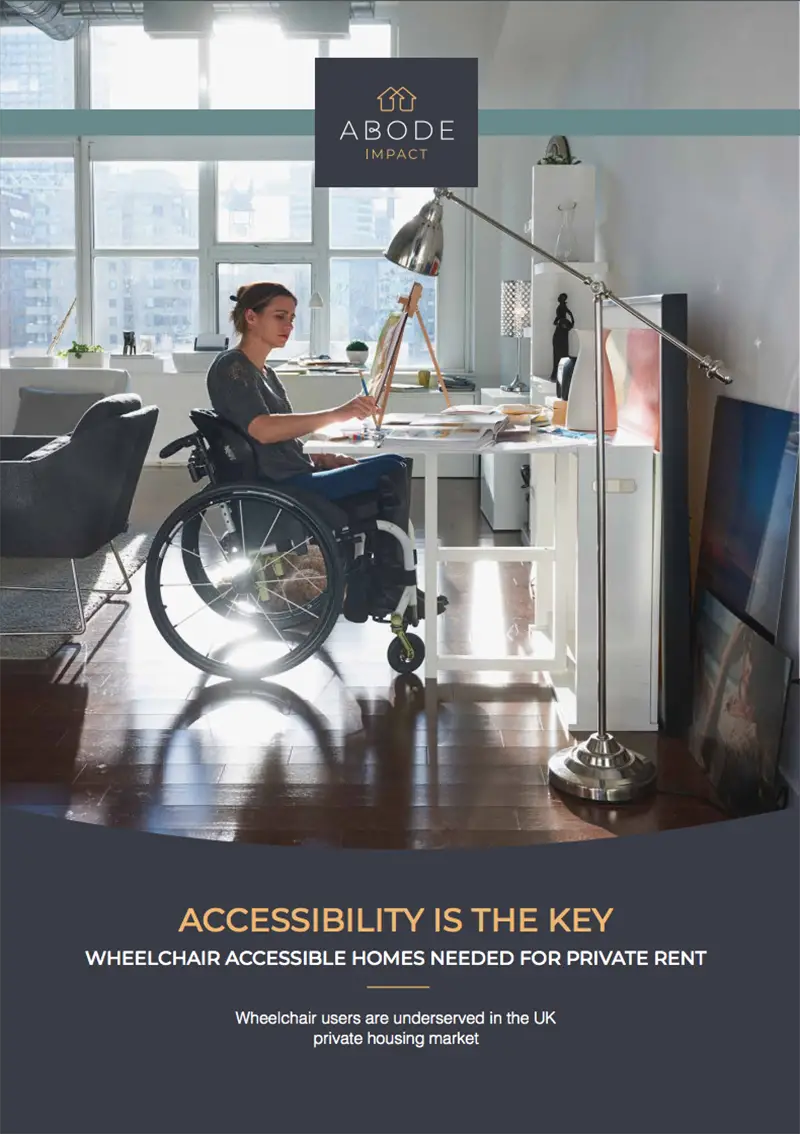 Accessible housing to rent
There are 1.2 million wheelchair users in the UK today, but the UK PRS is failing to provide wheelchair accessible homes, according to Abode Impact's new report, Accessibility is the Key (click on the link to download it).
The findings show that some wheelchair users have no option but to seek social housing or stay in a home that fails to meet their needs. One survey respondent said that they are unable to leave the house on their own and have to be carried down the stairs.
Of respondents, 4 in 5 are currently living in a home that does not fully meet their needs as a wheelchair user, 91% have experienced barriers to accessing the PRS and 62% said this was due to a lack of accessible properties. Another respondent commented that a "rental agent withdrew my offer when I turned up in a wheelchair".
In the age of Generation Rent, wheelchair users in particular are chronically underserved. Fifty per cent of respondents said they would like to privately rent a home, but only 18% are currently living in the PRS.
The Abode Impact research, funded by Commonweal Housing, surveyed 448 wheelchair-user households and gained insight from social housing providers to provide an investment case for accessible housing.
In response to the demand for accessible rental accommodation, Abode Impact will launch the first accessible housing fund for London next year. The fund is targeting social impact and financial returns by purchasing one- and two-bedroom newly built accessible homes for private rent.
As Abode Impact's research shows, if a home meets the needs of a wheelchair user, they are more likely to stay in their home for longer. Investors can therefore benefit from the low tenant turnover and a reliable source of income; while tenants experience the benefits of improved mental, physical and financial well-being by living in an accessible home.
Eleanor Bowden, Chief Executive of Abode Impact, said: "We are on a mission to enable greater choice and independence for wheelchair users looking to privately rent.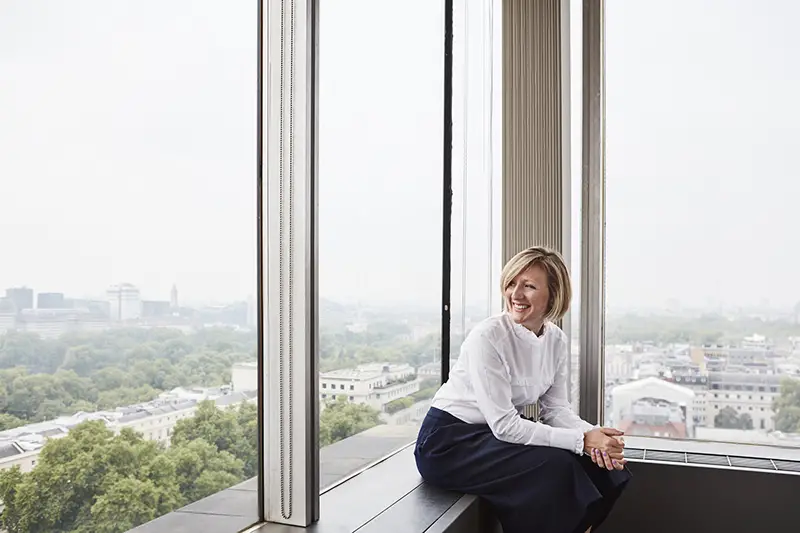 "Our research shows that there are a significant number of wheelchair users who would like to privately rent an accessible home, so we will use large-scale investment to purchase more of this type of housing. This is challenging the misconception in the property market that wheelchair users are reliant on state support and social housing.
"We are proud to publish this research, and to be making a difference for the many wheelchair users struggling to find a home to rent."
Register your interest for an accessible home
Abode Impact is inviting people looking to privately rent a wheelchair accessible home in London to register their interest at abodeimpact.co.uk/register-your-interest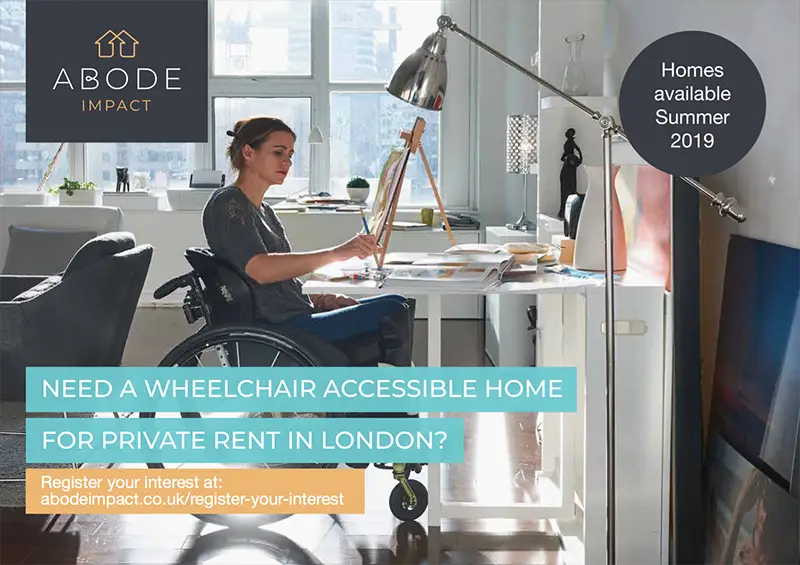 Case study – Josh Wintersgill
Josh has spent three years living in the PRS. He was lucky to find his first accessible home by searching online, but his landlord now needs to claim back the property for personal use, so Josh has only two months to find another accessible home. He is struggling to find another two-bedroom home in the PRS, as none are located on the ground floor, have a wet room or enough space for Josh and his full-time carers.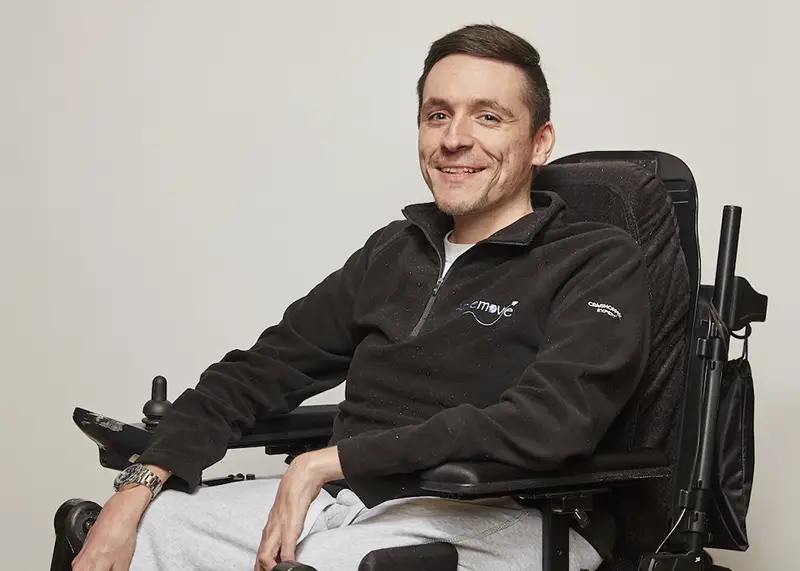 Josh can afford to rent privately, but due to the lack of accessible homes in the market he is now seeking accommodation in the Social Rented Sector. Josh knows that his condition will get worse in the next few years, meaning that he will need a live-in carer, so will need to be moved on again. Abode Impact research shows that 50% of respondents require two-bedroom homes to suit their medical and care needs.
Josh would be an ideal tenant for the PRS, a young professional who is a business owner – if only he could find an accessible home to rent.
Bristol-based Josh Wintersgill was diagnosed with spinal muscular atrophy at 18 months old. He is a Stelios Entrepreneur award finalist in association with Leonard Cheshire – recognised for inventing the Able Move device that helps transfer wheelchair users on and off planes. Josh is also hoping to be selected for the GB Paralympic Talent Squad for Air Rifle in the future.
What housing and disability charities have to say
Commonweal Housing funded this crucial research. Chief Executive Ashley Horsey said: "We are dedicated to tackling social injustice through housing solutions and so we were pleased to support Abode Impact to research what is quite frankly a shocking injustice in the UK housing market.
"The report highlights an issue and a group of people who are so frequently overlooked, and we are pleased we could help to bring more attention to this. However, there is quite obviously lots more work to be done in providing suitable housing for wheelchair users, by the Private Rental Sector in particular."
Neil Heslop, Chief Executive of Leonard Cheshire, said: "This research echoes our own findings that disabled people are facing difficulties finding accessible housing, leaving many with mobility problems unable to leave the house independently. Nobody should be made to feel trapped and hopeless within their own home. Accessible homes must become more readily available, given the dire consequences this situation is clearly having on disabled people's lives. Often only relatively small adaptations can make a huge difference."
Brian Carlin, Chief Executive of Aspire, said: "Aspire's own research has highlighted not only the lack of wheelchair-accessible homes in the UK, but also the significant negative impact that living in unsuitable accommodation can have on disabled people. With 86% of people with Spinal Cord Injury likely to be discharged into totally unsuitable accommodation, we welcome Abode Impact's plans to encourage investment into accessible properties for private rental."
Sheron Carter, Chief Executive Officer of Habinteg, said: "Habinteg's founding belief is that disabled people should have the same choices and control over where they live as non-disabled people. We know that disabled people move house for all the same reasons as everyone else, be that for education, to take up a job, to start a family, upsize, downsize and so on. Whilst many people use the private rental sector as the first step to independence, this market can be elusive to people with mobility impairments as they are often not offered appropriate properties that are accessible.
"The true level of demand for wheelchair-accessible homes in particular can be hidden because, as this research demonstrates, so many people in this part of the market are 'making do' with homes that don't completely meet their needs.
"We very much hope that this research from Abode Impact will encourage private developers to think afresh about the potential for wheelchair-accessible homes as a strong and potentially lucrative proposition with an established market and ever-increasing demand."
About Abode Impact
Abode Impact is tackling private housing inequality in the UK with impact investment. We are focussed on providing wheelchair accessible housing for private rent. You can find out more by visiting our website www.abodeimpact.co.uk, and finding us on Twitter, Facebook, LinkedIn and Instagram.
Related research
Equalities and Human Rights Commission
Being Disabled in Britain (2018)
Leonard Cheshire
No Place Like Home: 5 million reasons to make housing disabled friendly (2014)
Habinteg, Papworth Trust, LSE and Ipsos Mori
The Hidden Housing Market: A New Perspective on the Market for Accessible Homes (2016)
Aspire and Loughborough University
Examining Lives in Adapted and Unadapted Homes (2017)
By Liberty Bollen
More on Disability Horizons….