Wheelchair user Wolf, who has recently been travelling around the world, including Germany and Spain, tells us about his last destination, the USA. Find out what to expect in New Orleans and Las Vegas, and how accessible they are if you're disabled.
After three months of travelling, family meals, birthday parties, catching up with friends, shows and beer gardens, I was looking forward to getting home for some rest. But, there was one more destination on my hit list – the USA.
Thanks to the Americans with Disabilities Act, accessibility seems to be a priority in the USA. That might be different in rural areas, but is definitely true for modern buildings in the big cities…
Travelling to New Orleans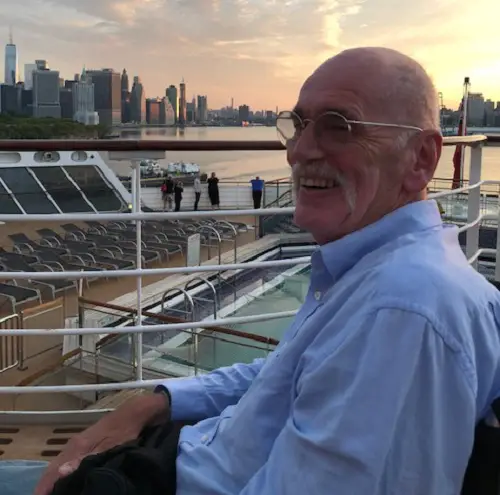 From Hamburg (my previous stop off), I got a boat to New York. I had been to New York before, so wanted to head out again to New Orleans after a night's sleep. To get to New Orleans, I caught a flight from Newark, a neighbouring city to New York. Many domestic US flights leave from there.
If you arrive via any New York airport, you can catch a shuttle bus to Newark airport. If you travel this way, make sure to leave yourself enough time for the transit, as delays in your flight time or transfer could mean unnecessary stress.
Although you could arrive in the morning and fly out again in the afternoon, the safer option would be to spend one night in a hotel, which is what I did. If you do this, you'll have to enter the terminal and catch the Skytrain to station 'P4'. From there shuttle buses from all the major hotels operate a pick-up service.
I stayed in the DoubleTree Hilton hotel. Not only was it very accessible, but it is also the only hotel I have ever stayed in that has disabled rooms on the ground floor. Bravo! Even though experts say rooms on the ground floor are easier to break into, I can happily live with this.
I get more concerned about the risk of fire. It never made sense to me that disabled rooms are usually on the upper floors, but at the lifts, there is a sign saying: "In case of fire, do not use the lift." What are we supposed to do then?
New Orleans
I was eager to sample New Orleans cooking so, pretty much as soon as I arrived, I went to the historic French Quarter, famous for its music, nightlife and food. I had an excellent spicy Jambalaya at the Coterie restaurant and oyster bar in Iberville Street.
It was easily accessible. I was able to go straight in through the front door, which isn't the case for a lot of places in the French Quarter. Being a historic part of New Orleans, many of the buildings are quite old, and barrier-free access was only added as an afterthought.
Some restaurants wouldn't be able to make their front door accessible, so for a number of places entry is along the side of the building or the back door. I would recommend having someone with you as they can go in and ask.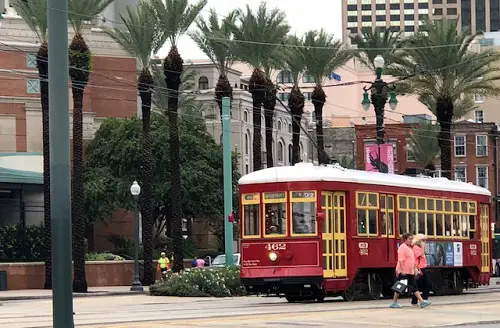 I walked/rolled back to the hotel, getting soaked in the process. It was September and hurricane season in that part of the world. Even though there hadn't been a big one yet, it was raining every day. With it, you never knew when it was about to happen. Clouds formed quickly, it rains heavily, and then it's fine (well, overcast) again. All the time it stayed warm – very warm. Not dissimilar to a steam room at a gymnasium.
Due to the permanently present danger of rain, I couldn't do most of the things I had wanted to do. But at least I had a pleasant room with a beautiful view of the Mississippi River.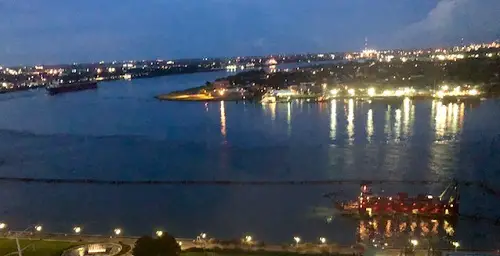 So, if you go when I did, make sure you're prepared for all weathers. Everyone who can't walk knows that you can't just run and seek shelter, and being wet and sat in a chair isn't the most pleasant experience.
Some locals said that hurricane season lasts roughly from the end of summer till November. If you want to avoid the rain, the best time to travel is February/March, when it's the Mardi Gras and the weather is more pleasant weather. It is, however, also the time with the most tourists.
Las Vegas
From Louis Armstrong airport in New Orleans it took me just over an hour to get to Houston, where I had a hassle-free stop-over. After another hour in the air, I landed in Las Vegas.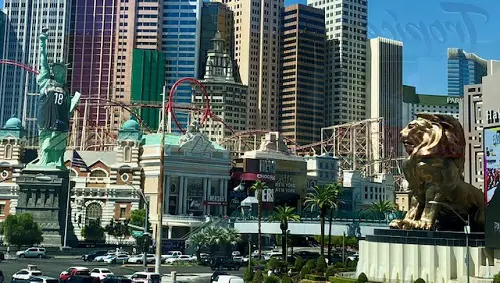 There's only one way to describe how Las Vegas makes you feel – flabbergasted. It's certainly fair to say it is the 'Disneyland for adults'. A bit over the top is an understatement. Almost every landmark you might want to see is there and everything is artificial. The Lion of Venice, canals and gondolas from Italy, the Eiffel Tower, Egyptian hieroglyphs, a sphinx, a pyramid. It's all there along the world-famous Strip.
But not just about the material creations, the people are unbelievable too. Las Vegas is the only city in the world where entertainers who have died come back in form of a tribute show. It is simply the pinnacle of entertainment. You don't even have to leave your Casino – I mean hotel.
Very happily, every hotel, casino and show I went to accessible. Remember, they want your money, so consequently, they make it easy for you to get where you spend it!
The Tropicana, where I stayed has more than 1,400 rooms and is one of the smaller hotels in Vegas. It also had the famous Laugh Factory comedy shows, at which I enjoyed two shows.
If you want to escape the clutches of the money-swallowing casinos and venture outside, you'll undoubtedly need to learn to respect the desert, as I did. One day, when it was a bit overcast, I thought I would be able to catch some cooling winds. As I rolled outside, there was wind, but it was coming straight off the scorching desert.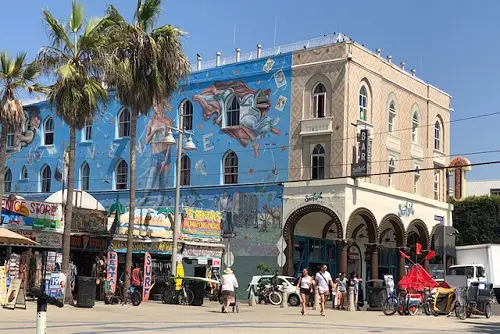 I also found that, in minutes, the armrests of my wheelchair got so hot that I burned my lower arms and elbows. I ended up being quite happy to exchange the open-air sauna for the inviting atmosphere of an air-conditioned casino. In Las Vegas, if you don't want to go outside at all, you didn't have to. There are plenty of bridges above the Strip, so you can simply leave one casino and go straight into the next one.
Although I stayed elsewhere, I didn't want to miss the famous Caesars Palace hotel and casino. More of an entertainment centre than a hotel, it's massive! Aside from several bars and numerous restaurants, there is the Forum Shops, a fully accessible shopping mall on steroids. The theme? Roman, of course.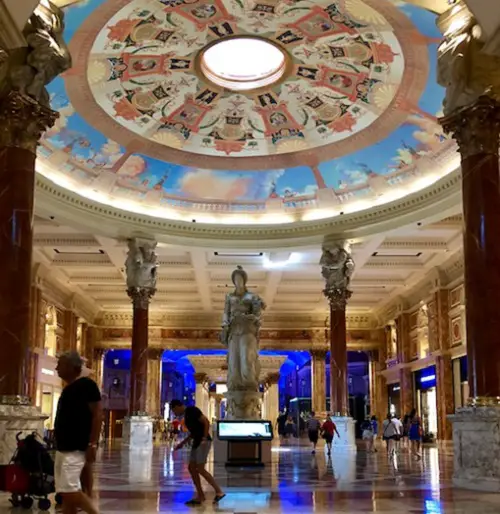 All the major luxury labels of the world are represented there. Even if you don't buy anything, it's worth a look.
I took a few taxis up and down the Strip, but a good and relatively cheap way to get around is the Monorail. A day pass costs 13.00 US$, and it allows you to go on as many trips and stops as you like. Everything is air conditioned and accessible. It has to be the easiest place in the world to get around. When you get out off the Monorail, you go straight into the next – you guessed it – casino.
Heading home, via Los Angeles
While American cities are well served from Las Vegas, and even Canada and Mexico, there are not even 10 flights to Asian or European destinations. There certainly are no direct flights to Auckland, New Zealand, where I live. So I arranged to see my god-daughter, who lives in Los Angeles.
Leaving desert temperatures and Sin City behind me, I was, after a short flight, welcomed to the City of Angels. They took me to my hotel in Santa Monica.
Having lived in L.A. some years ago, I didn't do any sightseeing. But before my flight back home, I went down to Venice Beach to have breakfast at the Sidewalk Café. The breakfast was average, the waitress very friendly. The reason to go there is people watching. You sit outside, right on the boardwalk and relax with whatever your heart desires. What could be better?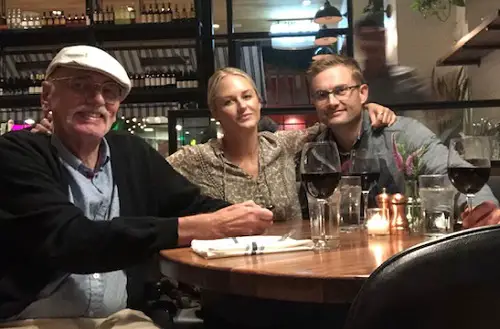 We had dinner at a nice Italian restaurant in Santa Monica, and they brought me to the airport the next day.
By Wolf
Have you ever been to the USA? We'd love to hear about your experiences. Leave your comments below, message us on Facebook or tweet us @DHorizons.
More on Disability Horizons…