Lifestyle
How AccessAble's website and app can make your life easier
Disability Horizons Co-founder Martyn Sibley recently tried out the new AccessAble app. It has accessibility data for restaurants, attractions, shops, hotels and much more, from across the UK, enabling you to get out and about more easily. Watch his video review to discover how this app could help you.
Back before the excess of Christmas, I spent a day with the AccessAble team (formerly Disabled-Go) in Cambridge. The reason. Well, as you'll know all too well, access to public places is still a big problem for disabled people.
The physical environment can disable us with steps, narrow doorways/aisles, high counters, and so on. Customer service can disable us with assumptions, prejudice and even discrimination. An organisation's processes can disable us, for example when having pre-book something that other customers can spontaneously do (hello trains!).
AccessAble app for access on the go
Fortunately, there are accessible and inclusive places out there. But the main difficulty is knowing where they are and what access features they offer. Which is exactly what AccessAble is addressing.
You can use the AccessAble website or app at home or out on the go. Simply:
search within a geographical area;

specify your access needs (wheelchair, hearing, visual etc);

select the type of place you're looking for (cafe, restaurant, shops, museum etc);

and choose from the suitable suggestions – hay presto!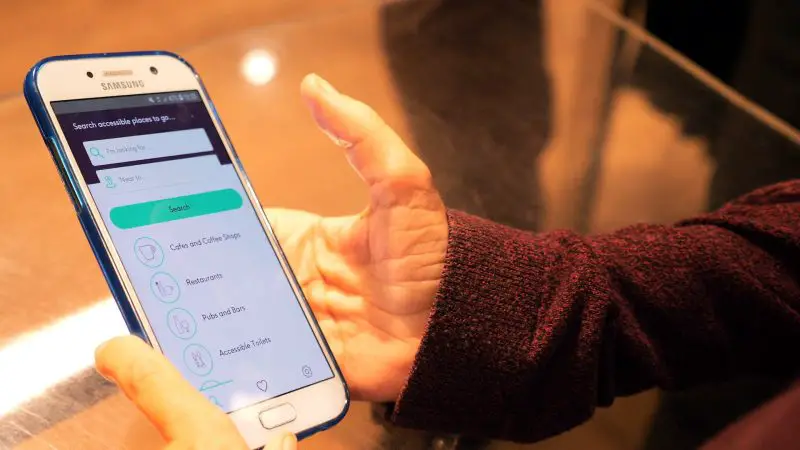 This is a ground-breaking innovation for disabled people. After all, knowledge is power. With the knowledge of which places are suitable, life is so much easier. You can plan your days far more easily.
When the plans inevitably change, which they often do, you can find a suitable alternative using your phone. Spontaneity becomes a possibility. We're no longer stressed about potential issues, or affecting our groups experience too.
Using the AccessAble app: video review
As you'll see in the video, I used the app in Cambridge last month…
I found the AccessAble app really easy to download (from Google Play or the iTunes app store), set up my profile, use it for my trip and get to my desired location.
After a shop with AccessAble partners Next and M&S, I enjoyed lunch and a cruise around the amazing Fitzwilliam museum. I was able to check for my access requirements (step-free, with lifts and accessible loos), and therefore enjoyed a worry-free afternoon in my local city.
AccessAble wants to build on its already extensive database to ensure it covers as many places and buildings as possible. This will not only help make the website and app incredibly useful for anyone with a disability but also encourage more businesses to become accessible.
To check out the new service simply visit the website at www.AccessAble.co.uk  or download the AccessAble App from the Apple Store or Google Play Store. If you have any questions or feedback for AccessAble, you can email hello@AccessAble.co.uk.
By Martyn Sibley
More on Disability Horizons…