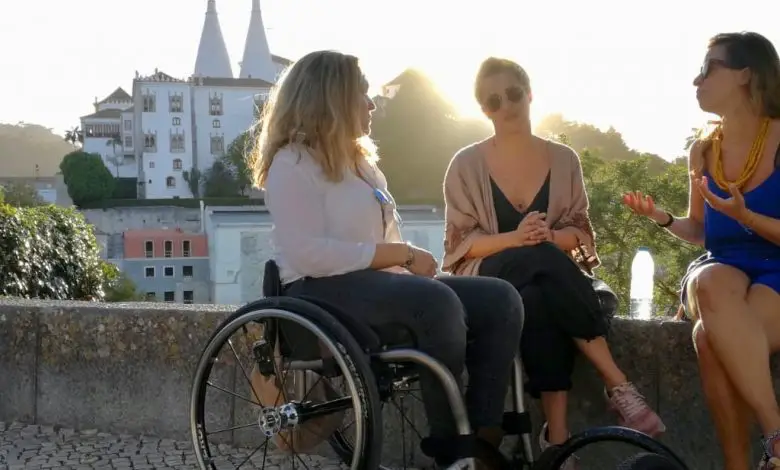 A number of years ago, sisters Rita and Daniela, who live in Lisbon and love travelling, realised how limiting travelling can be if you have a disability. They decided to take action and create their own accessible travel company, Portugal 4all Senses. It offers a range of handpicked accessible experiences in Portugal and its capital Lisbon. This year, it's become an Airbnb experience host, offering adapted surfing, wine-tasting, history and culture tours.
Portugal, and in particular Lisbon, are becoming popular tourist destinations, thanks to the country's history, culture, food and wines, as well as beaches, surfing, music festivals and varied landscapes. And if that wasn't enough of a reason, the Portuguese people are affable, open and sincere, too.
This year, we at Portugal 4all Senses are very proud to be one of the first hosts in Europe to provide several adapted and inclusive experiences on Airbnb.
Our mission at Portugal 4all Senses is to create a world where travelling is accessible for everyone.
We want people holidaying with us to enjoy Portugal like we do, as a local. Our aim is for people to experience Lisbon in a relaxing atmosphere by giving guests ideas, tips and knowledge to enable them to see the best of Portugal. We also think that our experiences are a great opportunity for everyone to meet other travellers and to have fun in a safe and care-free environment.
And, of course, as Lisbon is our city, we want to show all the secrets and flavours of Lisbon's downtown. Travellers will have the chance to eat some of our delicacies and traditional products, such as chorizo and cheese, as well as taste Lisbon's fabulous drink the Ginginha. What's more, we do all this while strolling around downtown and learning about the secrets and history of Lisbon.
As well as trips for people with reduced mobility or wheelchair users, we have also designed a version for those with visual impairment or blind, where we bring Lisbon to life through your senses.
Our accessible experiences in Portugal
Here are the five exciting and unique experiences we're offering through Airbnb. We think there is something to suit every taste.
In Costa da Caparica, just 20 minutes-drive from Lisbon city centre, you'll get a private lesson run by two certified and very experienced surf instructors. They will explain everything you need to know about the beach, surf techniques, catching waves, correct positions on the board and riding waves properly. They will be with you the whole time to ensure you feel safe and comfortable and enjoy the thrilling energy of the Atlantic Ocean.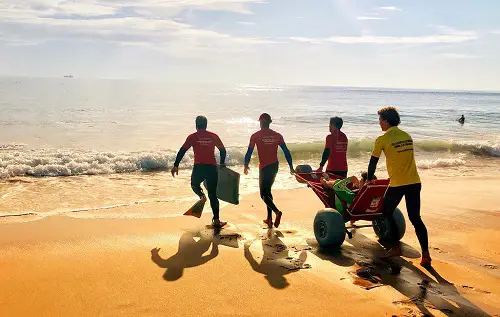 Accessible wine tasting in Portugal
We'll take you to a small, local winery that has two centuries' of history. From its owner, you'll learn about wine production in the region and have the opportunity to taste wine from one of the oldest vineyards in Europe! After this experience, we will take you to the most western point of continental Europe, ending your journey facing the Atlantic Ocean and feeling amazed by the power of nature.
Accessible tour of Sintra Portugal
During our tour of the historical palace and its award-winning garden in Sintra, we will tell you the legends of the magical village, known as the Mountain of the Moon. Once the home of extravagant wealthy individuals that contributed to today's landscape, it is considered a mystical place, with fairy tale monuments hidden in the mountains. Afterwards, we will also take you to the most western point of Europe.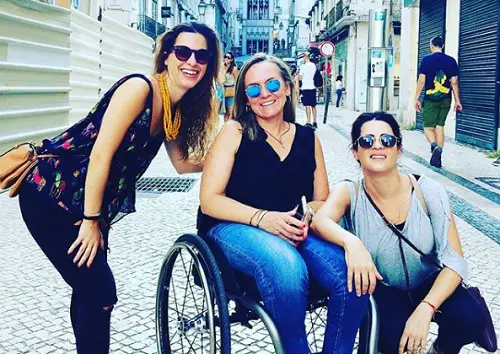 Accessible cultural Lisbon tour
We will start at the heart of the historical centre of Lisbon. You will eat and shop like a local, submerging you in Portuguese culture through taste, smell, touch and sounds. This experience is designed for visually impaired travellers so we will explore downtown together through a sensory journey. You will feel the vibe of the city, listening to the street vendors, foreign languages and the old tram, as well as tasting our local liquor and typical pastry. 
Everybody thinks that Lisbon is a 'seven hills' city but, with us, we will show you that Lisbon can be flat and easy to stroll around without losing its charm. Come and explore some of the most historical streets of Lisbon and be impressed by architectural details, old churches and our famous tiles elements of our rich history. You will learn about the history and lifestyle of the Portuguese people and feel the city's soul by tasting its local delights.
By Rita and Daniella from Portugal 4all Senses
More on Disability Horizons…