Travel & Holidays
Air travel made simple for wheelchair users with the easyTravelseat!
Air travel for wheelchair users can be a total pain – literally and metaphorically. But advancements in technology and new inventions are helping to make life easier. One such product is the easyTravelseat for wheelchair users. Creator and wheelchair user Josh tell us all about how this innovation can help you to travel comfortably.
Here at easyTravelseat, we understand flying has many barriers for people with reduced mobility, ranging from sensory to physical impairments. It is estimated 1.35 million requests by or for people with reduced mobility were submitted to UK airports in 2018, with 6 to 8% of these being requests where wheelchair passengers needed physical support to access their cabin seat.
For most passengers who use a wheelchair, one of the main barriers faced is transferring to and from the aircraft cabin, something that is often unsafe, undignified, uncomfortable and upmost embarrassing.
Currently, 16 of the 34 main commercial airports in the UK have the equipment to transfer wheelchair users. It's even worse outside of the UK. For example, 22 out of 24 Spanish airports have none or inappropriate transferring equipment. This means, if you're flying to from Spain to the UK, it is almost certain that as a wheelchair user you will need to be lifted off the aircraft under your arms and legs. 
easyTravelseat for wheelchair users
I have Spinal Muscular Atrophy and use a wheelchair user, so I know all too well the problems of travelling by plane. I wanted to create an in-situ transfer seat to improve the current process of transferring on and off the aircraft.
It ensures that passenger safety, dignity and comfort comes first. After all, passenger safety in air travel is the most important aspect. Imagine you are in an emergency, you cannot move without any support or transferring equipment – how do you get off the aircraft?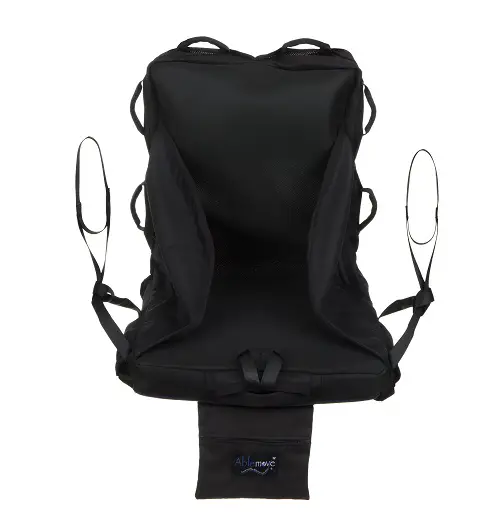 easyTravelseat is extremely unique.
You, the passenger, own the transfer seat, not the airport.

You remain in the transfer seat for your entire journey – from home to the aircraft and to the hotel.

It removes the stress of worrying about what transferring equipment an airport may or may not have.

Special assistance staff do not need to maneuverer you into place in any other transferring equipment, pre or post boarding.

It can be used immediately in emergency situations.

Because it is simple to use, it reduces the possibility of language and communication barriers.

It gives enhanced dignity and the ability to blend into the aircraft unnoticed.

Its pressure-alleviating cushion provides better comfort.
Its  features include:
eight manual-lifting handles;

two extension straps for special assistance;

hoist straps with hideaway pouches;

pressure-alleviating cushion;

travel pouch;

seat belt access points.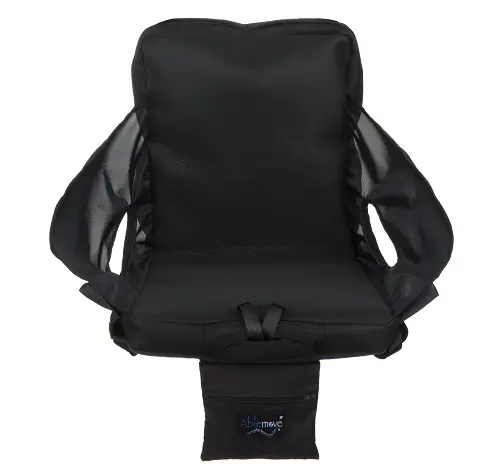 easyTravelseat in UK airports
The easyTravelseat is also award winning! It came first in the UK Disabled Entrepreneurs Award in 2018, attracting the attention of Sir Stelios Haji-Ioannou, founder of EasyJet, as well as the current CEO of easyJet, Johan Lundgren. Since winning the awards, Sir Stelios has become an investor and has welcomed the product into his easy family of brands through the easy brand license.
Sir Stelios said: "As is the often the case – the simplest ideas can be the best. Josh has had an idea, which is the near-perfect solution to the indignity, discomfort and embarrassment experienced by disabled people when trying to access aircraft (and train) seats. I'm very confident that easyTravelseat will soon become as synonymous for ease and comfort as Stannah has for stairlifts."
The use of easyTravelseat has already been embraced by Heathrow, Gatwick and Bristol airports, receiving high praise from the special assistance teams and airport accessibility management alike.
Sara Marchant, Head of Accessibility at Gatwick Airport said: "The easyTravelseat fills a much-needed gap in the market to enable wheelchair users to board and disembark their aircraft with comfort, dignity and ease. In my view, it is a wonderfully designed product and our assistance agents loved using it."
Are you coming to Naidex next week? If so, please visit us on stand N7144 and meet the team and see the seat!
Please check out our website and follow us on our social media for future product releases and updates. If you would like to see the easyTravelseat in action, please visit see our easyTravelseat YouTube channel – it will not disappoint you.
If you have any questions, you can contact us by emailing sales@ablemove.co.uk. You can also message us on Facebook and Twitter.
More on Disability Horizons…