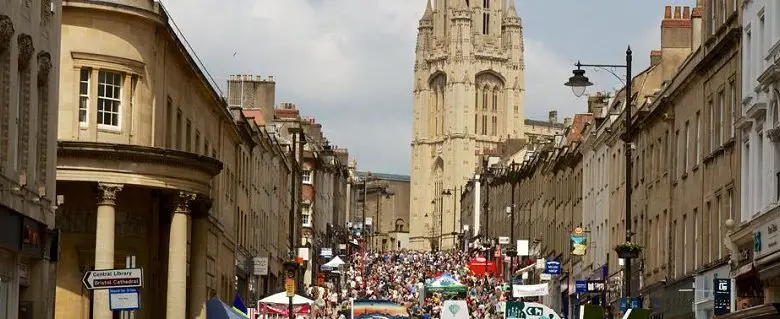 Travel & Holidays
8 accessible tourist attractions across the UK for anyone with a disability
Easter weekend is a great opportunity to get out and explore the many wonderful attractions we have across the UK. But, if you're disabled, knowing where will be accessible isn't always easy. That's why we've asked AccessAble to bring you a series of articles on accessible day trips and holiday spots across the UK. This month it is tourist attractions, from museums to zoos, all of which are accessible for people with a wide range of disabilities.
This Easter, why not enjoy the beauty of the Winter Gardens in Sheffield, or see the more than 21,000 animals at Chester Zoo? Or, how about the perfect chocolate experience at Easter – Cadbury's World? Within our list of 10 accessible attractions, there is something for everyone.
Here, we've summarised why each attraction has been chosen and what you can find there. You can then visit our Detailed Access Guides for all you need to know, including whether each has:
Our Detailed Access Guides are made up of 100% facts, figures and photographs, from the organisations we work with and disabled people who have been there. We also send trained AccessAble surveyors to check out every single place in person to verify the information.
1. Bristol Cathedral
Originally founded as a 12th-century monastery church, Bristol Cathedral was heavily remodelled during the 19th century. It's one of Britain's best examples of a 'Hall Church' (meaning the nave, chapels and choir are the same height).
Although the nave and west towers are Victorian, parts of the choir are medieval, and the south transept contains a rare Saxon carving of the Harrowing of Hell, discovered under the chapter-house floor after a 19th-century fire.
There is level access into the building and a ramp with a handrail where there is a small step. There is also hearing assistance and mobility scooters are allowed in the public parts of the building.
Bristol access guides
2. British Museum, London
Founded in 1753, the British Museum is home to an astonishing range of objects from cultures across the world. The free museum houses a vast collection of world art and artefacts, which illuminate the story of human culture from its beginnings to the present day.
The British Museum is a vast place, with more than seventy galleries and a huge range of extraordinary objects. The rooms are organised by geography, history and theme.
Access to the building is level or via a ramp and most areas inside are step-free. There is a lift inside, automatic doors, accessible toilets and hearing assistance. If you're visually impaired, there is a good colour contrast between the floor and walls and clear signage, although the light levels are varied.
London access guides
3. Cadbury World, Birmingham
Uncover a world of chocolate delights and enjoy a fascinating, fun-packed day out at Cadbury World. From learning how your favourite confectionery is made and uncovering the fascinating story of Cadbury chocolate, to playing in chocolate rain and adding your favourite treat to a delicious pot of warm liquid Cadbury Dairy Milk.
There are Changing Places toilets, a ramp to get into the building and the Cadabra ride and child's play area has been adapted for wheelchair users. The exhibits at Cadbury World can be audio described, video tours are available and there is an infrared system for people with compatible hearing aid system.
Birmingham access guides
4. Chester Zoo
The UK's number one charity zoo, with more than 21,000 animals and 500 different species, including some of the most endangered species on the planet.
With 1.9 million visitors every year, the zoo is an all-year-round, full-day visitor attraction for everyone. There is level access at the entrance and all way through the park.
The cafe is spacious and there are a number of accessible toilets, although these are available for all visitors, not just disabled. Staff have disability awareness and equality training and there is usually a staff trained in British Sign Language working.
Chester access guides
5. Discovery Museum, Newcastle
Discovery Museum is housed in the old Co-operative Wholesale Society building, Blandford House. Having opened in 1899, it quickly became an iconic building in Newcastle city centre. Blandford House became a museum in 1978 and was re-launched as Discovery Museum in 1993.
Immerse yourself in the history of Newcastle and Tyneside told through permanent displays and temporary exhibitions over three floors. The exhibits focus on the area's maritime, scientific and technological importance to Britain and the rest of the world.
There is a ramp into the building and the double doors open automatically. Ramps run alongside any steps inside, and a hearing loop/assistance, Braille, video and tactile tours are available.
Newcastle access guides
6. National Railway Museum, York
For a fantastic day out for the whole family in York, visit the award-winning National Railway Museum. Get up close to more than 300 years of fascinating history in York's only National Museum.
Explore its giant halls full of trains and railway legends, including the majestic Duchess of Hamilton, step on to the futuristic Japanese Bullet Train or marvel at the stunning opulence of the Royal Trains.
You can also get on board awe-inspiring locomotives, watch the engineers at work in the workshop, uncover hidden treasures in the warehouse and make tracks to the outdoor area.
There are a number of floors, but a lift inside allows you to access most. Some exhibits do have steps to them, but much of the museum is on one level. The cafe is spacious so easy to manoeuvre around in a wheelchair. Exhibits can be audio described and hearing assistance is available. 
York access guides
7. Titanic Belfast
The Titanic Belfast visitor attraction extends over nine galleries, with multiple dimensions to the exhibition. Drawing together special effects, dark rides, full-scale reconstructions and innovative interactive features, you will explore the Titanic story in a fresh and insightful.
It includes information all the way from the Titanic's conception in Belfast in the early 1900s, through its construction and launch, to the infamous maiden voyage and catastrophic demise. The journey goes beyond the aftermath of the sinking, to the discovery of the wreck and continues into the present day in the Ocean Exploration Centre.
There are a number of entrances, all with level access, a lift inside, ramps where steps are and a number of accessible toilets. There is also hearing assistance and light levels are varied.
Belfast access guides
Winter Garden, Sheffield
Sheffield's impressive multi award-winning Winter Garden is one of the largest temperate glasshouses to be built in the UK during the last hundred years and has created a stunning green world with more than 2,500 plants from around the world.
With direct access from Millennium Galleries and Millennium Square, the Winter Garden is the perfect oasis in the heart of England's fourth largest city.
There is a ramp into the main entrance or level access at the second entrance. Everywhere inside is level and there is hearing assistance. The parks and gardens have concrete paths and some moderate slopes. There aren't accessible toilets though.
Sheffield access guides
If you're visiting any of these attractions, why not download the AccessAble App from the Apple Store or Google Play Store. If you have any questions or feedback for AccessAble, you can email hello@AccessAble.co.uk.
By AccessAble
Have you visited any of these places? Share your experiences with our community by leaving your comments below, messaging us on Facebook or tweeting us @DHorizons.
More on Disability Horizons…