Robert Obey and his wife Bridget, a wheelchair user, have been blogging for years, sharing their travel stories on their blog, The Bimblers. With another bank holiday and the summer just around the corner, we've asked them to share one their experiences of travelling to North Devon and Cornwall.

Back in January last year, we did a quick tour of the North Devon and Cornwall coast. We did the east coast of Devon back in 2016, which was our first visit to Cornwall.
Our final destination for this trip was Portreath in Cornwall, where we were staying at Gwel an Mor accessible luxury lodges.
I knew the drive would be too much in one go, so I decided to break the journey up with two overnight stays, one at the Holiday Inn Express in Bristol and the other in the Premier Inn in Barnstable.
After a good sleep, and as much bacon and egg as I could manage, we set off for the first leg of our Devon and Cornwall adventure.
As you can see from the photos, the weather was rubbish. But we still loved our trip.
North Devon
On route, we dropped into Ilfracombe and Woolacombe. Sadly, as suspected, many places were pretty much shut for the winter.
Ilfracombe
Ilfracombe was our first stop in North Devon. I like the way that Ilfracombe's tourist board describes it as having "Curious Coastal Charm" – I wouldn't disagree with that.
When we arrived, the wind was howling. I did think twice about pushing Bridget in her chair, but the TGA wheelchair power pack came to our rescue and we managed to grab a few photos.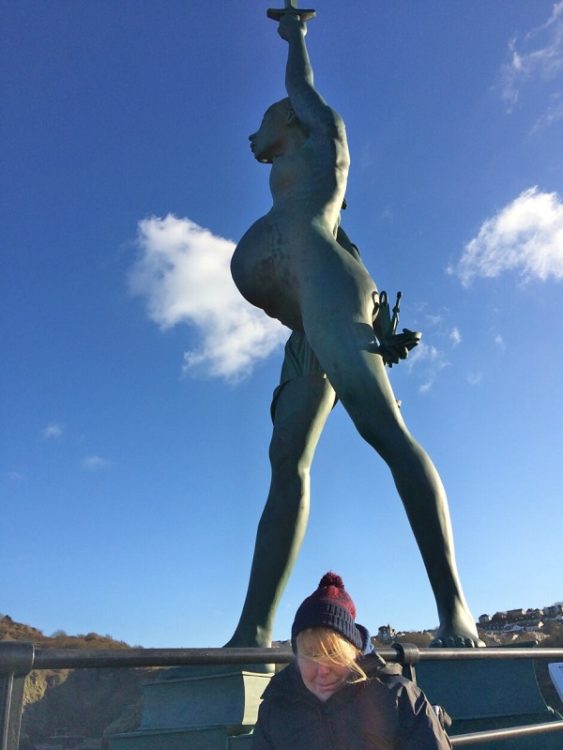 As you can see, poor Bridget was getting battered by the howling wind – the things we do for The Bimblers!
Probably the biggest surprise in Ilfracombe was a 66-foot bronze statue of a pregnant lady named Verity. Verity was designed by Damien Hirst and is meant to be a modern interpretation of 'Truth and Justice'. The statue sort of looks out of place. But it doesn't in real life if that makes any sense?
During the warmer seasons, there are lots of things going on in Ilfracombe. Understandably, fish plays a big part, whether that's catching it or eating it. Ilfracombe has had a harbour since the 12th century and it is still landing fish today.
For beach lovers, the famous Tunnels Beach is described as accessible to wheelchairs. It's not a golden sand beach, it's more natural coastline, which means rocks. That said, here is what its website says about accessibility:
Is the site accessible for wheelchairs and pushchairs?
Yes, the ground throughout the tunnels themselves is either paved or concrete, access is good with only a gentle slope leading to the main beach. Access WCs and baby changing facilities are also available on site.
---
Details of Ilfracombe accessibility.
---
Woolacombe
It was late in the day when we arrived in Woolacombe and, to be honest, we were both knackered. So we didn't spend much time exploring because we wanted to rest our weary heads.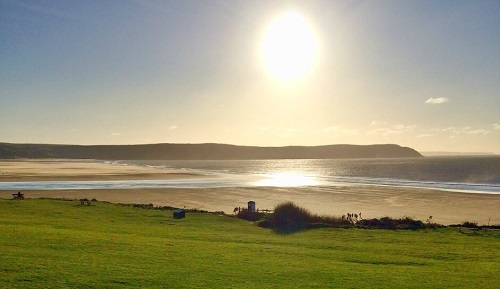 Woolacombe is dominated by miles of award-winning beaches. It is a utopia for surfers, kayakers and water sports enthusiasts. Sadly, we don't fit into any of those categories, but we still appreciate the beauty of Woolacombe.
For those of us for whom the sea is a challenge too far, you can hire a Tramper, which is basically an all-terrain mobility scooter. The tramper can be hired from Woolacombe tourist information centre.
If you fancy using the tramper it'll open up much more of the coast and countryside than a standard scooter or wheelchair would.
---
Details of Woolacombe accessibility. 
---
I would imagine both Ilfracombe and Woolacombe are gorgeous during the summer months, but in January, it was freezing and not ideal to be pushing a wheelchair.
If you are a beach lover, then Devon has plenty of accessible beaches, some with beach wheelchairs. Accessible Countryside has kindly put a list together of accessible beaches in Devon.
I'm not going to bother reviewing the Premier Inn in Barnstable because it was no different to any other we've stayed in. I would say though that I do wish it would state on its website whether an accessible room has a bath or a shower.
Cornwall
Day three and we were finally on our way to Gwel an Mor, but not before continuing along the coast and crossing over into Cornwall.
Cornwall has quite a few accessible beaches, not that we'd be using them in January. If you fancy a day out on the beach, take a look at these two websites:
Bude
Our first stop in Cornwall was at Crocketts Beach in Bude. The beach was understandably deserted because it was gale force winds. So I jumped out of the car for a quick photo of the beach huts.
Granted they look a bit drab in the winter, but I have seen pictures of a bustling beach in much better weather and it looks gorgeous.
I do like the fact that  Visit Bude's website has a special section for accessible attractions. In fact, this seems to be a common theme throughout Cornwall. Accessibility is clearly important and as Britain's most popular holiday destination this kind of information makes visiting so much easier.
It's also in Bude where we encountered Cornwall's rules around Blue Badge Parking. In order to park in a council run car park for free with a Blue Badge, you need a permit from Cornwall Council prior to your visit.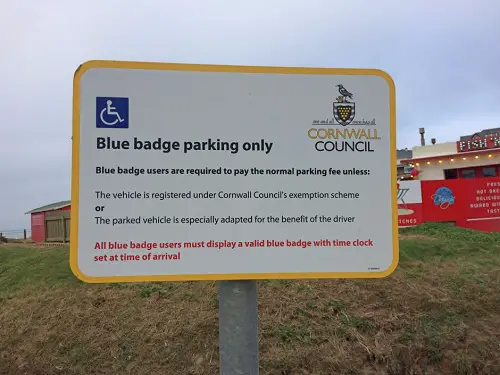 You can pay and display, but when you are visiting as many car parks as we did, the cost soon adds up.
If you register your vehicle with the council you can park for free in its car parks, as long as you display your Blue Badge and clock.
Here are the details: Blue Badge Parking in Cornwall Council Car Parks.
---
Details of Accessible Attractions in Bude and accessible accommodation in Bude.
---
Tintagel
I love the history and myths of Cornwall and the most famous have got to be the legend of King Arthur.
I knew in advance that Tintagel Castle wouldn't be accessible to us in a wheelchair. The geography of it means it's almost impossible to access if you have mobility problems.
But, despite this, I didn't feel as though it was a waste of time visiting Tintagel because sometimes just being in a place is worth the effort.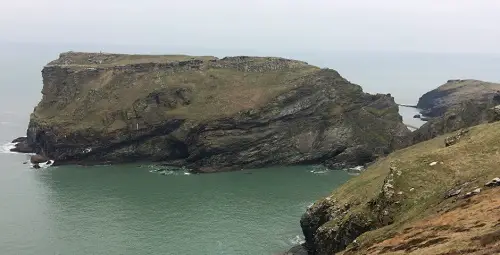 There are some facilities open during the summer months, but these are limited. You can find out more about access at Tintagel Castle on the English Heritage website.
Padstow
If you are anything like me, you know of Padstow because of Rick Stein. We'll come back to Rick in a minute, but first, I want to talk about the Camel Trail.
The Camel Trail is described as a well surfaced, reasonably flat cycle path. It runs from Padstow to Bodmin and is an old railway line that has been converted to a leisure path. As you know, I like a wheelchair walk. So the next time I'm in Cornwall the Camel Trail is high on my to-do list.
Padstow is a harbour town and everything is pretty much situated around it. It's still a working harbour with fish landed daily and it's popular with leisure craft and sea tours. We didn't see it in its best light, yet it was still a beautiful little harbour.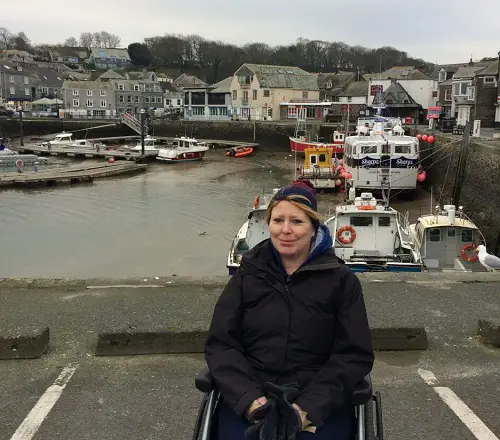 So, back to Rick Stein. Rick is probably Padstow's most famous son and he has certainly made his mark on the seaside town. I'm not entirely sure how many businesses he owns in Padstow, but it's a few.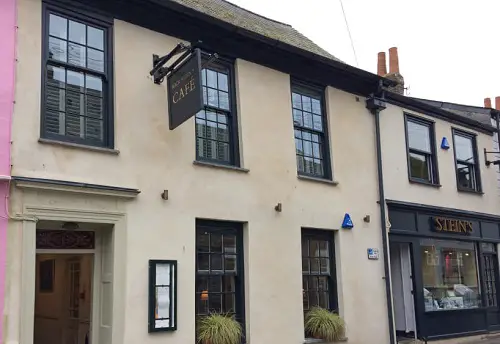 We wandered around the town and stuck our head in the door of his restaurant. We did think about eating there, but the lure of a Cornish Pasty was too much, so we settled for the Chough Bakery instead.
It's just dawned on me as I write this, we didn't have a Cornish Scone the whole time we were in Cornwall!
---
Details of Padstow accessibility.
---
Newquay
Newquay was the busiest place we visited in Cornwall. It feels a lot more commercial than other Cornish towns, but don't let that put you off visiting.
I guess one of the reasons Newquay is so busy is because it's so popular. With that, comes a responsibility to keep everyone entertained. Newquay certainly does that, and then some.
Even during our brief visit, it was easy to see why Newquay has won multiple awards and is a favourite holiday destination with all generations.

The Newquay Tourist Information website has details of access on its scenic trails, beach wheelchair hire and beach accessibility. In fact, it has a lot of information about access in Newquay, including accessible places to stay. Well done Newquay.
---
Details of Newquay accessibility.
---
Finally, we arrived at our home for the next few days – Gwel an Mor Luxury Holiday Lodges in Portreath.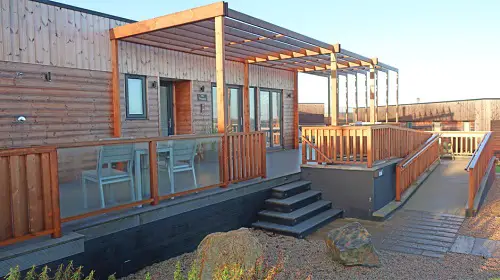 While we were staying in Portreath we popped down to the beach: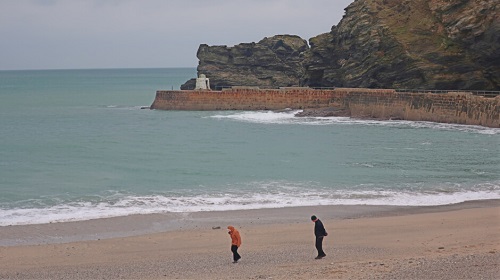 St Ives
I'm going to stick my neck out here and say that I think St Ives is my favourite town in Cornwall (you can see it in the image at the top of this article). I can't tell you why, but when I imagine a Cornwall town, St Ives is it.
After navigating the quaint "cobbled" streets we sat on the harbour for about an hour, and it just felt right, it felt like Cornwall.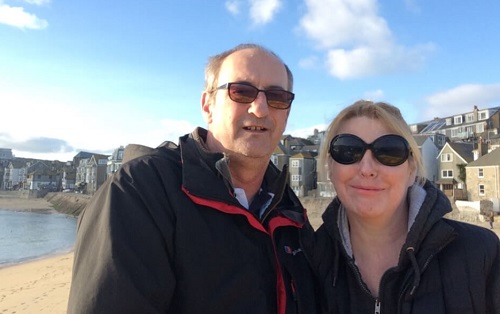 St Ives is a fishing town, a holiday town and its quintessentially Cornwall.
With multiple beaches, independent shops, galleries and more fish restaurants than you can shake a stick at, St Ives has everything you could want from a Cornwall town.
---
Details of St Ives accessibility.
---
Land'

s End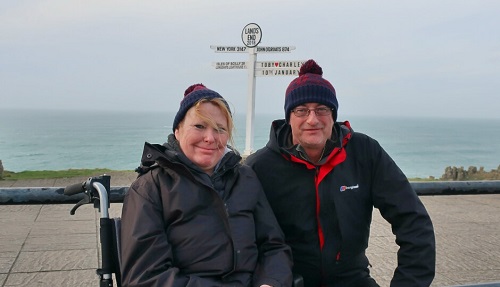 It would be wrong to visit Cornwall without visiting Land's End.
You get a funny feeling in your stomach when you're heading towards Land's End. It's not like you're going to fall off at the end of the road, but it's an odd feeling.
On a sunny day, I would imagine Land's End to be spectacular. On a cold January day, the coastline was dramatic and unforgiving.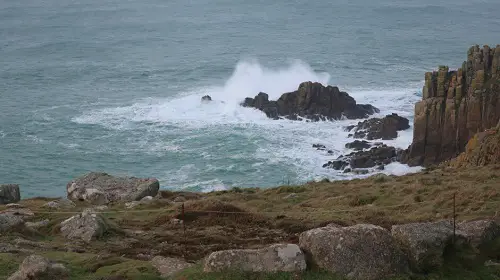 Most of the shops were closed, but the restaurant was open, so we managed to get out of the wind for a while. We'll definitely be returning to Land's End on our next trip to Cornwall.
---
Details of Land's End accessibility.
---
I hope you enjoyed our trip around North Devon and Cornwall as much as we did. If you did, can you please share this post on your social media. Happy travels.
By Robert Obey 
Have you been to Daven or Cronwall? Share your experiences with our community by leaving your comments below, messaging us on Facebook or tweeting us @DHorizons.
More on Disability Horizons…