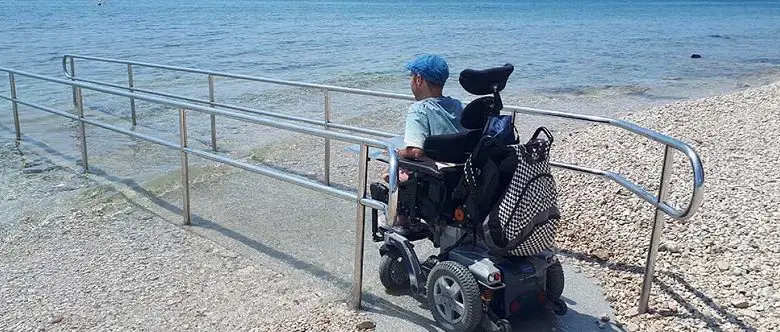 Our globe-trotting Co-founder Martyn Sibley recently visited Pula and Istria in Croatia for a two-week holiday in the sunshine. Discover how accessible Croatia is for wheelchair users to find out whether it could be your next holiday hot spot.
For the past three years, Kasia and I have attended Mindvalley University, a personal development conference held in different beautiful tourism hot spots each summer for one month.
After Barcelona and Tallinn, 2019 was to be in Pula, Croatia.
Having never been to Croatia, we were excited but also aware of the challenges a new place brings. The flight is always challenging on the day, but we know how to arrange it by now. However, the transport, accommodation, care and general access would need researching.
Luckily, some of the Mindvalley members we'd connected with – Katarina and Paula – were from Pula and knew of some disability contacts.
Accessible transport and care in Croatia
Katarina and Paula helped us to find an adapted vehicle for airport transfers, so that was easy enough.
None of the private hire taxis are accessible where we stayed in Croatia. But we were able to get the public bus to and from the Mindvalley hub and our accommodation. As the last bus was at 9.30pm, Igor, another contact, kindly drove us in the adapted vehicle to the final party and home late.
Our Pula friends also connected us with a care agency. Kasia did most of my care, but having a PA come in every morning to get me up was gold dust. It meant Kasia had time to swim with her family, who joined up from Poland, before we all had breakfast together.
Accessible accommodation in Croatia
We found our accommodation together with Kasia's family. After a long search for accessibility, affordability and good location, we found Bi Village!
After contacting Bi Village for availability, the staff there expressed an interest in promoting the accessibility of the hotel through my visit. So, in full disclosure, we were offered a free stay for our two weeks in Croatia. In return for my time and accessible tourism knowledge.
Bi Village is positioned 8km north of Pula in Istria, hence the daily bus commute. It was full of campers and guests in apartments. Plus, it also had a number of other holiday amenities.
Our temporary home was fully wheelchair accessible. It had two bedrooms and two bathrooms. The adapted bathroom had a wet room shower and no awkward lips. There was also a kitchen, lounge and terrace for the lovely warm evenings.
Kasia's mum, dad, brother, sister-in-law, niece and nephew enjoyed great moments with us. We had delicious meals and yummy ice creams. The kids loved the water park, tree climbing and many other child-friendly activities.
The resort backed straight on to the beach. There was a wheelchair-accessible ramp to the sea with an amphibian chair for swimming – take a look at the video below.
The beach was more rocky than sandy, but that didn't affect us negatively. I did burn my chest on the last day though. Ouch!
In the weekend away from the university commitments, we had a bike ride to nearby Fazana, and a boat trip to the nearby islands.
The bikes were cheap to hire and I used my chair. The promenade was all accessible. It was nice looking around Fazana and exploring the coast.
For the boat day, I couldn't take my chair as it's too big and heavy. So I went on my shower chair with my Easy Travel Seat. It wasn't particularly comfortable on my bum without my custom cushion, and being lifted on the boat and pushed around wasn't ideal. However, the views and experience were worthwhile.
Pula itself was surprisingly accessible. It's an old Roman city with a beautiful coliseum. The pavements had dropped kerbs and few cobbles. Result!
I'll probably write an article about Mindvalley University another time on my blog MartynSibley.com, and there's lots more to share about the Istria region. But for now, if you have any particular questions that I've not addressed please let me know 🙂
You can also enjoy my daily video posts from Istria on my public Facebook page, my YouTube channel and my podcast channel. The dates were 7 to 21 July 2019.
By Martyn Sibley
More on Disability Horizons…