Fashion is ignoring disabled customers, with three-quarters of disabled people we surveyed saying that mainstream fashion in the UK does not meet their needs. A staggering 96% of the disabled people we spoke to also believe that there is not enough representation of disability across the fashion industry today.
After another London Fashion Week, our survey, in partnership with charity Leonard Cheshire, highlights the lack of choice for disabled customers in mainstream fashion.
Respondent Kim Nash from Kidderminster said: "The fashion industry does not consider the shape of a person who has to sit in a chair, who might have a larger stomach or shorter body. I realise that off the peg is standard, but just who designs these clothes?
When was the last time a designer took a range of people with different needs and thought 'let's make a fashionable, affordable wardrobe for everyday occasions for people like me?'"
Similarly, another said: "Trying to find something that works for both powered and manual wheelchairs is impossible. I had a huge issue finding a coat that was functional and looked nice, so I had to make my own to meet my needs. The options available make me feel like if you are disabled, you're not allowed to look presentable."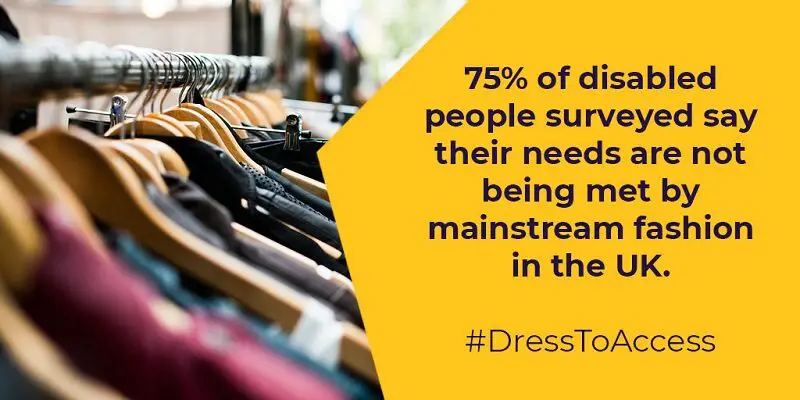 We also found that while mainstream fashion is not working, specialised brands are not always a viable alternative. Just 11% of survey respondents said they bought from adaptive clothing brands or ranges.
These brands were described by respondents as being:
"expensive"

"(having) not enough range"

"much more (expensive) than mainstream and not as fashionable"

"old fashioned (and) aimed at older people and young children."
TV presenter and disability rights activist Sophie Morgan, who recently became one of Leonard Cheshire's ambassadors said:
"It's unsurprising so many disabled people feel like mainstream fashion is not currently meeting their needs. While there have been some positive developments in the industry, such as more disabled models on the catwalk and a growing number of disabled beauty bloggers, there is still some way to go before fashion is truly inclusive.
Disabled people should be able to express themselves through fashion just like everyone else, but their options can be limited. By failing to take the needs of disabled people into account, brands are missing out on a huge market hungry for variety and choice."
The survey revealed specific design areas that render mainstream fashion inaccessible. These include:
"seams, buttons and zips that can be uncomfortable"

or "too fiddly"

a lack of jeans and trousers "that are both comfortable to sit in for a long time and look good"

and "sizes (that) don't fit their shape."
Respondents also reported that the shopping experience is made difficult by a distinct lack of mannequins modelling the clothes, making it difficult for some shoppers to visualise whether the clothing would suit them in the first place.
"It is difficult to follow the trends if you really love fashion, but don't ever see them on someone like yourself," one respondent said.
TV presenter and gardener Mark Lane, who is also one of the Leonard Cheshire's ambassadors, said: "It is time that high street stores stock a full range of clothing for all. It would also be great to see more disabled models showcasing everyday clothes.
Just think how enlightening it would be if more shops had window displays with disabled models looking strong, powerful and at the same time elegant, comfortable and fashionable."
The lack of accessible clothing not only means disabled shoppers are limited in choice for style and comfort, but also in the materials they wear. "I am increasingly mindful of the sources of my clothing," a respondent highlighted. "Options to choose to buy ethically would also be appreciated, but I think that's something of a dream world!"
Disability rights campaigner and Leonard Cheshire's Campaign Support Officer Joshua Reeves said: "Disabled people want to be 'on trend' too. Yet, with mainstream brands failing to consider disability in their designs, disabled people are often being left without the option to shop from the retailers they are most drawn to and priced out of the market by adaptive ranges.
We hope that more mainstream brands will consider accessibility in their product designs. The alienation of a potentially huge untapped market makes little economic sense and our research suggests disabled shoppers are keener than ever to engage with their brands."
By Disability Horizons and Leonard Cheshire
Do you feel that mainstream fashion ignores disabled people? Tell us what you think by commenting in the box below or on Facebook and Twitter.
More on Disability Horizons…